Advertisement

MJ Akbar, former minister and a veteran journalist, said that the most important characteristic of India is its plurality and the constitution gives equal rights to everyone irrespective of religion. "Muslims are as much part of India as any other citizen from any other religion," he added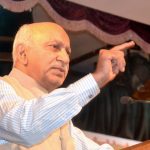 Former minister MJ Akbar-led Indian delegation defends India's citizenship Amendment Act (CAA) at the 43rd session of the United Nations Human Rights Council in Geneva.
The UN human rights chief earlier voiced "great concern" over India's amended citizenship law and reports of "police inaction" amid clashes in Delhi, urging political leaders to prevent violence.
Speaking at the Human Rights Council session in Geneva, UN High Commissioner for Human Rights Michelle Bachelet also spoke about the situation in Jammu and Kashmir.
She said the CAA adopted last year by India's parliament was of "great concern".
MJ Akbar, former minister and a veteran journalist, said that the most important characteristic of India is its plurality and the constitution gives equal rights to everyone irrespective of religion. "Muslims are as much part of India as any other citizen from any other religion," he added.
Besides Mr Akbar, All India Organisation of Imams chief Umer Ahmed Ilyasi, Member of European Parliament Fulvio Martusciello, journalist Atika Ahmad Farooqui and Portuguese politician Paulo Casaca spoke about the new provisions brought by the CAA and the situation of Muslims in India.
The panel was moderated by Brian Toll who is the former Director of European Commission and the South Asia Expert.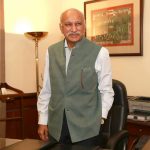 The Citizenship Amendment Act, enacted into law earlier this year, makes religion a test of Indian citizenship for the first time. The government says it will help non-Muslim refugees from three Muslim-dominated neighbouring countries if they fled to India because of religious persecution. Critics say the law, combined with the proposed National Register of Citizens or NRC can be used to target Muslims.
The CAA grants citizenship to the six religious communities including Hindu, Sikh, Buddhist, Jain, Parsi, and Christian of Afghanistan, Pakistan and Bangladesh that have faced religious persecution in these countries. However, it was criticised for discriminating against people according to their religion by not including the Muslim community as one of the beneficiaries of the citizenship.
Akbar said the most important characteristic of India is its plurality and the Constitution gives equal rights to everyone irrespective of religion. Moreover, India does accept any '-ism' and the only -ism for them is democracy. He concluded his words quoting from Mahatma Gandhi, "Hindus and Muslims are one. God created them and no one can separate them".
Fulvio Martusciello, insisting on the ever-present brotherhood and peace in the country, stated that the CAA will not affect the rights of minorities and it has no provisions that include Indian citizens. With this act, several rights including electoral and educational rights will be given through Indian citizenship to the persons who have been faced with religious persecution in their country.
Ahmed Ilyasi drew the attention to the Muslim community in India stating that "India has the second largest number of Muslims in the world…and it welcomes all diverse viewpoints". Providing equal citizenship for everyone, India is a secular democracy that does not allow any privilege based on religion. Moreover, he mentioned that unlike the Muslims in Europe, the Muslims in India were not radicalised and participated in Jihadist movements. He concluded that if any Muslim wants, he or she can still apply for citizenship satisfying the provisions of the Citizenship Act of 1955.
Atika Farooqui started her speech that neither she nor the Indians do not see the cast, gender, religion, or race when looking at someone. The religion in India according to Farooqui is considered a culture that makes the country colourful with food habits, languages, and dances. She concluded with: "We, Indians, are just curious and hardworking people with Muslim, Christian, Sikh and Hindu sounding names".
Paulo Casaca focused on the role of Europe in this disinformation campaign stating that the EU institutions are feeding the hatred and chaos. He warned the EU to change its attitude first towards the refugees at its borders before interfering in India. He added that the CAA provides a special fast track procedure to certain groups from certain neighbouring countries.
Brian Toll concluded the session mentioning that all are equal, and religion is not the prime factor of the integration of people in the country