Advertisement

To be sure, men have done well in Jammu, Kashmir and Ladakh over the last one year. But it is the women who have stolen the show in the sports arena at home and abroad. Asian Lite's Asma Raheem compiles mini profiles of prominent Kashmiris.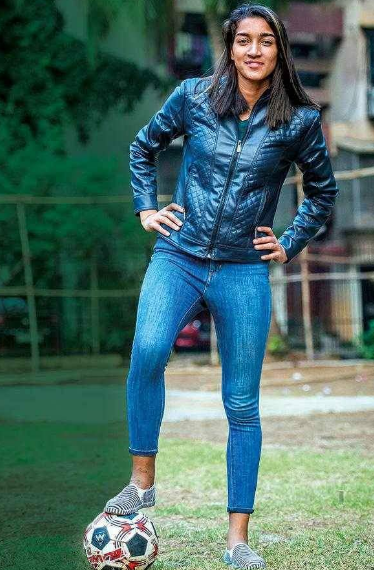 Eight young women shone like bright stars on the Kashmiri horizon winning national laurels, emerging as Ambassadors of Peace. Many of them have played at national level and in international fixtures, making the country proud. And some of them have excelled in multiple disciplines. Those excelling in arts and crafts have rendered yeoman service in their fields.
Focus on sports and games continued through the year 2019-2020, some of it despite the Covid-10 pandemic. Indeed, Khelo India activities were organized at Block level, UT funded sports activities at Panchayat level.
Interestingly, some of the young misguided into agitating turned a new leaf in their lives and performed well.  A bright example is Afshan Ashiq. This girl from Kashmir Valley was once known as a stone- pelter. Now she is the captain of Jammu and Kashmir's women's football team. She has played for various football clubs. She is also an example of women empowerment.
She is an inspiration for all. She set on to the journey of becoming a footballer for those women who dream of being a player but don't get support. Afshan said that the beautiful game has the potential to change Jammu & Kashmir same as it changed her life. The 24-year-old cuts today as the goalkeeper for the Mumbai-based Premier India Football Academy and one of the best sporting talents to come out of Jammu & Kashmir in recent years.
Ishrat Shows the way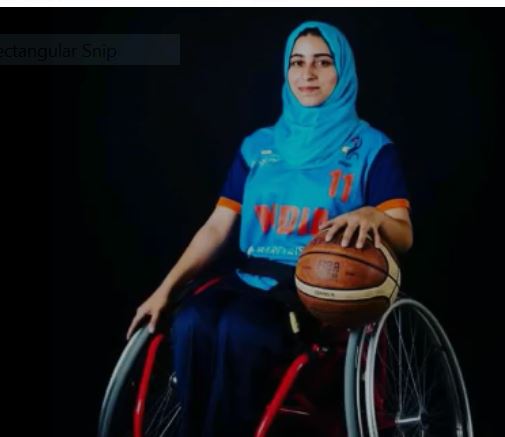 Talented Miss Ishrat Akhtar from Baramulla in Kashmir Valley has been selected to represent India at the Asia-Oceania Wheelchair Basketball Championship & will also attempt for the @Tokyo2020 Para-Olympics.
Another rising star is Insha Bashir. She participated in the 2017 National Wheelchair Basketball Championship at Hyderabad. She also won 1st prize in singing Competition held on the eve of World Disability Day. She has also participated in the 2018 National Wheelchair Basketball championship at Tamil Nadu. Surely, when the young travel and see what is happening elsewhere, they feel enthused.
She has received various appreciation Awards from VMS, District Level Basketball championship, Green end corp, save youth save future, Kashmir Harvard Educational Institution. She hails from Beerwah, Budgam.
Aiming High
Summayah Jan is from Shopian district in South Kashmir.  She has done BPE, BPED, and is pursuing MPED. She has also done one year NIS diploma and has qualified as a coach. She has been a match official and as a coach in various sports academies besides imparting training to youngsters in different disciplines.
Summayah has numerous achievements to her credit and has gained widespread experiences in cricket. She has represented in school National Games and junior and senior Nationals in Cricket under the aegis of BCCI. She has also represented 4 times as a captain of Jammu and Kashmir cricket team in tennis ball cricket federation of India. She has received various medals and honours.
Gifted Girl From Kupwara
Mufti Sadiya Sajad, has studied M. Sc in Physics. She aspires to pursue her PhD in Nuclear Physics. Sadiya Sajad is also specially-abled and  teaches differently gifted children. She is from North Kashmir's Kupwara district.
Since childhood she has faced a lot of blemishes, ups and downs due to the disease. She never looked back and achieved the heights that no one would never thought.
Sadia is the budding star of the fashion world who has come to the rescue of people during the current pandemic.
She is a fashion designer and owner of "Hangers- The Closet" a city fashion show room.
When people were stressing and panicking due to the uncertainty that loomed large on them due to Covid-19, Sadia was upset due to whopping market price of masks. Sadia went on to set up a tailoring unit at her lodging and produced more than 20,000 homemade masks. She started with triple-layer mask and is now making of personal protective equipment (PPE) that medical staff requires.
Aiming High
Iqra Rasool, another young Kashmiri is a pace bowler and has big dreams of donning the national cap. Her favourite bowler is the Pakistani pacer Mohammad Aamir, but she wants to see herself in the playing XI of the Indian women's international cricket team.
Donning a cricket jersey, Iqra Rasool guides us to her home in a bustling market of Dangiwacha, Rafiabad. It is where she started her career as a fast bowler playing for her school team.
A 10th-grade student, born on 5th August 2000 in a middle-class family. Her father Ghulam Rasool Lone works at a local bakery. Iqra has wants to not just play, but ome day lead the Indian National Women's Team in the international arena.
Reviving Namda Art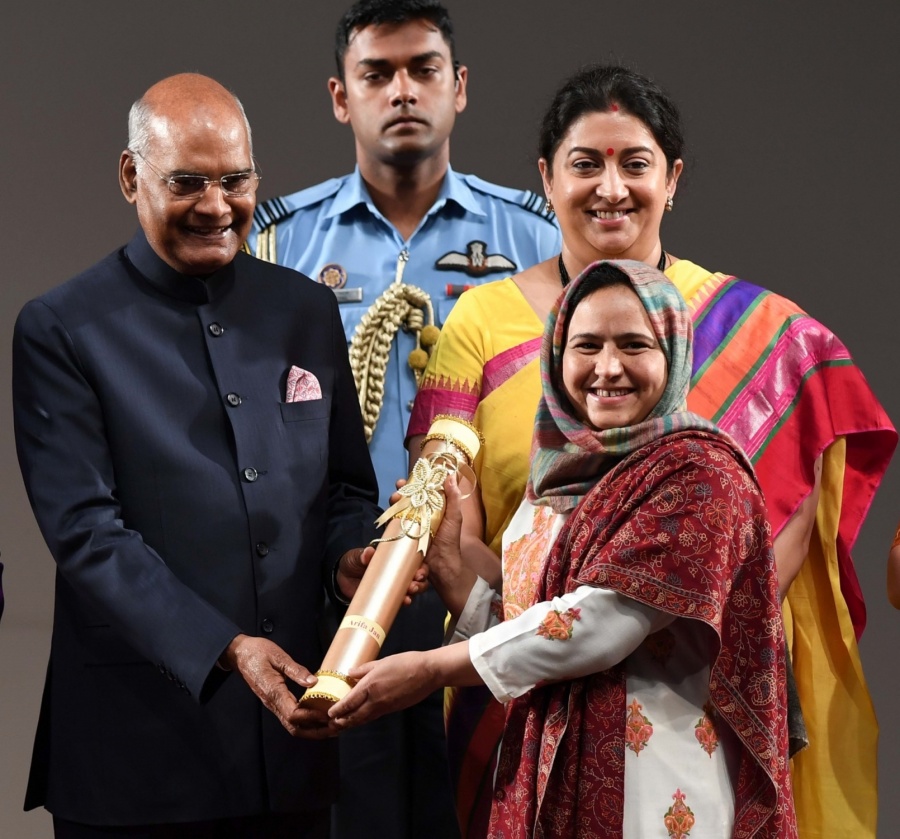 Arifa Jan is a budding craftsperson. For reviving 'Namda' art, she has received the Nari Shakti Puraskar. Namda is a felted rug used widely in furnishing, especially during winters.
She is highly educated in her field, with a post- graduate degree from the Craft Development Institute, Srinagar. She put her knowledge to work with her Namda revival project after completing her graduation.
Sunday, March 8, 2020 was a proud day for Arifa Jan when she received 'Nari Shakti Puraskar 2019' on International Women's Day from President Ram Nath Kovind as First Lady Savita Kovind, Union Ministers Smriti Irani and Nirmala Sitharaman looked on at Rashtrapati Bhavan.
Jan, 33, has taken the task to revive the once-famous Namda, the traditional embroidered rug. Arifa has established three manufacturing units where, besides employing 25 craftsperson, she has trained 100 women in the Valley to ensure that the Namda endures as a product.
She started her first business unit in the old city's Sekidafar locality in Srinagar in 2012.
Role Model Waseem
Waseem Iqbal has suffered locomotive disability in his left leg. A promising and talented sportsperson, he hails from Gopalpora, Anantnag. Born in 1992, he did his schooling from his native village and later went to Polytechnic College at Gogji Bagh for a 3-year electrical engineering degree course. But cricket is his passion. As opening batsman for the Indian physically disabled cricket team and scored 79 runs against Pakistan.
Waseem was among the top three scorers in the tournament with 5 matches & 140 runs. In the five-nation tournament, India outshone all others.
Dare to Dream
Amir Hussain Rather, son of Hassan Rather is resident of Tarzoo Sopore. Braving his physical disability, he did his schooling from Shah e Hamdam Model Public School, Sopore till 8th and passed 12th from Government boys Higher Secondary  School, Sopore.
He played for the national cricket team of the physically challenged. He travelled to England in Augut 2019. A bowler, his score was playing in five matches and taking seven wickets.
Golden boy from Baramulla
Musharaf Qayoom is 15 years from Baramulla's old town and has played 12 Nationals. He played his 1st National at the Age of 11 and has achieved 29 gold medals so far. During Covid19 Musharaf participated in 2 nationals and has got one gold.
Passionate painter
Sheikh Zameer is a Kashmiri artist. He depicts tragedies of his past, people's struggles and stresses on hope for the future.
An Artist from Baramulla, Zameer's paintings deal with social issues. His father was killed by unidentified gunmen when he was seven years old. He has depicted the stories of his childhood. His recent artwork showcases the struggle of migrant labour during the current pandemic. Interestingly, Zameer has not received any formal training in art. He is a gifted painter who works by his observations and his instinct.