Advertisement

Manzoor Pashteen continues to reiterate that solution to the Pashtuns' problems should be found within the constitution of Pakistan. This is a positive move which the powers that be should recognise …. Writes Rifan Ahmed Khan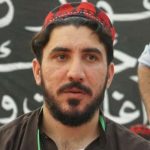 Manzoor Pashteen is no David but his story is no less fascinating than the biblical narrative about a young shepherd. He does not see a Goliath in Pakistan Army though.  He is only asking the all-powerful military, which prides itself as the permanent establishment of the country, to clear his home turf in the tribal belt of land mines, and end 'forced disappearances' – euphemism for persons arrested and detained by secret services without due process of law.
But the Army sees this son of a primary school teacher turned human rights campaigner as a threat probably because of the massive support his Pashtun Tahafuz Movement (PTM) enjoys not only amongst ethnic Pashtuns but also across Pakistan.
So the result? Manzoor is arrested and detained without trial on slightest apprehension by the authorities of challenge to their writ.  His latest arrest took place on Monday, 27 January, from Shaheen Town area of Peshawar.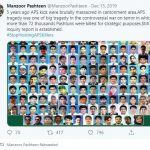 Taking to Twitter, another PTM leader and lawmaker, Mohsin Dawar, lamented: "This is our punishment for demanding our rights in a peaceful and democratic manner. Manzoor's arrest will only strengthen our resolve."
Dawar himself was arrested a day later along with some 28 PTM leaders and prominent activists for staging demonstrations in Peshawar and Islamabad against the arrest of their leader. The lawmaker has since been freed.
The case against Manzoor Pashteenis that he had attended a gathering on 18 January at Dera Ismail Khan and told a receptive audience that the Constitution of Pakistan violated basic human rights. The First Information Report – complaint lodged with the Police – added that Pashteen also made derogatory remarks about the State.  So, the charges ranged from sedition to criminal conspiracy, and criminal intimidation to promoting enmity between different groups. Also invoked was Sections 123 –A of the Pakistan Penal Code (PPC) that makes "condemning the creation of the country and advocating the abolishment of its sovereignty" a punishable offence. Whether he indulged in such a talk is for the courts to decide.
Human Rights Commission of Pakistan, (HRCP) was upset with the Police action, which in essence is a follow-up on the Army's whim. It termed the sedition charge against Manzoor as arbitrary and as an attempt to curb political dissent.  "The arbitrary charge of sedition under an archaic law to curb political dissent – that has in no way incited hatred or violence – indicates how little regard the state has for its citizens' civil and political liberties".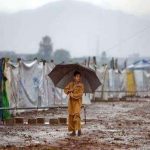 HRCP concern may not materially alter the plight of Manzoor and his fellow activists.  If there is any lingering doubt that has been set at rest by the video footage of the PTM demonstration. The visuals clearly show that the protesters resorted to no violence at any point. Several of them were seen being manhandled by the police. But who cares for finer details when the rule of law is what the Army decrees.
محترم مشر احسان اللہ دومڑ صاحب کے گھر پے کل رات کی تاریکی میں ریاست اداروں کے ناروا چھاپے اور تشدد کے خلاف سنجاوی میں مکمل ہڑتال
بڑی تعداد میں عوام کا احتجاجی دھرنہ جاری @ManzoorPashteen @a_baitanai @mjdawar @Aliwazirna50 @a_siab @mazdaki @gul_marjan @Gulalai_Ismail pic.twitter.com/2Re0rmp6g4

— نادر خان اولس یار (@Zalmai_007) January 25, 2020
Like in many insurgency driven third world countries, in Pakistan also, the Army has not updated the manual General Sir Harold Briggs had drawn up in the 1950s for the British Army's Operations against Communist guerrillas in what is today's Malaysia. Nor has Pakistan has drawn lessons from its friend Sri Lanka and arch rival India, which have handled insurgencies on their soil as political issues as well.  Interestingly, PTM is not an insurgency cut in the mode of Tamil Eelam demand in Sri Lanka or separate Nagaland demand in India. It is a pure out and out vocal opposition against abuse of Pashtuns.
Pashtun Tahaffuz Movement has had its birth in 2014 as a social campaign aimed at removing landmines and arbitrary check posts from Waziristan tribal area. With Pakistan Army subscribing to the belief, "A landmine is a perfect soldier. Ever courageous, never sleeps, never misses," the land mines have become a scourge for Pashtuns and other ethnic groups living in the battle zones of the tribal belt.
شکریہ بنوں
شکریہ پشتونخواہ
پی ٹی ایم بنوں جلسہ۔
ظلم جبر بربریت کے مخالفت میں اٹھنے والے آوازوں کا پلیٹ فارم =پی ٹی ایم
نہ جھکنے والا=پی ٹی ایم
نہ ڈرنے ولا=پی ٹی ایم
نہ بکنے والا =پی ٹی ایم
We Resist ,We Exist#LongLivePTM#PashtunLongMarch2Bannu #PashtunRejectStateTerrorism pic.twitter.com/QHuQpQdED6

— Manzoor Pashteen (@ManzoorPashteen) January 12, 2020
The PTM demand should have been met with sympathy and understanding. It did not. Pakistan is one of only 33 countries that are not signatories to the Mine Ban Treaty. So, the official apathy made the movement spread and acquire new talking points not only in the province of Khyber Pakhtunkhwa (on the border with Afghanistan) but also in the restive Baluchistan province bordering Iran.
One talking point, the authorities gifted was the brutal killing of an aspiring model Naqeebullah Mehsud (a Pashtun from Mehsud tribe) who was killed in a fake encounter in Karachi in 2018.  The same year, Tahir Dawar, a police officer and Pashto poet was abducted from the Federal Capital Islamabad and tortured to death; his body was found in the Dur Baba District of Afghanistan's Nangarhar Province.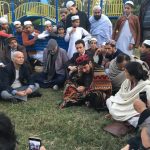 Pashtuns marched from Dera Ismail Khan and reached Islamabad in what was an adoption of Gandhian principle of non-violent protest to achieve a political objective – in their case a truth commission to bring to book the killers Naqeebullah Mehsud. Neither the Long March nor their sit-in in Islamabad had brought an end to repression. The latest Manzoor Pashteen's arrest on sedition charges shows that the authorities are becoming insensitive to genuine public grievances.
This is no more than a tone-deaf approach, as sedate Karachi daily Dawn has editorially described the crackdown. Pakistan cannot afford to intensify the people's estrangement even by default.
If the civilian government is able to assert itself and see the political landscape without security blinkers, PTM success will be seen clearly as area wakening of political consciousness in the land of the pure. Restoration of space for liberal views and dissent is the way out despite the orchestrated campaign of the Army that PTM is a paid movement funded by geo-strategic rivals Delhi and Kabul, PTM's latest demonstrations show that ethnic minority remains wedded  entirely to non-violence.
Manzoor Pashteen, while daring to criticise the Army like no other Pakistan politician, continues to reiterate that solution to the Pashtuns' problems should be found within the constitution of Pakistan. This is a positive move which the powers that be should recognise.
Media clampdown on reportage of the PTM movement in today's digital world leads Pakistan nowhere. Nor arbitrary arrests in the name of terrorism and secessionism, for that matter.
The present civilian and military rulers must learn from Gen Yahya Khan, the third President of Pakistan. His ruthless regime in 1971 ignored the Bengali sentiments articulated by Mujeeb ur Rehman and paved the way to let the Eastern Wing of the country – East Pakistan become a sovereign Bangladesh. History may have a tendency to repeat but it can be checked with some calibration and some foresight as it has demonstrated time and again.Are the present day rulers of Pakistan cut for the task?  Only time will tell!
People protesting agnst the murder of #KhatirShinwari this morning he was found dead in FC custody near Landi kotel. Ppl r chanting"the men in uniform are terrorists"
Systematic Genocide of Pashtun are continue in the name of war on terror.#PTMHollandSeminar#StopStateTerrorism pic.twitter.com/YcW6AhI5df

— AlamZaib Khan Mahsud (@AlamZaibPK) December 23, 2019