Advertisement

Following the Paris-based FATF's decision to keep Pakistan on the grey list for their failure to halt terror financing and money laundering, activists display a Poster at Broken Chair in Geneva during the ongoing 43rd session of the United Nations Human Rights Council in Geneva. They were urging Pakistan Army to stop proxy wars and funding terror networks in the region …. Reports Asian Lite News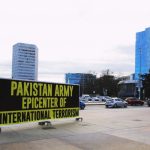 The role of Pakistan Army at various conflicts in the region got exposed as peace activists staged a protest in Geneva drawing global attention to the atrocities committed by the Army.
International media portraying Pakistan as the epicentre of International Terrorism since 9/11 and its audacity to provide shelter to Al-Qaeda chief Osama bin Laden at garrison town of Abbottabad. He was killed by US Seal commandos in a secret mission.
Pakistan is using Afghan Taliban to target their own allies. The region of North Waziristan which borders Afghanistan used to be a hub of local and international terrorists linked to groups, including Al-Qaeda and Taliban as well as other terrorist networks.
A banner "Pakistani Army Epicentre of International Terrorism" was displayed at Broken Chair in order to draw the attention to the global terrorism sprouting from Pakistan and urges the UN to take immediate action to stop these threats for global security. The protesters include rights activists from Sindh, Balochistan provinces in Pakistan and several Pashtuns.
In fact, mafia and terrorists receive $70 billion from narcotics in Afghanistan, of which $2 billion of which goes to the Taliban in Pakistan
Paris-based Financial Action Task Force lists the lapse of Paksitani government and Pakistani army to contain terrorism. FATF says the Pakistani government is actively involved in the terrorist activities within the region and beyond by actively sponsoring the terrorist groups.
The unregulated financial structure of Pakistan paves the way for the irregular transfer of money while feeding terrorism in the country. The reports show that terrorists in Pakistan are able to organise, plan, raise funds, and operate easily in the country because of the lack of governance and political will to address the problem.
Activists told Asian Lite that the Pakistani government is not willing to solve the issues raised by FATF because of its engagement with the illegal activities to win diplomatic scores abroad. Therefore, the UN should reprimand Pakistan, take an immediate action to stop this and establish rule of law in the region.
Drug Money Funds Terrorism
Over 43 percent of the Afghan opiates are trafficked through Pakistan, which is distributed in India through Punjab and Nepal. Drug trafficking and terrorism look to be two different forms of global crimes but there is symbiotic relationship between them. They generally exist in combination as drug trafficking help raise money to carry out expensive terror activities.
In fact, mafia and terrorists receive $70 billion from narcotics in Afghanistan, of which $2 billion of which goes to the Taliban in Pakistan. A Pakistani narco-terrorist Imam, who was believed to be a major player in the global heroin supply chain, was designated an international narcotics kingpin by then US President Barak Obama in 2008. In 2017, another Pakistani named Muhammad Asif Hafeez was arrested by Britain's National Crime Agency (NCA) and US Drug Enforcement Administration (DEA) in 2017 in connection with the drug procurement of ephedrine.
According to the United Nations' estimates, the number of the drug users across the world is between 200- 300 million, through which the illicit drug industry generates the revenue of about US$ 300- 500 billion annually. While Pakistani authorities including all-powerful Army have turned a blind eye to the nexus between drug operations and global terrorism, the nation's Anti-Narcotics Force announced a week ago about seizure of 5,965 kilograms of drugs worth Rs. 41.198 billion in 30 cases. According to some studies, about 300,000 people are killed due to illegal drugs annually. In Pakistan, average 700 people die every day. At least six news reporters were killed by drugs mafias in Pakistan in 2018. They wrote about the drug lords despite getting frequent death threats, which were conveniently ignored by police agencies.
As per the UNODC, Pakistan was the seventh largest country in the world when it comes to origin, departure and transit of cannabis resin during 2013- 2017. The drug peddlers in Pakistan have been misusing the licit trade agreements for opiate trafficking as there has been an increase in heroin trafficking from dry ports and seaports in Pakistan across the globe.
https://www.youtube.com/watch?v=1hfi6-8hbX0