Advertisement

It's a story. Abdullah Hussain put a post in his social media account. It was prominently featured in a TV news report, where the Hyderabad-origin boy said: "Shaikh Hamdan is so cool, adventurous and so kind. I want to meet his pets and I want to see his dresses"…. reports Asian Lite News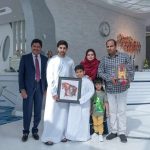 It was a dream come to reality for little Abdullah in Dubai. The seven-year-old is bed ridden with cancer.  He is suffering from third stage cancer. His bucket list includes a meeting with his idol – Crown Prince of Dubai Sheikh Hamdan bin Mohammad bin Rashid Al Maktoum. The busy Crown Prince heed his wishes and invited him and family to his personal sports complex.
The whole episode began with a simple post. Abdullah Hussain put a post in his social media account. Later, it was prominently featured in a TV news report, where the Hyderabad-origin boy said: "Shaikh Hamdan is so cool, adventurous and so kind. I want to meet his pets and I want to see his dresses."
In the video, he carried a banner that read: "I am your fan Shaikh Hamdan. I want to meet you. I love Fazza."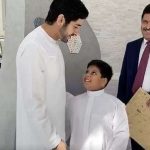 The crown prince, later posted a picture with Abdullah on Instagram with the caption "Met this courageous boy today". Besides meeting the Crown Prince, the family also spent time with his pets. The family was accompanied by prominent Dubai resident from the Indian community Advocate Ashish Mehta.
Abdullah was also thrilled to see the giraffes, gazelles and elephants. His mother Nausheen told Dubai-based Gulf News that Abdullah's fondness for Shaikh Hamdan began after he watched a video of the Crown Prince on YouTube and instantly became his fan.
During chemotherapy, she said the parents took the names of Shaikh Hamdan and Avengers superheroes to divert Abdullah's attention to ease his pain.
She added the family was grateful that their ailing son's wish was fulfilled.