Advertisement

Italy is the only country in the EU zone signed a deal with President Xi's Belt & Road Initiative. They failed to gauge the consequences and the strings attached with BRI. The project is now nicknamed as One Belt, One Road and One Virus Initiative. Italy opened their doors to become the stepping stone to European market for Chinese and see the consequences.  4032 deaths in the world's 8th largest and Eurozone's third largest economy! Italy failed to address the issues related to their closeness with China …. writes Kapil Kumar Sharma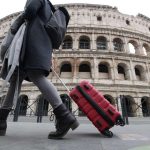 With more than 4032 people dead and 47,000 infected, Italy is the worst-hit by Wuhan-originated coronavirus for multiple reasons. Italy even crossed the toll in China. Easy to find reasons on the second-oldest population and their inter-mingling with youth. But Japan with its huge aged population is defending. The main reason for Italian casualty is their link with Wuhan – the epicentre for the new pandemic.
Many Italians in Northern Italy have sold their leather goods and textiles companies to China. Italy then allowed 100,000 Chinese workers from Wuhan and Wenzhou to move to Italy to work in these factories, with direct flights between Wuhan and Northern Italy. This continued post outbreak, so is it mere coincidence that Northern Italy is now Europe's hotspot for Corona Virus?
Last year in March, Italy became the only European country that signed up for Chinese President Xi Jinping's ambitious Belt and Road Initiative
Italy failed to learn lessons from the murky dealings of Chinese mafia and influx of illegal workers. There are several incidents of fire and unhealthy working conditions. All that warning signs were ignored. EU also turned a blind eye to vast numbers of illegal Chinese immigrants working in Italian factories. The 'Open Borders' EU is trying to keep this reality under wraps. Without any hindrance, the Chinese Mafia operate Italian textile factories with tens of thousands of illegal immigrants. They are shipping 'Made in Italy' goods into China and elsewhere.
The Brexit will put a break on the free movement of immigrants with EU passports. But it poses a threat to the entire European Union. The situation in Italy could accelerate the collapse of the whole EU project.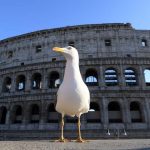 An Italian journalist, Francesca Marino believes that Italy understood the problem "too late". "We discovered the first patient only when the virus had already spread and we've not been able to track back the people he had met. The first cases had been Chinese tourists and until then things went ok. But when the first Italian case had been discovered in the north the damage was already done," she told IANS. However, apart from delay in action, Italy was particularly sensitive towards its relationship with China, a top official source said.
Last year in March, Italy became the only European country that signed up for Chinese President Xi Jinping's ambitious Belt and Road Initiative (BRI). Seven months later, Italy's fashion capital Milan's official promotional agency partnered with China's Internet giant Tencent Holdings to attract greater number of Chinese tourists.
All the top members of EU perceived Italy's deals with China as a threat to European security, autonomy, sovereignty
In November 2019, Italy invited a group of 10 police officers from China to jointly patrol for three weeks to help with the safety of Chinese residents and travelers in Italy. It was the fourth joint police patrol between the two countries.
A week or so later, a 55-year-old individual from Hubei province in China contracted novel coronavirus, the disease that was later detected in its epicenter, Wuhan city. On January 31, Italy became the first European Union member to suspend flights to and from China, Hong Kong, Macau and Taiwan in an attempt to prevent the outbreak of the Covid-19. By that time, over 200 people had died and over 9,000 people had been infected in China.
The ban on air services offended China so much that Italy's President Sergio Mattarella sought to placate Beijing by writing an open letter to his Chinese counterpart Xi Jinping on February 2. He not only reassured China to rely on Italy but hosted China's ambassador for a concert at the presidential palace.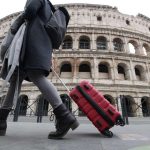 A couple of days later, Mayor of Florence Dario Nardella asked residents to embrace Chinese people to show solidarity and support in their fight against the contagious disease.
Incidentally, a member of Associazione Unione Giovani Italo Cinesi, a Chinese society in Italy that promotes friendship between people of the two countries, called for respect for the covid-19 patients at a street demonstration. A video run by China Global Television Network showed Italians hugging Chinese people in the streets during the campaign 'I'm not a virus. I'm a human. Eradicate the prejudice.'
Italy is home to the largest Chinese population in Europe, with around 3,30,000 people, according to Eurostat data.
Last year, Italy was in the spotlight for being the first EU member that decided to be part of Xi's BRI. Though it is third-largest economy in EU, it has relatively lesser Chinese investment compared to other countries in Europe. To catch up, Italy's Prime Minister Giuseppe Conte agreed with Xi to improve connectivity between Italy and China by building ports.
During Xi's visit to Rome, the two countries signed 29 deals worth 2.8 billion USD. The deals included commitments to open Italy's ports to Chinese investment, partnership between Chinese and Italian banks, contracts for Italian companies in agriculture, finance, engineering and energy sectors.
While it raised concerns in the US over Beijing's push for economic influence in the region, all the top members of EU perceived Italy's deals with China as a threat to European security, autonomy, sovereignty. But Italy went ahead because like many other European countries, the country has been suffering from mass unemployment and economic slowdown.