Advertisement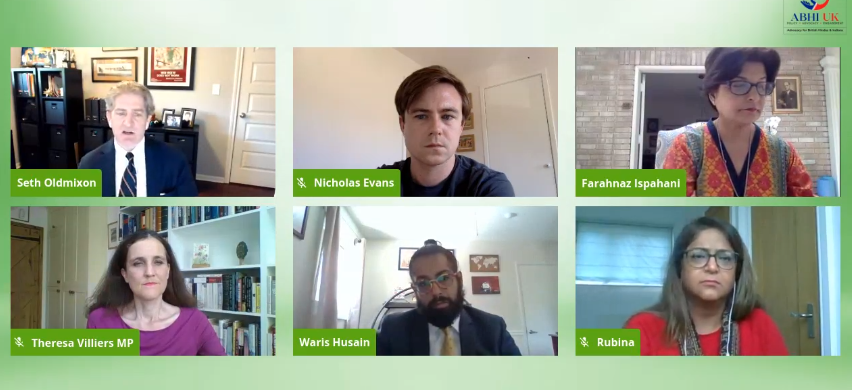 Experts, Politicians, Academics, and Legal Scholars have come together to highlight the situation of minorities in Pakistan, including Ahmadiyas, Christians and Hindus, and the oppression, non-accountability, and indoctrination of extremist views against them in the country. A short video was shown of Christians in Pakistan as they took to streets condemning attacks on them attributing arson and blasphemy.
Dr. Rubina Greenwoord- Chair of World Sindhi Congress, Theresa Villiers MP, Farahnaz Ispahani- Senior Fellow at the Religious Freedom Institute, Dr. Waris Hussain- Adjunct Professor at Howard University School of Law, Dr. Nicholas Evans, LSE Fellow and Seth Oldmixon from Liberty South Asia have all shared their inputs and views on the topic.
Dr. Rubina spoke about the existing legislation being by-passed, how systematic brain-washing is taking place, and how conversion is a serious issue in the country. She opined the international community must intervene and put pressure on Pakistan to implement and adhere to laws of which it is a party. "The performance of Human Rights must be linked to foreign aid. Educational content that glorifies Jihad should be revamped, the crime is not just by people, but by the establishment and the system", she reiterated.
Theresa Villiers MP expressed concerns about atrocities on Christians and Hindus and the promotion of division and intolerance towards minority faiths in Pakistan. She underscored how western governments like the UK have a dilemma as they like to engage with Pakistan to fix issues of terrorism and security interests, and also look into human rights issues. She opined that the National Commission for Justice and Peace in Pakistan must be involved and address the issues.
Referring to the figures provided by All Pakistan Hindu Panchayat, Farahnaz Ispahani- Senior Fellow at the Religious Freedom Institute said that Sindh is the most impacted province by the conversion wave. She also spoke about huge radicalisation and attacks on Sufis though they are practicing Muslims, and opined there has to be a list of talking points that must be shared wider, and a petition with actionable items, and sought media intervention.
Dr. Waris Hussain opined it may take longer to bring institutional change, and oppressed and suppressed voices must be enabled to express freely. He drove the point home that tens of thousands of dollars of US aid were spent on reforming the educational syllabi in Pakistan, and the changes were not sustained by the Pakistani government. He also agrees that religious records must be seen to continue trade and other businesses. Dr. Evans highlighted the culture of fear among people to speak up, for example against blasphemy laws and opined that space must be created for them to freely express, alongside the international community. Closing remarks were rendered by Theresa Villers MP during which she hoped that she would raise some of the issues in the Parliament when the House returns post COVID19.