Advertisement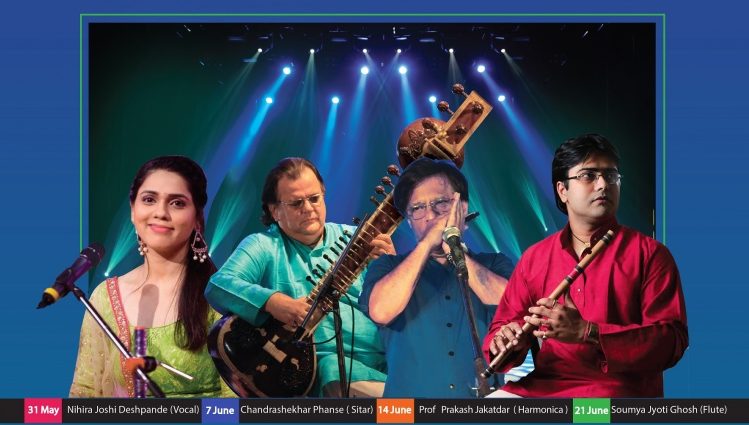 After a massively successful opening concert on 31st May 2020, the celebrated Sajda Festival UK is gearing up for the next three consecutive Sunday evenings to enthral the audience with more delightful musical extravaganza.
SAJDA FESTIVAL UK Season 2 is being aired online on its Facebook page, via Zoom platform. The theme this year is TRIBUTE TO THE UNSUNG HEROES, where the creative platform is celebrating Hindi Film melodies of the golden era.
This Sunday, the 7th of June, at 5pm, the festival is going to present the very eminent Sitarist, Chandrasekhar Phanse. A globally renowned name,  Chandrashekhar's career involves 25 years of rendering recitals, coaching in both the sitar and vocals and conducting lectures in various esteemed platform around the world. In 1983 he obtained his Visharad degree in sitar at the Bhatkhande Sangeet Vidyapeeth in Lucknow. He then achieved an M.A with 1st class & 2nd in Merit in Sitar at the Indira Kala Sangeet Vishwa Vidhyalaya, Madhya Pradesh.  Chandrashekhar's album, the 'Singing Sitar', a melodious bouquet of evergreen Hindi film songs is hugely enjoyable by one and all. To impart his vast knowledge to the masses, Chandrashekhar has released a musical series named 'Inspiration', which explains the various nuances and intricacies of classical music in simpler terms. His 26 episodes TV serial 'Swaramala' on DD Bharati, was also well received by the viewers. A fan can truly connect with his quote, "play the music, not the instrument", hearing him play.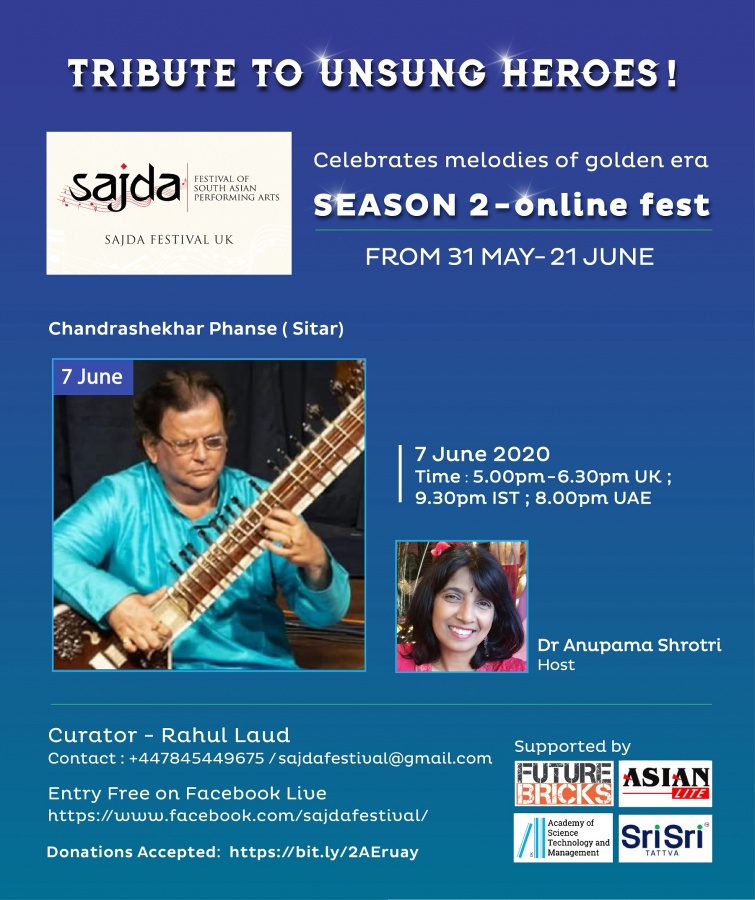 The first show of Sajda Uk season 2 as was aired on 31st May, on their Facebook page, saw the fantastic Bollywood singer Nihira Joshi riveting the audience and leaving them speechless with some beautiful numbers and her sweet persona. The show was superbly hosted by Anirudh Kaprekar with humour and poise. The premier event alone has got a viewership of over 10k in the first three days. One is left to wonder what is more in store in this perfectly orchestrated festival by Mr. Rahul Laud. "Sajda UK also wants to pay tribute to the unsung heroes, who work tirelessly behind cameras and also music directors , accompanying the lead vocalists and musicians, or in other aspects, to build make musical melodies and make them  entertaining and immortal", contemplates Rahul.
The program will be hosted by Dr. Anupama Shrotri. A long-time theatre actor, her recent venture of aptly translating Rabindranath Tagore's 'Strir Patra' in Marathi and narrating the novel on the 'Rangamanch UK' Facebook page garnered huge applause. "I'm really excited to be a part of Sajda festival which is setting new standards in the Indian cultural scene in England. Chandrasekhar ji is a celebrated Sitar artist who has performed nationally and internationally. He's sure to mesmerise everyone with our favourite Hindi songs of the golden era, rendered perfectly on his sitar", says Anupama who is a successful oncoplastic surgeon with NHS, and lives in Liverpool, UK.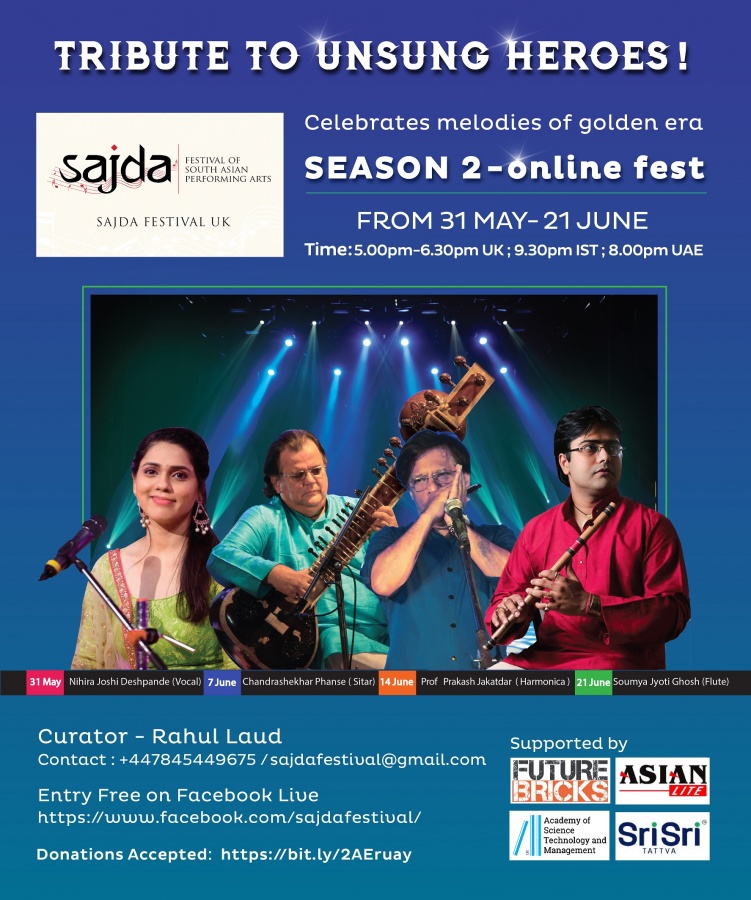 During this unprecedented time of hardships, the organisers have decided to keep the show open to all, this year. However, donations are being appreciated, major parts of which will be going to established charities in India.
 It's reported that support is flowing in from various organisations. The Academy of Science Technology and Management (ASTML), Future Bricks, Sri Sri Tatva UK have offered donations.
Watch the festival LIVE on
https://www.facebook.com/sajdafestival
Festival accepts donations https://bit.ly/2AEruay
For any further information : Rahul Laud +447845449675; sajdafestival@gmail.com