Advertisement

The march was organised by a diverse group of individuals across class, sexuality and ability. Carrying the picture of late human rights activist Asma Jehangir, the protesters shouted:  "Mera Jism, Meri Marzi", (my body my choice) …. reports Asian Lite News #Auratmarch2020
Despite stone throwing, threats, abuses and shaming, thousands of women in Pakistan join Aurat March to protest against atrocities against women, children and trans-genders across the country.
Incidents of stone pelting were reported from various towns and cities across Pakistan. Several injured in the attacks.
The march was organised by a diverse group of individuals across class, sexuality and ability. Carrying the picture of late human rights activist Asma Jehangir, the protesters shouted:  "Mera Jism, Meri Marzi", (my body my choice).
The march is an attempt to collectively raise voices and engage in political action for issues affecting them and their communities in a public rally. The first Aurat March was held in 2018 in Karachi. Last year, it was extended to more cities, including Lahore, Multan, Faisalabad, Larkana and Hyderabad, reports Dawn news. This year the march is being held in Lahore, Multan, Quetta, Islamabad and Karachi.
Reports of sexual violence, stalking and abuse in the family also increased. It is within the walls of the house that 85 per cent of women are affected more and more often, mainly by their partners.  In Lahore, the participants carried placards and chanted slogans calling for the independence of women. Besides the main march in Islamabad, female members of the Jamaat-i-Islami (JI) held another rally outside the National Press Club.
The Aurat March, as it has come to be known since its first iteration in 2018, was organised by Hum Aurtain – a feminist collective. Speakers at the Lahore march ranged from a woman fighting to reform marriage laws to the women who worked on the landmark Punjab Domestic Workers' Act — a legislation that outlaws child labour in homes and provides maternity benefits to workers.
@Tooba_Sd's response to the goons that attacked #AuratMarchIslamabad with misogynistic fervor, chappals, pepper, sticks and stones, injuring a few significantly. Nothing was injured more than some daft male chauvinism. #AuratAzadiMarch #AuratMarch2020 pic.twitter.com/LDpEUI13RB

— Taimur Khan (@taimur_org) March 9, 2020
Another activist, Leena Ghani, noted that Pakistani women have a history of taking to the streets, famously during military dictator Zia ul-Haq's martial law in the 1980s.
While Pakistan has made major strides towards gender equality, poorer, marginalised women and transgender citizens continue to struggle, Ghani added.
Designer Shehzil Malik created a series of striking posters for the "aurat march" that counter typical representations of Pakistani women as docile and subservient.
Women are also protesting against discriminatory policies in universities, where male and female students are afforded different levels of freedom, the Guardian said. A Pakistani university recently caused a furore on social media by banning women from wearing skinny jeans and sleeveless shirts.
Mullahs Draw Flak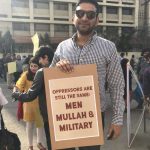 Taking up the incident to social media, the organisers tweeted: "Mullahs are stoning the participants of #AuratAzadiMarch a march that was and is peaceful. Where is the security that was promised? Where was the police that was promised? Iss nizaam se chahtay hain Azadi!"
In the 2019 Women, Peace and Security Index, Pakistan ranked 164 out of 167 countries, only above Syria, Afghanistan and Yemen, and worst among nine South Asian countries on access to mobile phones, financial inclusion, and discriminatory norms for women.
More power to these women! #AuratMarch2020 #AuratAzadiMarch https://t.co/AWwimN5TNN

— Shipra Shukla (@putputshukla) March 9, 2020
According to Amnesty International, who released a statement supporting the Aurat March: "Women in Pakistan are consistently deprived of education, justice, health care, political representation, and economic opportunities. They live under the constant threat of violence". And "the threats of violence, intimidation, and harassment being hurled at marchers who are merely demanding their due rights underscores the necessity of the Aurat March.
"In the World Economic Forum's Global Gender Gap Index Report 2020, Pakistan ranked 151 out of 153 countries, indicating a dismal record on human rights for women. It charts at the very bottom of the seven South Asian countries included in the Index".
Human Rights Watch maintains that "violence against women and girls — including rape, so-called honour killings, acid attacks, domestic violence, and forced marriage — remains a serious problem" in Pakistan.
Around 12.2 million girls, compared with 10.6 million boys, remain out of school in the country because of poverty compounding challenges related to girls' educational opportunities.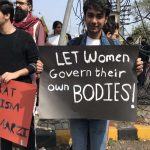 Less-educated girls marry young, become mothers at an early age, and often face health challenges throughout their lives. Women around the country have to face domestic violence, rape, honour killings, being thrown acid at, kidnapping and enforced disappearances. Especially in regions like KPK or Balochistan.
Recently HRW issued a warning over the role of police in sexual violence cases, with officers both committing offences themselves and harassing and intimidating those who made allegations, not only in Balochistan but all over the country.
Honour Killings
Violence against women and girls—including rape, so-called honor killings, acid attacks, domestic violence, and forced marriage—remains a serious problem. Pakistani activists estimate that there are about 1,000 "honor" killings every year, the HRW said in its report.
In June, the murder of 19-year-old Mahwish Arshad in Faisalabad district, Punjab, for refusing a marriage proposal gained national attention. According to media reports, at least 66 women were murdered in Faisalabad district in the first six months of 2018, the majority in the name of "honor."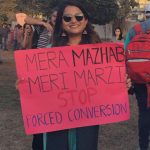 Women from religious minority communities remain particularly vulnerable to abuse. A report by the Movement for Solidarity and Peace in Pakistan found that at least 1,000 girls belonging to Christian and Hindu communities are forced to marry Muslim men every year. The government has done little to stop such forced marriages.
Early marriage remains a serious problem, with 21 percent of girls in Pakistan marrying before the age of 18, and 3 percent marrying before age 15. The Taliban and affiliated armed groups continued to attack schools and use children in suicide bombings in 2018. In August, militants attacked and burned down at least 12 schools in Diamer district of Pakistan's Gilgit-Baltistan region. At least half were girls' schools. Pakistan has not banned the use of schools for military purposes, or endorsed the Safe Schools Declaration as recommended by the United Nations Committee on Economic, Social and Cultural Rights in 2017.
Over five million primary school-age children in Pakistan are out of school, most of them girls. Human Rights Watch research found girls miss school for reasons including, lack of schools, costs associated with studying, child marriage, harmful child labour, and gender discrimination.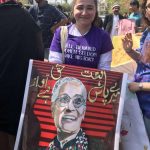 Child sexual abuse remains disturbingly common in Pakistan with 141 cases reported in just Lahore, Punjab, in the first six months of 2018. At least 77 girls and 79 boys were raped or sexually assaulted in the first half of 2018, according to police reports, but none of the suspects had been convicted at time of writing and all had been released on bail.
In January, the rape and murder of 7-year-old Zainab Ansari in Kasur, Punjab, led to nationwide outrage and prompted the government to promise action. On June 12, the Supreme Court upheld the convictions of Imran Ali for the rape and murder of Zainab Ansari and at least eight other girls.
Imran Ali was executed on October 17. On August 8, the body of a 5-year-old girl who was raped and murdered was found in Mardan district, Khyber-Pakhtunkhwa. The rape of a 6-year-old girl in Sukkur district, Sindh, was confirmed by a medical report on August 10.
According to the organization Sahil, an average of 11 cases of child sexual abuse are reported daily across Pakistan. Zainab Ansari was among the dozen children to be murdered in Kasur district, Punjab in 2018. In 2015, police identified a gang of child sex abusers in the same district.