Advertisement

Prime Minister Boris Johnson orders Britons to stay home as hundreds broke the Safe Distance request on a Sunny Sunday… reports Asian Lite News, the best newspaper for Asians everywhere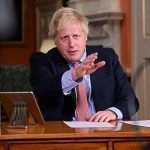 Prime Minister Boris Johnson announced that for at least the next three weeks, residents all across the country will have to remain in their homes in an effort to stop the spread of the novel coronavirus.
"From this evening I must give the British people a very simple instruction – you must stay at home," Efe news quoted Johnson as saying in a televised address on Monday night.
"Because the critical thing we must do is stop the disease spreading between households."
"That is why people will only be allowed to leave their home for the following very limited purposes: shopping for basic necessities, as infrequently as possible; one form of exercise a day – for example a run, walk, or cycle – alone or with members of your household; any medical need, to provide care or to help a vulnerable person; and travelling to and from work, but only where this is absolutely necessary and cannot be done from home," he said.
The move represents a significant escalation of the UK government's response to the pandemic.
Johnson was initially reluctant to impose the kind of lockdowns seen in China – where the outbreak began – and Italy, which now leads the world in coronavirus deaths.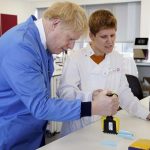 Only recently did the administration order pubs and restaurants closed and call on Britons to practice social distancing.
The measures announced Monday night include the closure of all retail outlets aside from those selling food, medication and other necessities and suspension of all religious services.
Johnson also ordered a halt to social events such as weddings and baptisms.
Funerals will be allowed, with attendance to be restricted to immediate family.
Parks are to remain open to accommodate exercise, but police will disperse any gathering of more than two people who are not part of the same household.
UK health authorities said on Monday that the number of confirmed cases climbed in the last 24 hours by 967 to 6,650, while the death toll increased by 54 to 335.
Another 77,295 people have tested negative, the Department of Health and Social Care said.
"Without a huge national effort to halt the growth of this virus, there will come a moment when no health service in the world could possibly cope. Because there won't be enough ventilators, enough intensive care beds, enough doctors and nurses," Johnson said.
"And as we have seen elsewhere, in other countries that also have fantastic healthcare systems, that is the moment of real danger," he said, alluding to the crisis at hospitals in the hardest-hit regions of Italy.
"I can assure you that we will keep these restrictions under constant review. We will look again in three weeks, and relax them if the evidence shows we are able to," the prime minister said, "But at present there are just no easy options.
"The way ahead is hard, and it is still true that many lives will sadly be lost. And yet it is also true that there is a clear way through," he added.