Advertisement

Lord Nazir retweeted a video clip related to an honour killing incident at Muzaffargarh in Pakistan as a clip from India…. reports Asian Lite News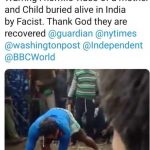 Media monitoring group Hoaxslayer exposed a fake news peddled by Britain's Lord Nazir Ahmed  and a retired Pakistan Army Major Muhammad Arif.
Major Arif shared a video, retweeted by the Lord, showing "Muslims are being buried alive in India."
But actually the video is from Pakistan's Muzaffargarh and related to an honour killing incident. The 1-minute-40-second clip shows a baby and a woman being dug up from the ground while a large group of people stand around watching.
According to Parhlo.com, a Pakistani site for citizen journalism, the 21-year-old woman had a love marriage which the family did not approve. The Pakistani media including the Dawn had reported it as a case of honour killing.
WARNING: The video is related to a crime incident. Not suitable to some viewers
Attn UNO, OIC, SAARC, ASEAN, SCO, European Union, SC P-5 and human rights orgs why don't you force Modi's BJP, RSS to lift curfew, stop genocide, women abuse, Lynching, burning, eleminating minorities spl Muslims to have only HINDUS in India https://t.co/ulDMGJH9v8

— Col Hasan Niazi (@NiaziCol) February 29, 2020
On 27 February, Dawn reported that a man had been arrested for killing his sister and her newborn baby after kidnapping them. The report said bullet wounds were found on the woman's body while the child appeared to have been strangled to death.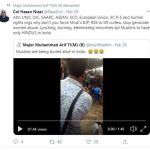 The clip was also shared by Britain's Pakistani-origin British MP, Lord Nazir Ahmed, who called it a "horrific video of a mother and child buried alive in India by Fascist". It has been viewed over 18,000 times and has 1,100 retweets.
The Lord is known for sparking debates over fake news. The Rotherham-based Lord, who is on bail, will appear in court in July, 2020 to face charges of sexual assaults.
He was earlier charged with two counts of attempted rape of a girl under 16 and one count of indecent assault against a boy in the early 1970s. The peer faces a further allegation of buggery against the same boy aged under 11.
The Lord denies all of the charges. Ahmed's two brothers are also charged with sexually abusing the same boy between 1968 to 1972. The trial at Sheffield Crown Court will take place in July 2020.
.