Advertisement

Cllr Reena Ranger OBE and Cllr Ameet Jogia were elected as new leaders of the Conservative Friends of India …. reports Asian Lite News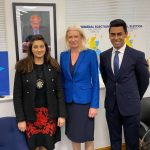 Conservative Friends of India names Cllr Reena Ranger OBE and Cllr Ameet Jogia as co-chairs to lead one of the influential political arm of the ruling Conservative Party. With three cabinet ministers from the fold, Indian origin Conservatives are strong in the political landscape of Britain.
Rishi Sunak as Chancellor, Priti Patel as Home Secretary and Alok Sharma as Business Secretary, Indians calling shots on key ministries in the cabinet.
Reena Ranger is one of the three District Councillors for Moor Park & Eastbury in May 2014. She previously ran as a County Council Candidate 2013 and was a Parliamentary Candidate in the 2017 General Election. She addressed the delegates at the Conservative Party Conference in 2017 on the topic of "Fighting Injustices" and remains active within the Conservative Party.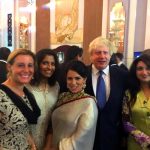 Reena is Chairman and Co-Founder of Women Empowered, a grass roots, social initiative that aims to inspire and help women make the best of their individual talents and skills by connecting with successful and inspirational women and to help them make the most of their abilities and help them gain new opportunities through a variety of events. The group is championed and supported by prominent women and men from all walks of life, from politics to media, from finance to music.www.womenempowered.co.uk . It also consists of a charitable arm based on the donation of time and service and an online blog.
Reena has worked within her family business for almost 20 years. She has worked in variety of roles, always close to the heart of activity she has been involved closely from both operational and strategic aspects Reena is a TedX speaker and has contributed to a variety of Asian media newspapers and radio.
"Ameet and I have huge footsteps to follow in," said Reena. "Thank you to Lord Ranger and Lord Goldsmith who ushered in a new and vibrant chapter of CFIndia. Ameet and I shall endeavour to continue in this vein and honour the task ahead and those who have put their faith in us. 
"This is an exciting time in politics and a great time to get involved so please join us at www.cfindia.co.uk – if you are passionate about your community, getting involved or making a difference, please join us via our website and like our FBpage," she added.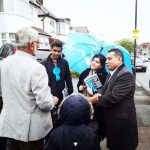 Jogia is a Conservative Councillor for Canons Ward, Harrow. He joined the Party on his 16th birthday. He has been involved with the Party ever since, having been elected as a Local Councillor in his local town of Harrow in 2014, and re-elected in 2018, as well as having recently stood for Parliament in Brent North in the 2017 General Election.
Ameet was first elected a Councillor in the London Borough of Harrow in May 2014, receiving the highest number of votes compared to any other candidate in the borough. He is also currently the youngest Councillor in Harrow. Ameet has served in the Shadow Cabinet in Harrow Council, becoming the Cabinet Member for Culture and Community. He is committed to promoting integration within the borough and strengthening its diversity. In the Council, Ameet also holds responsibility for traffic safety.
Ameet currently works in Westminster as a Political Aide to the Lord Popat of Harrow. Ameet has supported Lord Popat in his role as the former Minister of the Crown for Business and Transport in the Lords, as well as his current role as the Prime Minister's Trade Envoy to Rwanda and Uganda.