Advertisement

Bolton resident in North England, Dr Aruna Limaye Mene who is a retired histopathologist come fabric collage artiste shares the finer nuances of her art in conversation with Rahul Laud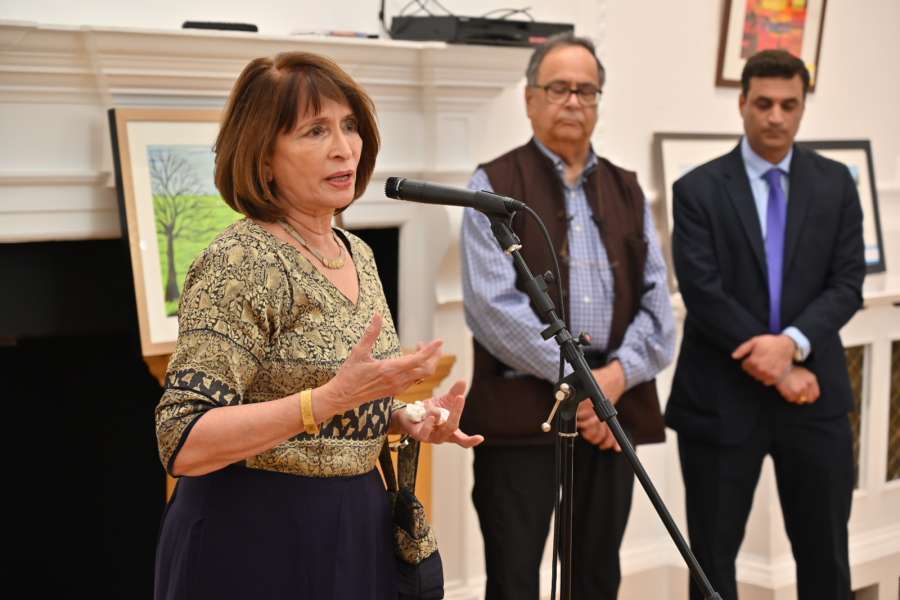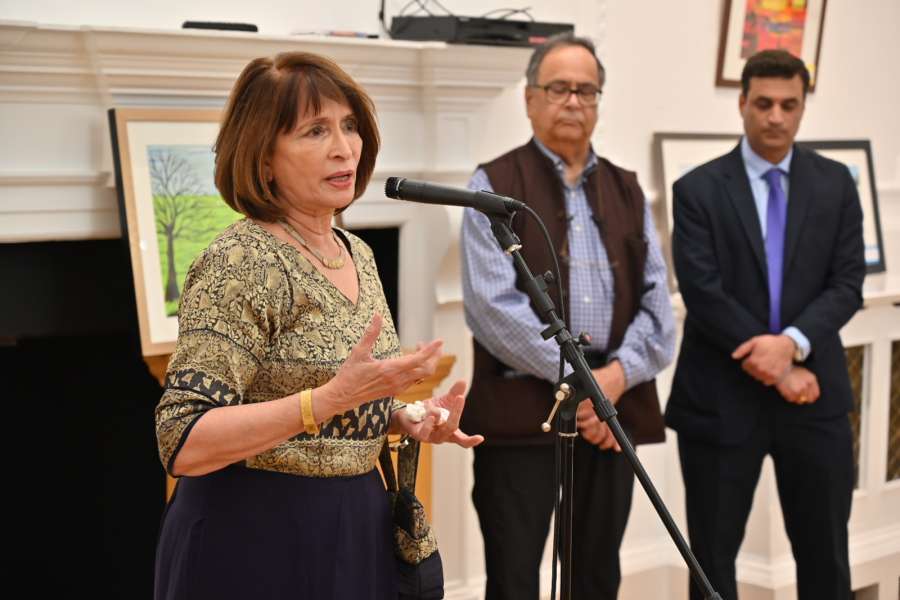 The Hanover Fine Art Gallery, UCLAN, Preston in North England , UK has postponed their exhibition 'From Rags to Riches' by the renowned Fabric Collage artiste Dr Aruna Limaye Mene slated to begin on 16 March. This hasn't disappointed England's senior now retired histopathologist Aruna who is featured in 100 Women Stories by Gulnaz Brennan  who says ''My fabric collages hope to convey the joy of living, optimism and celebrate life.''
Being a doctor , she understands the Corona Virus disease and doesn't allow it to affect her spirit of creativity . Meeting her at her residence in Bolton where she has lived for over three decades has been a humbling experience.
To many she is known as an industrious doctor at NHS England,  mother of two , affectionate Grandma , wife of Dr Ravi Mene ( retired doctor ; a brilliant photographer) , lover and connoisseur of fine arts and music, and a brilliant host. She has aged with grace and she comes across as a very dignified , elegant and a modest woman passionate about medicine and her art.  She is also known as a painter with a difference . Aruna uses fabric to paint pictures she observes and imagines instead of water colours, charcoal or any other acrylic paints.
Conscious of the food that the retired couple eats, she serves soya made noodles and broccoli soup with some not-so-sweet home made kheer for dessert as she settles down to narrate her journey from the field of medicine to fabric collage ,and her lifestyle over the years as she had moved with her IAS bureaucrat father former Collector of Nagpur to different cities.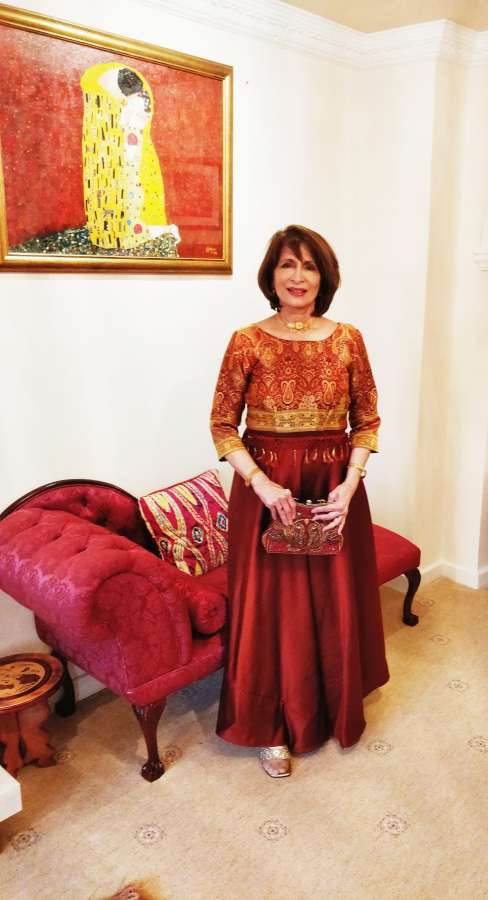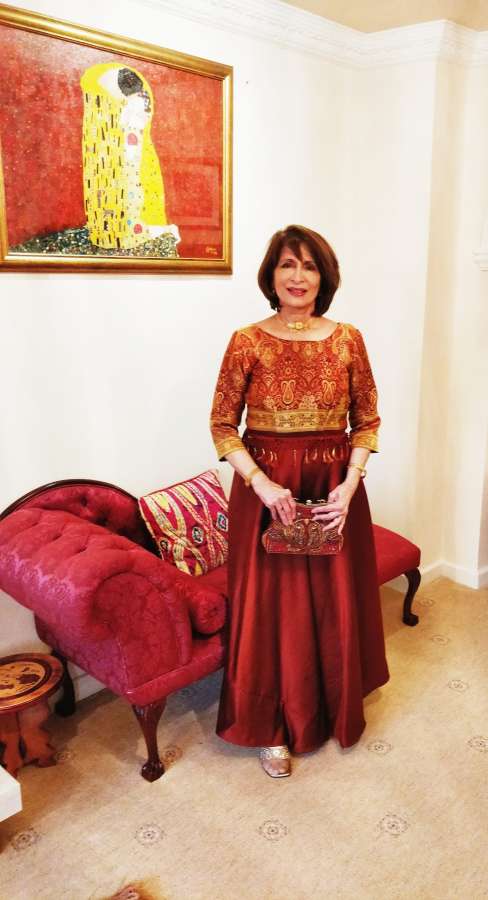 Her penchant towards arts and crafts grew since her childhood as she had watched her grandmother as well as her mother who was far ahead of her times. It was her mother who designed Aruna's and her sister's clothes that were modern , contemporary and fashionable. These dresses caught the attention of the entire neighbourhood and slowly instilled the art of stitching, sewing and love for creativity reminisces Aruna.    Her mother has been her prime source of inspiration and she states '' Art was the driver that embedded values of responding conscientiously to climate change.''
Old sarees , old shawls, old jackets whatever the textile , they are all upcycled and recycled  in Aruna's studio. The word being spread, local tailors in Bolton town are more than glad to offer torn pieces of fabric post stitching from their tailoring shops to Aruna.
Extremely conscious of the environment and the vagaries prevalent in climate change, Aruna emphasis the need to refrain from throwing textiles into the landfill sites. ''Its one of the largest pollutants, she states and the staggering figure of 330 million tons of textile waste is truly worrisome,'' she avers.
Non-biodegradable textile with polyester material destroys environment and 10,000 litres of water consumed to grown cotton and stitch one shirt is a shocking fact and an expensive affair thus requires utmost attention and care. Aruna strongly dismisses the idea ''textile to be used as a disposable commodity.'' Tendency of limited use and throw in land fill must be actively discouraged she strongly believes. She advises old clothing , bed sheets , any textile fabric used can be either given to charity or donate them to artistes who can further use them to make fabric collages, weave baskets, make any usable clothing or merchandise after upcycling or recycling the old fabric.
In a unique support to Bolton hospital's chemotherapy patients, Aruna stitched several bags to carry infusion pumps for these patients. These colourful attractive bags were all products recycled from textile waste.
Her works of fabric collage look like paintings as there is huge detailing in her work which reflects perseverance, patience, an eye for detail  in addition to immense observation and creative confluence of vibrant colours.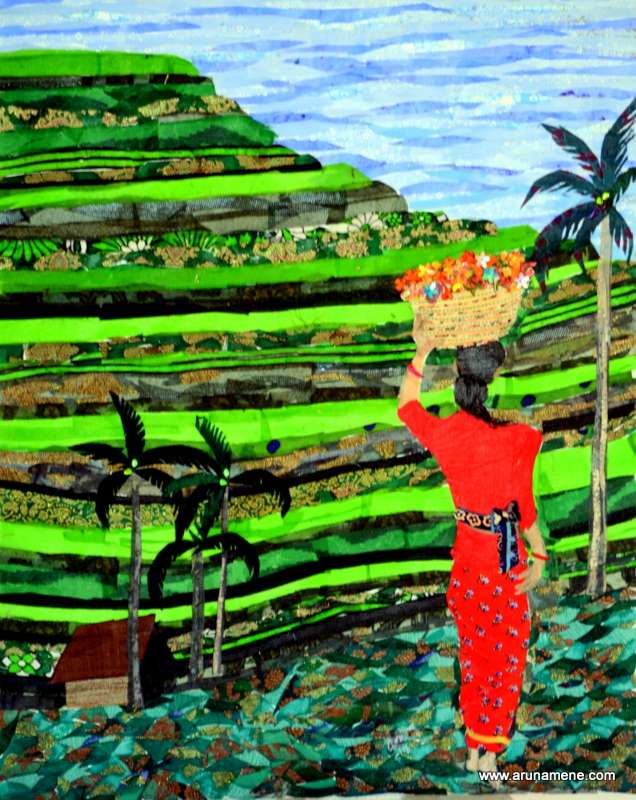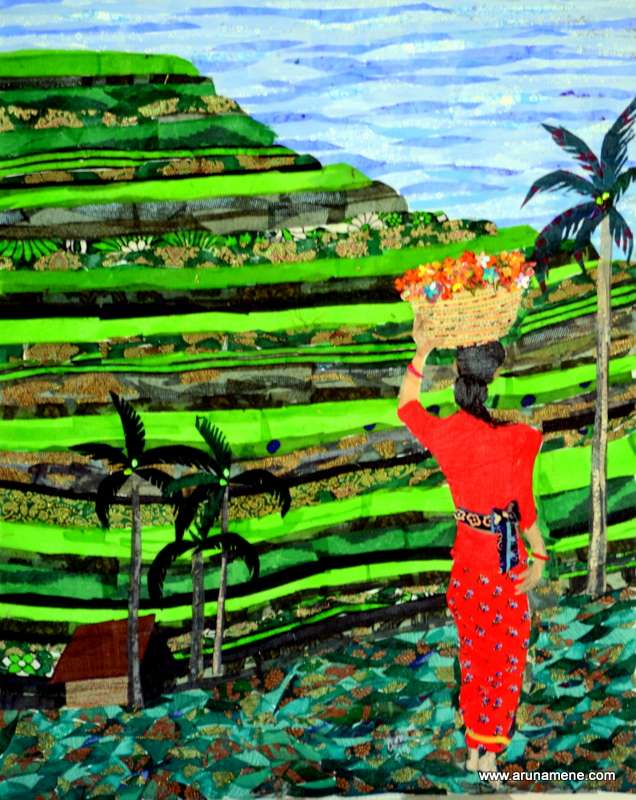 ''These  happy collages are inspired by the enchanting natural world, travel to exotic destinations, humanity,  and my work as a Histopathologist, '' she explains as she showcases different works that adorn her house walls . Some of her collages are on Saatchi online gallery. What's poignant is the fact that all her collages are produced from fabric and textile waste and are very 'green.'
A former topper in school, college and medical school, Aruna was naturally attracted to paintings and wall art. To purse her journey in the field of fabric collage Aruna went to New Jersey in  the USA to study under Laura Brightman the finer nuances of fabric collage. Laura's belongs strictly to the photo realistic school – a method that Aruna learnt but prefers using heat and bond technique with adhesive on the iron . This gives a firm grip to cut and paste on the canvas small finer fabrics in the design that she has contemplated to execute, she explains.
 Liking for painting, sewing, stitching and watching different quilts being made since childhood opened further doors to Aruna to explore making commercial merchandise . Blankets , jackets , cushion covers ,  woven baskets are some of the merchandise she creates from torn rags of fabric. On an average she spends in her studio 4 to 5 hours a day creating magic with different fabric rags scattered around her. While she worked full time with the NHS she would devote less time towards her hobby and passion but after her children grew up and ''flew the nest,'' she was able to devote more time towards her art and craft.
Recipient of the Highly Commended certificate from Inspire Awards 2019 in the field of Woman in Film, Art and Media Awards, Aruna's image of her fabric collage from the series of 'Beauty under the microscope' adorned the cover of The Bulletin of The Royal College of Pathologists in 2009. Three   Cardiac Pathology collages are on the walls of St. Georges Hospital, Tooting in London, as a special commission. Four pictures from the series "Beauty under the microscope" hang in the main corridor Royal Blackburn Hospital, she states modestly.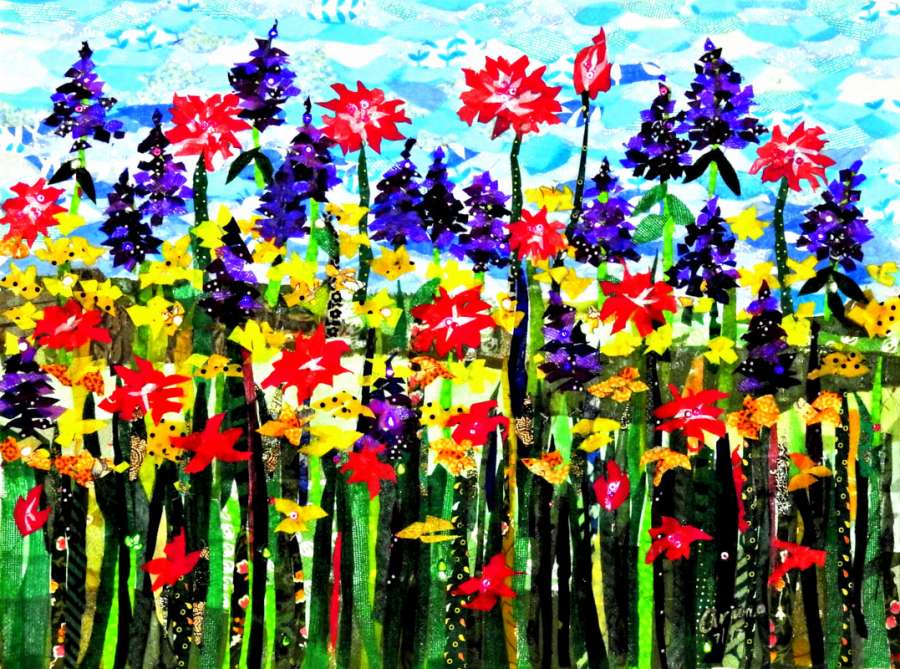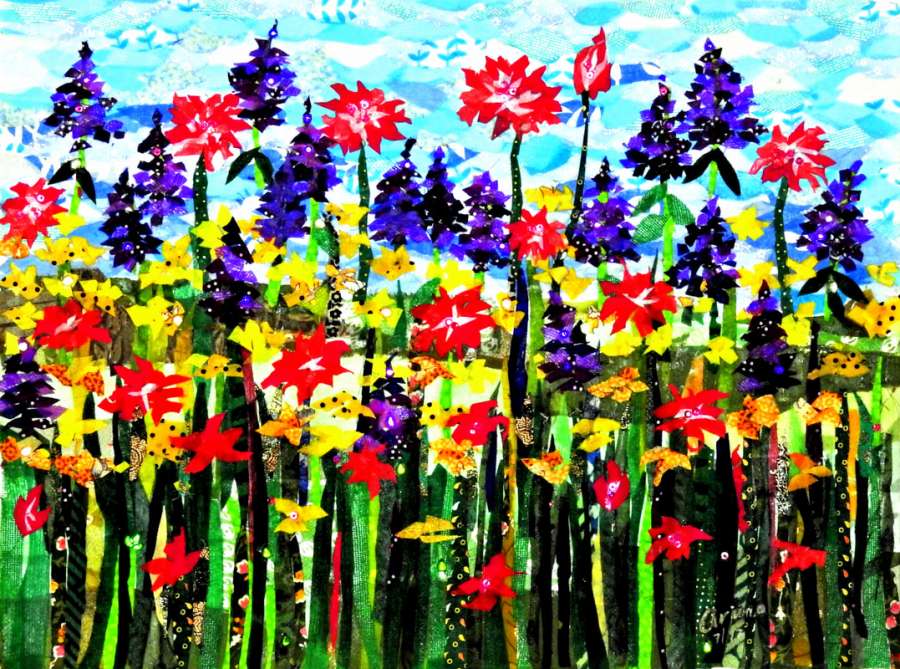 "Tree of life" is  on the cover of  'The Digest' in their Spring/Summer issue 2014 and the
Tosoh- Japan published their 2015 calendar using landscape  images of her my  fabric collages. The calendar can be viewed in the section of 'media coverage'.
Image of 'sand dunes of Namibia' has appeared in the new literary magazine 'Into the void' in their autumn issue of 2016 and another feature that makes her proud is the image of 'Those distant hills ' that will be appearing in the Canadian  Multifaith calendar 2020 published from British Columbia.
To her credit , Aruna has held solo exhibitions at the Samlesbury Hall ,Preston, The Nehru Centre, London,  Uthink Art Gallery Bolton , Friends of Turton tower in Bolton and  Elixir gallery, London among other reputed locations.
She is a member of Medical Art Society ,Ten plus Textile artists group, Bolton Art Circle , Lancashire artists network and Colouricious.  Aruna is also on the public speakers' web site of Dianne Mannering,   and the Speaker net.
Aruna and Ravi are both volunteers of the Rotary Club in Bolton . Committed to serve society, Aruna says , '' I enjoy giving talks to various school , art and women groups sharing my knowledge and wisdom of this art form .'' She was invited to lead workshop for school kids at Farmworth's Fern Academy to teach children the values of recycling of textile waste.
'' From my talks and from the sale of my original artwork and merchandise, my profits are donated to various charities I support in UK and India,'' she concludes.
With growing awareness of Climate Change, Aruna's fabric collage art is here.