Advertisement

The fact that Patel is in a position of power at the moment means that she has become, rather unfairly, an unofficial spokesperson for the British Asian community. Therefore by dismissing suggestions of racism, she is setting a harmful precedent that perpetuates the anti-black narrative that plagues it…writes Naina Bhardwaj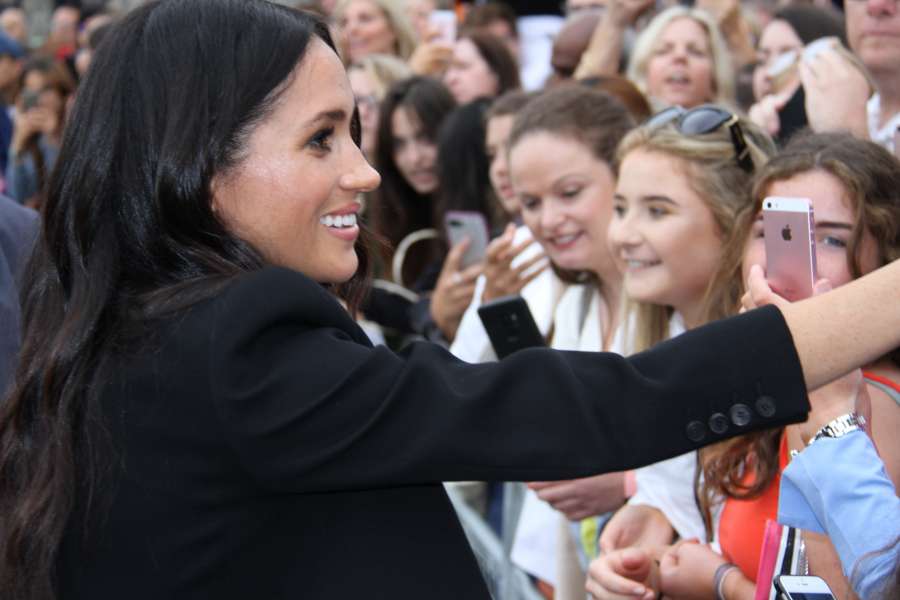 Priti Patel said this week that Meghan Markle has not faced any racism by the UK press in the latest example of anti-blackness within the Asian community.
Speaking to BBC Radio 5 Live, the Home Secretary said: "I don't think so, no…I certainly haven't seen that through any debates or commentary of things of that nature,"when asked whether the media had been racist towards the Duchess of Sussex.
"I'm not in that category at all where I believe there's racism at all.
"I think we live in a great country, a great society, full of opportunity, where people of any background can get on in life," she added.
The question followed news that she and Prince Harry would be taking a step back from royal duties, leaving many thinking that this was due to the racist undertones which permeate the British press coverage of the former actress.
Sadly but inevitably, I've come to expect ignorance and denial when it comes to racism in the UK but I certainly don't expect this attitude from a woman of colour and a daughter of immigrants. Priti Patel's sweeping statements rule out the soaring number of racially motivated hate crimes in the UK, the blackface parties taking place at universities throughout the country and the countless Islamophobic comments from Prime Minister Boris Johnson. It's also ironic that getting on with life is something that Patel has consistently voted against by supporting stronger immigration enforcement, a stricter asylum system and a reduction in housing benefits.
The fact that Patel is in a position of power at the moment means that she has become, rather unfairly, an unofficial spokesperson for the British Asian community. Therefore by dismissing suggestions of racism, she is setting a harmful precedent that perpetuates the anti-black narrative that plagues it.
Anti-blackness is also normalised in popular culture. Firstly colourism which pervades the Asian community which can most blatantly be seen through the likes of Fair & Lovely's rising sales and the various online matrimonial profiles stating 'fair' as a prerequisite. Secondly through the use of racist representations in Bollywood, including the use of blackface as recently as 2001. One example of this anti-black narrative includes
Priyanka Chopra's film 'Fashion,' where the character thinks she has hit rock bottom when she wakes up beside a black man.
Another stark example of anti-black racism within the Asian community was seen when Bollywood actress Esha Gupta released WhatsApp messages between herself and a friend onto her Instagram story early last year. The messages showed her laughing at footballer Alex Iwobi who was referred to as 'gorilla-faced' and 'a neanderthal' and it was said that 'evolution stopped for him.' In an apology on Twitter, Gupta said: "Guys I'm sorry you thought it was racist. Was bad on my part, being a sports lover. Wallah never meant it. Sorry guys forgive the stupidity."
Indeed the apology itself is ignorant. Comparing a black man to an ape and a caveman can only be thought of as racist and that is what the Arsenal supporter doesn't seem to have grasped. She added that she had "been victim of racism myself," reiterating the complete dismissal of anti-blackness by many South Asians but also the tendency to piggyback off of the experiences of black people.
BAME or POC as I have used above have both become buzzwords in recent years and it's natural to want to group together minorities who can experience similar forms of discrimination. Although well intentioned, the terms can be problematic as they fail to distinguish between the communities they represent. Different cultures deal with different types of racism. For example, black women often have to deal with people assaulting them by touching their hair in public whilst Asian women don't and Asian women often have to deal with tired arranged marriage tropes whilst black women don't.
Of course, it is also important that all minorities support each other as a collective against a society which privileges middle-class, white, cis males above all else. However we must recognise that black people are treated as 'the other' even amongst a group of 'others.' The one size fits all perspective leaves behind the black community who the system oppresses the most with the exception of the gypsy and traveller community.
Racial slurs against black people exist internationally from the 'n-word' in the USA and UK, the term 'macacio' in Brazil, 'kaffir' in South Africa, 'hak gwai' in China, 'bandar' in India and 'abeed' – the literal translation of 'slave' in North Africa and the Middle East. Around the world, black people suffer the most discrimination, hatred and brutality and to do a complete 360° and try to claim their experiences as our own is entirely reductive.
Even when the world tries to celebrate the black community, they are quickly pushed aside. When #BlackGirlMagic began trending, so did #BrownGirlMagic. Both are valid but this was the moment for black girls who are stereotyped, exoticised or dismissed more than others to shine. The spirit with which #BrownGirlMagic began seemed bitter. It was not necessarily wrong but completely diminished the experience of an entire race. It reminded me of when #BlackLivesMatter first started gaining traction which soon led to #AllLivesMatter – do we really want to be like them?
If we're not competing with black people then we seem to be appropriating their culture. Rappers like NAV and Heems have made an entire career from it and also seem to find it acceptable to use slurs like the 'n-word.' It isn't. By appropriating black culture, it seems as though we are not only refusing to accept our own identity but also stealing what is rightfully theirs. It's as though we are so afraid of facing our own prejudiced perspectives towards the black community that we decide to exploit their culture instead.
Asians don't know what it's like to be black – unless we are black Asians – and out of respect of both groups it's important that we don't act like we do. We shouldn't erase our own experiences but remember that the experiences of the black community aren't relevant for all minorities. We need to tackle the anti-black narrative head on so that we can stop becoming the perpetrators of racism as well as the victims.