Advertisement

Calls have since been made for the politician to be removed, but a spokesperson for Government chief whip Mark Spencer has said he wanted to await the conclusion of the police inquiry … reports Asian Lite News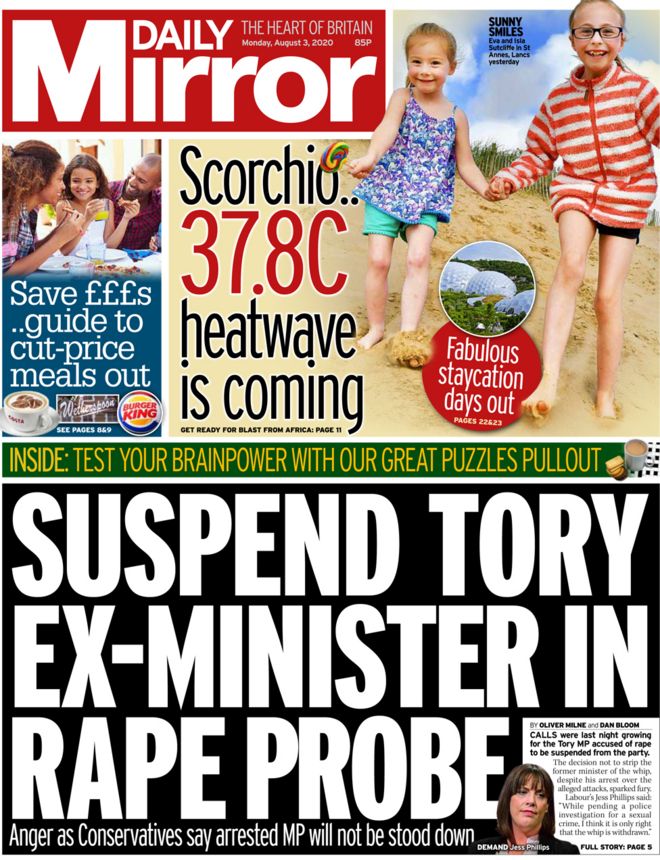 Shadow Minister for Domestic Violence Jess Phillips urged the ruling Conservative Party to expel the Tory former minister to suspend over the alleged rape of a former parliamentary employee.
"Tory rapist" has been trending on Twitter after the report. The Sunday Times said the ex-minister was taken into custody early on Saturday after a woman in her 20s accused him of rape, sexual assault, and coercive control.
The abuse is alleged to have taken place last year and led to the woman going to the hospital.
Calls have since been made for the politician to be removed, but a spokesperson for Government chief whip Mark Spencer has said he wanted to await the conclusion of the police inquiry.
"Absolutely something that has to be taken into account but what we are talking about here is a safeguarding matter, as far as I am concerned,"Jess Phillips told Good Morning Britain. "Of course, everybody is innocent until proven guilty in our criminal justice system. However I am not sure I would want to send my child, for example, to a school where a teacher had been arrested and bailed for the crime of rape.
"I would expect, under those circumstances, as is safeguarding law, that those people would be suspended pending further investigation."
"This is about risk," Phillips added. "Before I came on air this morning, I was talking to a woman who is homeless and has called out to me for help. Members of parliament, every single day, speak to vulnerable people."
"The Prime Minister has to ask the question today: is he happy for a young woman who may have been raped, may have been abused, to go and seek support from this person?," she added.
Pressure is growing on the Conservative party to suspend an unnamed MP, who has been arrested on suspicion of rape.

Shadow Minister for Domestic Violence @jessphillips believes it is a 'safeguarding matter' and the unnamed MP should be suspended pending further investigation. pic.twitter.com/RNnhCSxKvv

— Good Morning Britain (@GMB) August 3, 2020
"This is an appalling decision that sends a message that the Conservative Party do not take either their safeguarding responsibility or people who come forward seriously," Phillips said. "I hope that decent Tories privately contact Number 10 and their whips and express their disgust."
Meanwhile, the Times on Monday said the alleged victim said that she was devastated that he was not suspended from the party.
Last night the alleged victim criticised the party's failure to take action despite being aware of the allegations. "It's insulting and shows they never cared," she told The Times.
The former researcher, who cannot be identified, says that she was assaulted four times between July 2019 and January this year, including claims of a rape necessitating hospital treatment.
'Name me one other profession in which this would happen?'

Nadhim Zahawi can't because, as per, it's one rule for them and another for us.#ToryRapistpic.twitter.com/3E095bJiWN

— JD Black🥀 (@_JD_Black) August 3, 2020
Nadhim Zahawi, the business minister, said that it was "only right" for the Conservative Party to wait until the police investigation had concluded.
"When that's completed you will be hearing from the chief whip," he told Today on BBC Radio 4.
The unnamed former minister was interviewed under caution at a police station in east London on Saturday after his accuser was interviewed by Scotland Yard officers at a separate location on Friday. He was accused of coercing the woman into having sex with him while they were in a relationship.
Last week The Times revealed that the woman had raised her allegations with Mr Spencer in April. However, the chief whip did not take any action against the MP and did not encourage the alleged victim to contact the police.
READ MORE: Lord Nazir bailed in rape case
READ MORE: Asian Lite Daily Digital Newspaper from London