Advertisement

A first-ever women's digital concert in the UK – 'Anuragini' to celebrate the accomplished women in Indian Classical Music to show solidarity for the women victims of violence and to create awareness of the tremendous work done by Swayam…. reports Asian Lite Newsdesk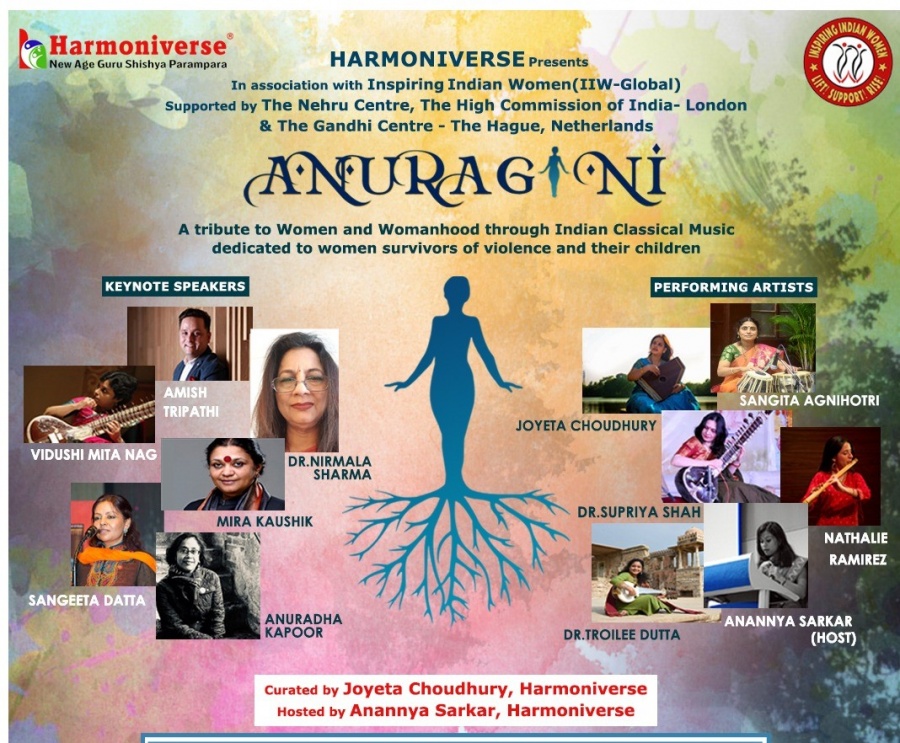 The entire programme was curated and ideated by Harmoniverse Music Learning Platform, a startup venture cofounded by Anannya Sarkar and Joyeta Choudhury, in association with Indian Inspiring Women(IIW)-Global, supported by The High Commission of India- London(HCIL), the Nehru Centre London & The Gandhi Centre – Netherlands(ICCR) and Partnered with Manch UK, Baithak UK & Saudha Arts.  The event was also supported by Community Partners –The Global Bengali, Indian Bengalis in UK , Sangeet Foundation, Essex Indians, Adda, Radanks.
It was the first time the event was premiered worldwide by the Nehru Centre, London and the Gandhi Centre, Netherlands together with the Harmoniverse Facebook/Youtube Channel and its partners' channels on Sunday. It was a highly appreciated event by all those who watched it LIVE or watched later.
'Anuragini' featured the author, Amish Tripathi- Director, the Nehru Centre, Dr, Nirmala Sharma, First Secretary and Director of the Gandhi Centre, Netherlands,  Vidushi Mita Nag, Sitar Exponent for Bishnupur gharana, Ms Mira Misra Kauhsik from MANCH UK, Sangeeta Datta from Baithak UK and finally, Anuradha Kapoor from Swayam.
'Anuragini' also featured stellar performances by eminent Indian women Classical artists(Hindustani) from all across the globe. To the viewers, 'Anuragini' has been a sheer convergence of vocals, percussions and stringed performances through a beautifully woven theme of womanhood, their strengths interrelated with the beauty of Mother Nature, in support of a larger cause affecting women of varying socio-economic backgrounds, especially issues affecting women survivors of violence and their children.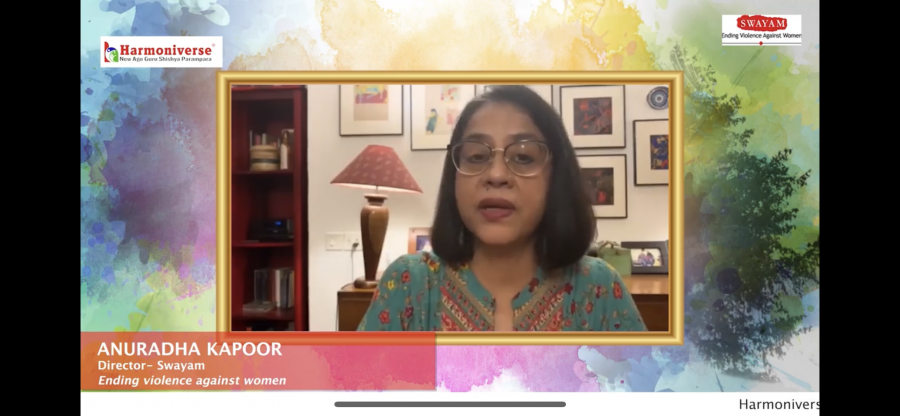 The event gathered 6K views within the first hour of its release, and is continuing to grow on an hourly basis. It reached more than 20,000 Facebook users within a span of an hour. The event host was Anannya Sarkar (Founder, Harmoniverse). The credit for the programme concept also belongs to Anannya. She wrote the script too. The programme was curated by Joyeta Choudhury.  The theme was a unique juxtaposition Of Classical Music, Mother Nature and Womanhood to show solidarity against women survivors of violence and their children.
Women are inherent creators- in all aspects of life- energy, life and love. Womanhood is personified with creation, incarnation, adaptability and resilience, just like Mother Nature. Anuragini seeks to draw the beautiful parallelism across attributes of stages of womanhood and the different seasons of Mother Nature which would be manifested through a grand composition of raagas by our performers. The summer is associated with Raag Sarang( Vrindavani & Shuddh) signifying warmth & intensity- 'The summer solstice", rain is associated with Raag Megh signifying fertility, creativity and regeneration-'The sound of rain', followed by autumn and winter symbolising maturity(Raag Hemant, Raag Malkauns- 'The retreat'; finally ending with Raag Basant, Bahar which denoted the 'Coming back to life'.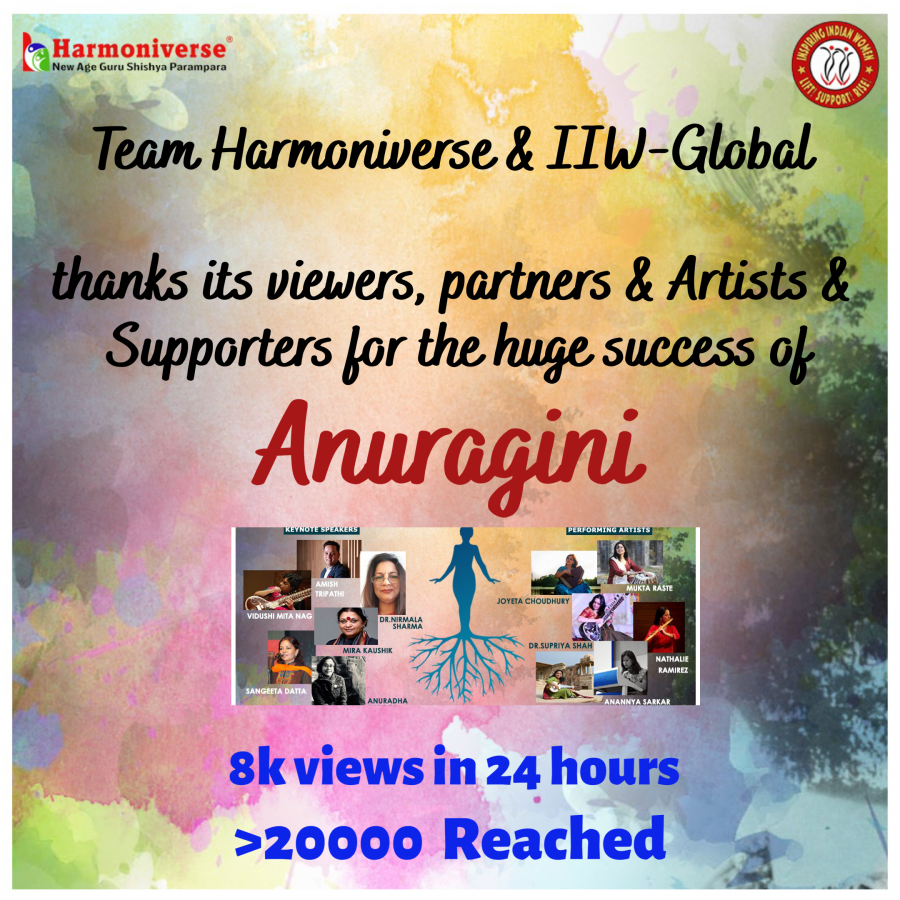 Each season that Mother Nature brings comes with its own 'personality', its own well-rehearsed chapters of change, of new beginnings, of captivating scenes. Each with its own palette, shades of every colour known to man. Just like our ragas, which have their own personality and derived from the various facets of Mother Nature.
Each one has its own special place in our lives. Each one brings surprises in its own way, from the new blooms in the spring, to the lazy hazy warmth of summer, the golden palette of autumn and the crisp sharp air of winter.
As an evolving society of the 21st century, women must not forget their inherent nature, which is nothing, but nature's bounty and stand up against any inhumanity or violence meted out to them. Likewise, it's our attempt to showcase the importance of a man/family in a woman's life to prevent such acts of violence and treat them with dignity and respect, which is rightfully hers.
Harmoniverse-New Age Guru Shishya Parampara (www.theharmoniverse.com)
Harmoniverse is the world's first-ever journey based Indian Classical Music learning platform and aims to democratise the learning of Indian, going beyond geographical and apparent boundaries. They aim to  foster culture and creativity within the global diaspora, rather than being a mere learning platform. They are also committed to ensuring that our learner develops a genuine appreciation for Indian arts and culture through:
To ensure sustained quality of service to our learners through innovations in technology, teaching practises and course content.
To ensure learner progress is well monitored, measured and documented through our Harmoniverse learning module.
To foster creativity and innovations within learners through experiments with different instruments, vocal styles.
To identify prestigious events and venues for performances by our students.
To seek collaborations and partnerships to strengthen our course, assessments, methodologies etc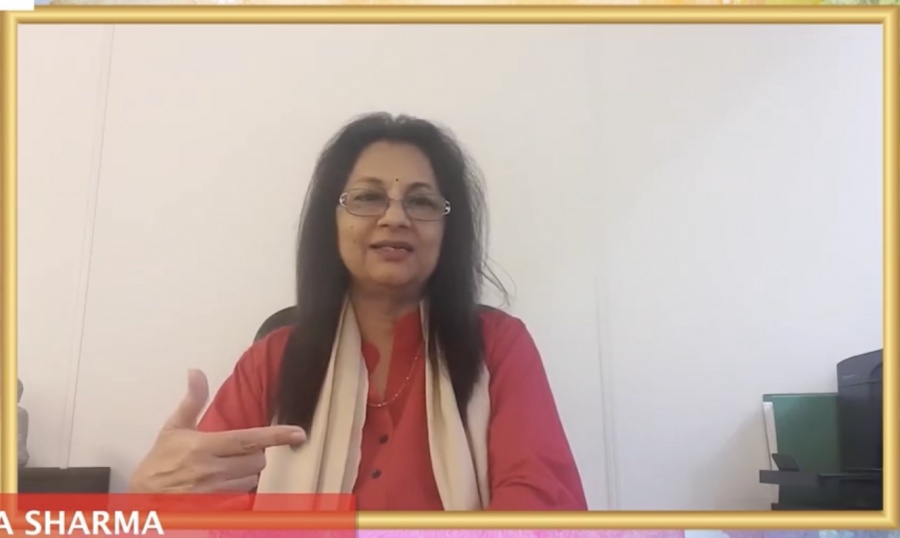 Swayam-Ending Violence against women (www.swayam.info)
Swayam is a feminist organization committed to advancing women's rights and ending discrimination and violence against women and girls, based in Kolkata. It was registered as a public charitable trust in 1995.
They work with women facing violence in their lives and facilitate a process of 'self- discovery' that enables them to move ahead with confidence and dignity. Their Support Centre provides them with wide-ranging services like counselling, legal aid and advice,  police follow-up, vocational training, referrals for shelter and employment, a drop-in-centre and numerous group activities to promote creativity and positive mental health.
Their Initiatives for Social Action and Change Programme aims to generate discussion and debate, share information about women's issues and influence public opinion against violence on women and children. It includes public education and awareness building; producing creative resources, disseminating information and sharing expertise, training and capacity building, networking with like-minded organisations/institutions for systemic change and intervening in rural and urban communities to build a violence-free and gender-just society.
      IIW (INSPIRING INDIAN WOMEN) – LEADING BY EXAMPLE – inspiringindianwomen.org
PATRONS – PadmaShri Janak Palta McGilligan and  Shri Virendra Sharma MP Southall and Ealing
Inspiring Indian Women Group, (Not for profit organisation) was started with the vision to reach out and inspire each other with their success stories. It not only aims to help and promote Indian culture across the globe but also provide a healthy platform for our Indian women to motivate and support others.
IIW Motto – Lift! Support!! Rise!!! Purpose – To collaborate and coordinate to create opportunities for each inherent talent, dreams, and desires to fulfil. Also trying to change attitude and stereotypical perceptions towards women.
Vision is to bring together women from all over the world on one platform and work towards bigger goals. Get wider ideas and network with ladies worldwide to work towards upliftment and creating awareness towards social causes. To organise programmes related to cultural heritage and assist in making the presence of stronger Indian communities not only in London but elsewhere.
Outcome – Be known faces all over for your work, your endeavours, your business, your Art, your creativity and contribute towards prosperity of family and self.
Goal– Personal Satisfaction
The team has been working hard to carry it forward in supporting women from all fields to grow professionally as well as personally. The group's tagline, Lift! Support! Rise! is inspired by the Poet and Civil Rights activist Maya Angelou's quote, 'Try to be a Rainbow in someone's cloud'.
READ MORE: Women, leadership and power