Advertisement

Lord Dholakia, highlighting the Parole Board's effectiveness, cited "the proportion of offenders of all types who are released by the Parole Board and who commit a further serious offence is less than 1%." "In any system based on human judgment," he stated, "it would be difficult to improve on that record"
Lord Dholakia speaking during Second Reading of the Terrorist Offenders (Restriction of Early Release) Bill, stated, "great care must be taken to ensure that in ratcheting up the release mechanism, this legislation is not counterproductive to the objective of reducing terrorist activities in our country".
Accepting the Government's need to implement legislation since the recent terrorist attacks by two newly-released prisoners, Lord Dholakia stated, firstly, "I accept the Government's argument that speed is necessary in legislating to prevent the further automatic release of similar offenders in the very near future;" secondly, he also accepted, "the argument that offenders of this type should be required to undergo a risk assessment by the Parole Board before they can be released".
Recognising the good work that the Parole Board do, Lord Dholakia affirmed, "the parole system is an effective way of dealing with offenders in the criminal justice system". He was pleased, "that its expertise in assessing risk and safeguarding the public has been recognised on all sides during the passage of this legislation," especially as, "[a]t times in the recent past, the board has been subject to misplaced and ill-informed criticism in some quarters".
Lord Dholakia, highlighting the Parole Board's effectiveness, cited "[t]he proportion of offenders of all types who are released by the Parole Board and who commit a further serious offence is less than 1%." "In any system based on human judgment," he stated, "it would be difficult to improve on that record". In achieving this, "additional measures are in place to ensure that these cases are considered by members with expertise and training in terrorist matters".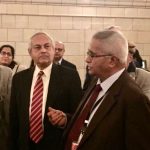 Lord Dholakia supported "the Bill's replacing automatic release in these cases with release at the discretion of the Parole Board," as, "[t]here is no doubt that the public will be better protected if the release of such offenders is subject to prior consideration by the Parole Board". "However," he stressed, "I have a number of caveats, which are important if we are to get the right balance," and ensure we, "guard against the risk that rushed legislation may turn out to be flawed legislation".
Lord Dholakia's first caveat covers prisoner rehabilitation in relation to longer spells in prison. Welcoming "the establishment of the new counterterrorism programmes and interventions centre within Her Majesty's Prison and Probation Service," Lord Dholakia explained, "[t]hese offenders are serving determinate sentences, so they will be released at some time in the future". Therefore rehabilitation is key to their effective release. In achieving rehabilitation, it is important, "we deploy the most effective measures possible to counter and change their mistaken beliefs". This includes through, "both offending behaviour programmes focused on terrorism, and through chaplaincy-based programmes seeking to produce a more appropriate understanding of the faith and its requirements for peaceful behaviour towards others". "We should," Lord Dholakia emphasised, "keep the effectiveness of deradicalisation programmes under continuous review to ensure that they are designed and delivered to have the maximum impact in challenging and changing people's pro-terrorist beliefs".
Lord Dholakia's second caveat relates to, "the change in the minimum term which offenders serving sentences for terrorism-related offences must serve before they are considered for release". Lord Dholakia was concerned that this will mean deradicalised prisoners "will not be released at the halfway point in their sentence and will have to wait until two-thirds of the sentence has elapsed". "It is difficult," he argued, "to see how this is supposed to increase public safety". Cautious of different terms of sentences for one type of prisoner, Lord Dholakia stated: "that is surely a decision to be taken with full discussion and debate in the normal course of a future Bill's passage through Parliament". Stressing the undemocratic nature of the present process, Lord Dholakia warned, that whilst the Bill, "is being rushed through all its stages in a couple of days on the grounds that public safety requires it," he cautioned, "[i]t is difficult to see the justification for making this change".
Underlining his point, Lord Dholakia citied the independent Reviewer of Terrorism Legislation, Jonathan Hall QC, and declared, "unless there is a clear justification for retroactively changing the earliest release date for this set of prisoners, it sets an uncomfortable precedent for retroactive alterations to the release dates for other offenders who are currently serving sentences of imprisonment". He was in agreement with Jonathan Hall that it was not clear why the Parole Board's consideration "needs to be delayed until two thirds of the sentences of prisoners—who would otherwise have been released after one half—have elapsed".
Lord Dholakia's third caveat is the important and necessary process that the legislation "must be subject to a formal independent review in the near future," particularly when it is "pushed through the House in haste".
Concluding, he stated, "I accept the need to ensure that prisoners serving sentences for terrorism-related offences are released only if the Parole Board assesses it is safe to do so"; but he emphasised, "[t]he Government and Parliament must continue to take responsibility for ensuring that the legislation is closely monitored in practice and that prompt action is taken to remedy any defects or injustices identified in the course of its implementation", to safeguard prisoners from unfair, and unjust treatment, that renders rehabilitated prisoners to longer prison terms than necessary.