Advertisement

Three successful personalities from the British Asian community share their experience to tame crisis and face challenges. The event organised by Women Empowered at Taj at St James Court witnessed ace cricketer Monty Paneser, Kiss FM'sNeev Spencer and Leah Chowdhry, the first British Asian Woman to swim the English Channel, sharing their experiences.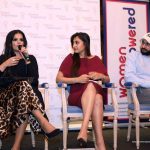 The packed auditorium witnessed Neev Spencer, best known for her award-winning shows on KISS FM, shared the journey that she had been on with regards to experiences of matters of the mind. Neev spoke openly about the changes in her life over the last four years, the change in herself from having been highly career focused TV and radio personality to her new ambitions today as a mental health campaigner and mother of two.
Neev spoke about building mental resilience throughout her younger years and how it was put under strain at the height of her career when trying to start a family, something that was a long and difficult journey that took many years and heartbreak along the way.  She spoke honestly about the impact of a difficult conception journey on her pregnancy, she was at high anxiety throughout and combined with some necessary surgery soon after her baby was born, took her into a dark time. Her light was found through her faith, her faith that no matter how hard things were for her at that moment, there was a plan, and no matter how hard it was, it was part of her path and she had to get through it.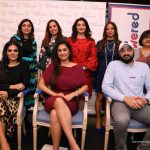 That mindset helped Neev to overcome her dark times and she started her journey for mental health campaigning for women and maternal mental health. She has been involved with the Heads Together campaign and has spoken candidly with the Duchess of Cambridge on her maternal mental health journey. She spoke of the vital support that is needed for maternal mental health to help those mothers and provide understanding and help.
Neev reflected upon her second pregnancy and how it was different from her first. She saw the people who she needed to be and feel supported and in control, allowing her to feel the joy and not be anxious.  She spoke about doing whatever one can do to arm themselves with all the information, resources and knowledge they need to help them get through or remove the elements of anxiety as far as possible. She asked the audience to measure success for yourself and your personal journey, not by anyone else's yardstick. She went on to tell them not to fall for cultural, social or other pressures and ignore comparisons; ignore the "could've, should've, would'ves" and its ok not to be ok.
Crossing A Channel
Leah Chowdhry is the first British Asian Woman to swim the English Channel, a gruelling feat of 30 miles in cold water for 15 hours, a true triumph in physical strength, stamina, mental strength, resilience, perseverance and determination.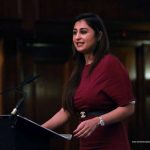 Leah spoke about the irony of how she achieved her dream, talking about mind matters for something she managed to achieve with her body. She spoke about the risks of such a task, the possibility of hypothermia and even death. After taking a 10-year break from swimming and not being an endurance swimmer herself, she took on 15 hours of non-stop swimming with no human contact and hundreds and hundreds of jelly fish bites, with one jelly fish stuck to her for over five minutes.
Leah spoke of the hurdles to even prepare for the physical feat, the mental adjustments she had to make as she trained her body and she had to also train her mind.  This mental training came from focusing and reminding herself of the "why" she was taking on such a task. Forever changed by poverty she saw in India as a little girl, and the images she witnessed of women and children forced to work in a brothel, broken and living in sub-human conditions. She knew she wanted to do whatever she could to alleviate some of this. Her second motivation was when her father was diagnosed with leukaemia; she wanted to raise funds to do all that she could do to help to fight cancer.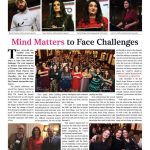 She spoke of how she visualised and planned the "how" and even despite all her mindset preparation, she found herself hitting a wall. A conversation with her mother, a personal development coach, didn't provide the answer she wanted, but the one she needed. Her mother talked her through and reminded her to take her mind back to the why and how, and through the power of positive "Disney" tune songs as affirmations, she broke through the wall and went on to complete the challenge and raised £155,000 for both charities! Leah reminded us that for physical feats, mind matters and as we train our bodies, we must prepare our minds for the task to come.
Musings of Monty
The male perspective of the event was delivered by, cricketer Monty Panesar who was open and spoke frankly about the start of his career and the new heights he quickly reached. Fame came quickly and his popularity grew fast and his whole trajectory was on the up. Success kept on coming and at that time he couldn't imagine any downside. He spoke of a sudden brick wall he unexpectedly hit and how simple daily tasks became huge feats to overcome.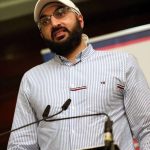 Monty regrets turning to alcohol to help with his mood and low feelings and how his behaviours became challenging for himself, his friends and his family.  An article he was being interviewed for made him face some of his feelings because he had to talk about them for the piece being written; it was then he knew something wasn't right and that he needed to seek help. When exploring his own feelings, he was acutely aware of the lack of conversation about mental health in the Asian community and it was a taboo for males to admit they felt their mental health was suffering. He spoke passionately about talking to people, from friends to neighbours or religious leaders, wherever that conversation can be had, he urged people to have it.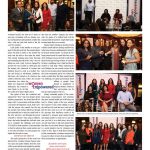 Monty reminded people of the sometimes-tragic circumstances and situations that poor mental health and well-being can lead to. Monty spoke of the new mindset that opened to him when talking to people and how he took that new view into all that he then went on to do. He reaffirmed his message that loneliness needs to be combated to promote good mental health and urged people to reach out to ask anyone you feel is in a dark place, how they are and urge them to talk and remind them that they are not alone.
Women Empowered is a social initiative run by volunteers and events as this, hope to help those listening to fine commonality, resonance and provide lessons for others to learn from and apply to their circumstance as appropriate.
If anybody want to join, please send a mail to info@womenempowered.co.uk