Advertisement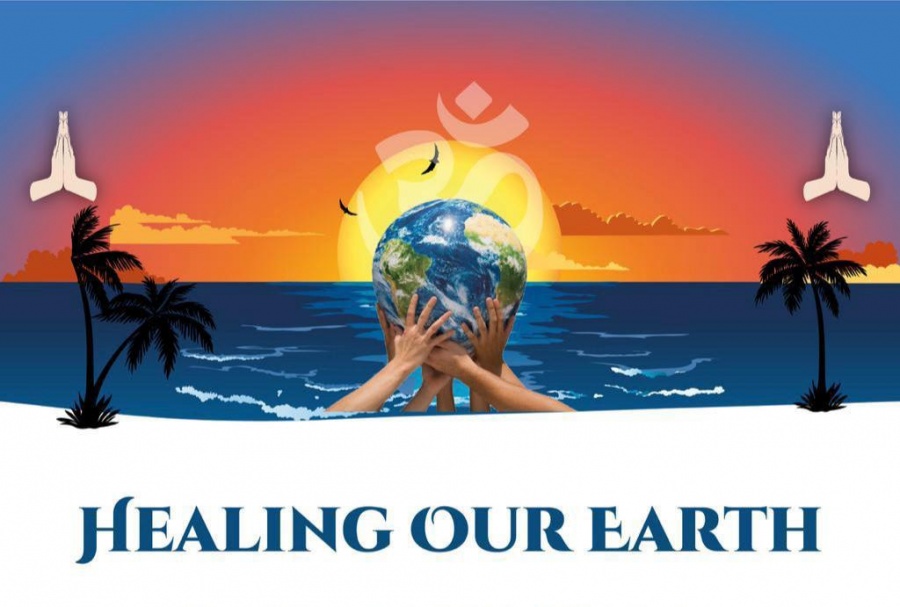 The world has seen life being transformed in the new lockdown phase. Stay Home Stay Safe momentum picked up and netizens and non-netizens both started consuming internet-based resources like never.
Zoom video application started topping up all other communication tools and several business, community, charity and interpersonal groups have come up with activities to keep people engaged. One such appreciable initiative was the Global Gayatri Mantra session delivered by Healing Our Earth team recently.
Powered by Diwali in London committee, the initiative was aimed at improving health and warding off negativity and engaged about 18, 000 audiences from across the world. The uplifting concept was led by Nil Kumar in a very short turn-around time, and included thought-provoking messages from Sister Shivani and Sister Jayanti of Brahma Kumaris, Swami Swaroopananda of Chinmaya Mission, Swami Brahmavidananda from Aarsha Vidya Foundation, Sadhu Pujya Yogivivek Swamidas from Telangana' Yadadri Temple, to name a few.
The team has delivered a further on-line session focussing on well-being, including presentations and expert guidance on vital topics such as fitness, mental health and happiness, diet, and immunity. The Healing Our Earth Teams' Well-Being initiative saw an impressive 49 000 engagements, propagating positivity & essential mental, physical, emotional and social guidance for resilience during the current Covid19 challenging times.
Sessions included Nuggets of Nutritional Wisdom by Sonali Dattani, Mindfully navigating the COVID crisis & well- being by Dr. Reena Kotecha, Love Earth Kids' Yoga Class by Tina Parmar, Everyday Eye-care by Minoo Virji, How to Survive COVID-19 the Ayurvedic Way by Ravi Bhanot & Sushma Bhanot, Kiddie Korner by Siya Vithlani & Ayush Ruparelia, Mystical Breath by Dr. Tahir Sharief, Be Positive in Lockdown by Himani, Why coronavirus is a killer, What can you do to protect your body by Dr. Rajeev Gupta, Feel Good with Garba by Soni Brothers, Optimising Oral Health by Dr. Rumit Raja, The Truth About Chakras by Rakhi Pandya, Boosting your immune health through nutrition and lifestyle by Geeta Tailor, COVID-19: Understand how your personality type affects how you cope and what you can do to survive and thrive by Rita Choudhury, Wellbeing Meditation for Healing the Self & the World by BK Sister Jayanti, Well-being and positive mindset by Prash Kotecha, Fun session involving aerobics and working your cardio level by Nina Darmeci.
Involved in hosting, technical, production and media teams were Dr. Milen Shah, Dr. Reena Kotecha, Sarita Menon, Nishit Kotak, Mallesh Kota, Nitin Palan, Kesh Morjaria, Ranu Mehta-Radia, Harsha Trivedi, Parul Jani, Shivali Ruparelia, Nilesh Badiani, Ritesh Thakrar , Dipti Khatry, Deepa Vithlani, Varsha Mistry, Ravi Bhanot, Anita Nomula, Palan Foundation, Strategic Web Success, Sona Rupa and Inndus.
Healing Our Earth Team will be hosting a Global Prayer and Meditation Session again on Sunday, 26 April from 11 am to 6 pm, bringing in a variety of hosts, presenters and speakers.
For further details, please visit https://healingourearth.com