Advertisement

A musical extravaganza is slated to rock the musical world with nostalgic Bollywood numbers…reports Rahul Laud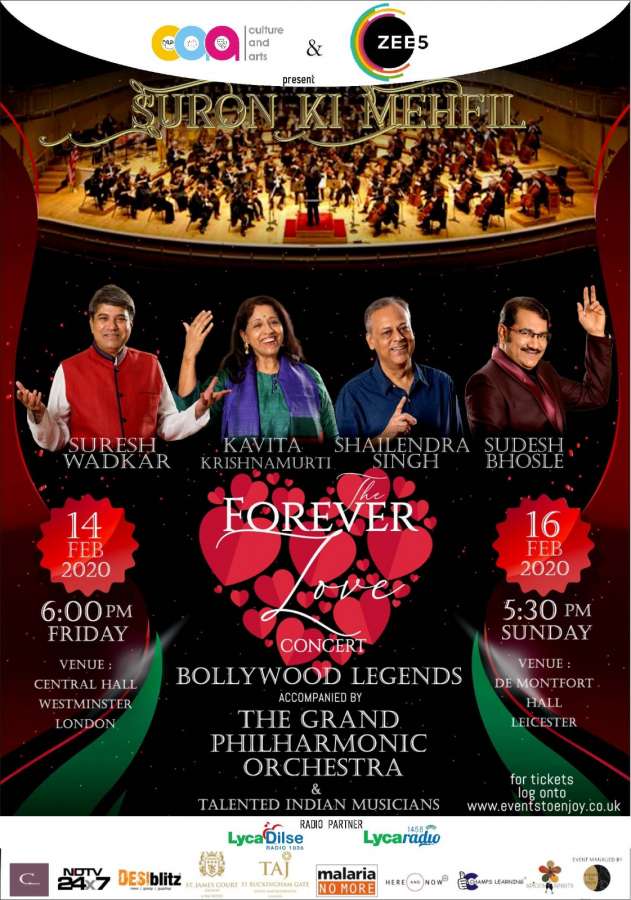 Top Bollywood singers Dr Suresh Wadkar, Kavita Krishnamurti, Sudesh Bhosle and Shailendra Singh will rock on UK shores in their forthcoming musical extravaganza ''Suron Ki Mehfil'' that is slated to create a euphoria similar to the one it did in in London in 2017. "Suron Ki Mehfil"- is a melodious treat by legendary Indian singers along with combination of Grand Philharmonic Orchestra and famous Indian musicians will perform in two cities in UK..
The entire project is conceptualised and promoted by London based charity "Culture and Arts" and executed by "Events to Enjoy Ltd". The program duration will be three hours with  The Grand Philharmonic Orchestra will accompany top Indian Musicians at the Central Hall Westminster, London and De Montfort Hall, Leicester. The artistes will play host to the divine melody of Padmashree Kavita Krishnamurti,  the velvet voice of Dr. Suresh Wadkar, a rhythmic saaj of Sudesh Bhosle, and the soulful sur of Shailendra Singh.
A team of 24 musicians from Grand Philharmonic Orchestra of London along with a conductor and a team of 7 famous Indian Musicians will perform all the super hits numbers from each singers' career which has captivated the Bollywood listeners for more than 4 decades.
The program will be a blissful opportunity to witness the finest music played by philharmonic orchestra which uses most of the original instruments for the music.
These four legendary singers will share more than songs will share their love for music, and  mesmerise all with music with some interesting anecdotes and untold stories.
Shailendra Singh's "hum Tum ek Kamre re bandh ho" and "Mein Shayar toh Nahi "; Kavita Krishnamurti singing "Hawa Hawaii" , "Hum Dil De Chuke Sanam" ; Sudesh Bhosle's  "Jumma Chumma De De ", " Shava Shava" will enthral audience with Amitabh Bachan's classic film memories; Suresh Wadkar singing par excellence of light classicals numbers in Bollywood with "ae zindagi gale lagale" "aur is dil mein kya Rakha hai "with "Tumse Milke" will allow he audience to go down the memory lane with loads of nostalgia.
With more than a thousand songs released between them they have ruled the world of Bollywood music for more than four decades, say the organisers.
This event has set a benchmark of musical concerts in the UK and will always remain as one of the   perfect musical celebrations. It is reported that dignitaries like Hindujas and Baroness Varma have enjoyed the previous event and appreciated it.
For more information and tickets logo on to www.eventstoenjoy.co.uk