Advertisement

Britain's most notorious right-wing lawbreaker flee Britain accusing the officials of failure to protect his property …. reports Asian Lite Newsdesk, leading newspaper from London.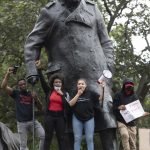 Tommy Robinson, the former leader of English Defence League, said he left Britain with his family 'straight away' after an arson attack on his wife Jenna Vowles's house, Daily mail reported.
Robinson, real name Stephen Yaxley-Lennon, did not reveal where they were but hinted at Spain due to his reference to the recently imposed 14-day quarantine rule.
He said in a video circulating on social media they left the UK after their home came under attack a few weeks ago following the Black Lives Matter protests.
In the video Tommy Robinson said: I was due to be coming back for a demonstration on Saturday. There's something I haven't told everyone, I had an incident quite a few weeks ago with an arson. I do have the video of everything… it was targeted against my property – well not against my property my wife's property – and at that point we left the country straight away.
And I'm looking at relocating my family which is pretty hard to do and especially during Covid – I couldn't even get a hotel… trying to get a hotel, couldn't even find a hotel to move them out to. So obviously my wife has had enough of everything. Someone gave her somewhere to stay, so we left the country.
And I was due to be flying back for a demonstration, obviously now with this 14-day quarantine, if I fly back, I probably won't get back out. My kids are out here, I'm still in the process of finding a permanent relocation for them. I've got new schools for my daughters, but that's just an update.
So I'm playing paddle – it's a mixture between tennis and squash. But I'm sorry, I'm just letting people know because people were saying "what, he's still away"… because of my family are away, because I need my family away because they're not safe basically. And it wasn't Muslims that did this, it was after all the BLM stuff. I think I know who it was, so that's just an update, I will… I tried to go live, the reception here is ***.
'I'll go live tomorrow night or something. But that's just letting you all know I won't be there… the demonstration is still on, I'll be doing a speech, it's still on in London for Hearts of Oak. Just an update from me to say unfortunately I've got my flights booked but because they changed the regulations on Covid I won't be able to come back. And I would come back but my kids and family are out here, I literally drove out here with them. Peace.