Advertisement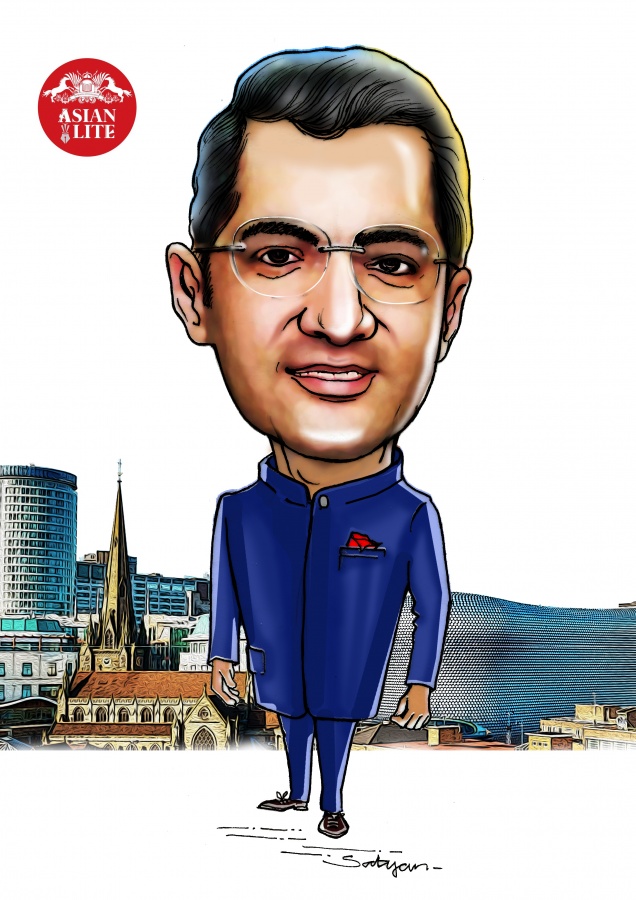 Young, dynamic, suave and dapper is how Dr Aman Puri is described here in the UK. Energetic to the core, he is also recognised as a ''People's Diplomat'' because of his easy- to- reach approach. His office will provide consular access to needy in the Indian diaspora. A connoisseur of good quality music, Puri was actively engaged with people from different walks of life.
Dr. Aman Puri who hails from Chandigarh and studied Dentistry from Amritsar had assumed charge as Consul General of India, Birmingham on 22 February 2017 has now assumed charge in CGI office in Dubai. On the eve of his departure from UK , he recollects he had visited Dubai as a part of the Indian government team on a  survey and his last visit to Dubai was in 2016 as a tourist. He describes ''Dubai – City of Gold has huge potential for the Indo-UAE relationship and strategic support.''
There is absolute confidence as he positively believes like India ''UAE will bounce back in next few months.''
"UAE has huge resources thus it becomes an attractive proposition to the world to help UAE revive quickly," said Dr Puri.
Dr Puri strongly believes that ''people in India and everywhere need to identify opportunities of revival. Thinking out of the box and developing new modern skill sets is the need of the hour to revive. The new normal is the digital world to connect. ''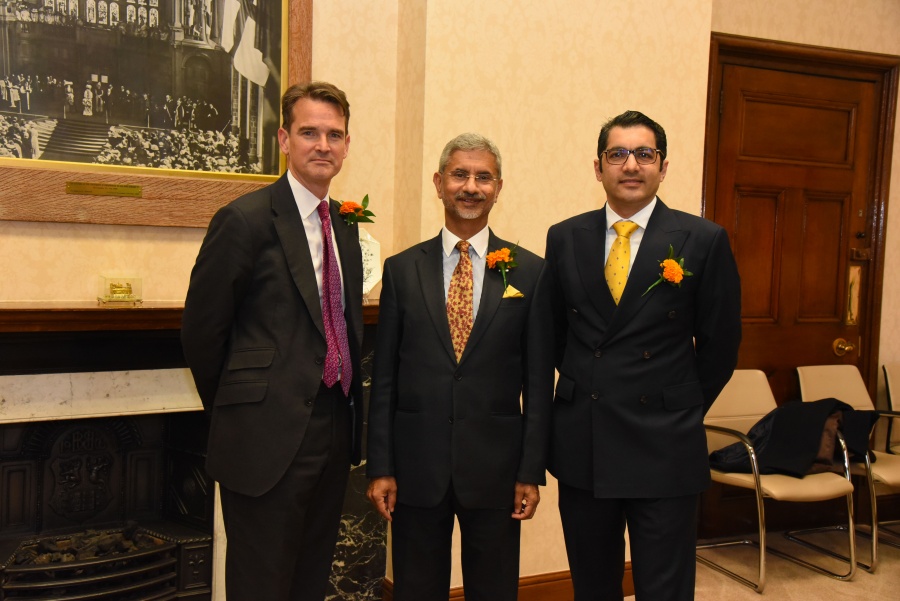 When asked as to would his new assignment that covers a totally different cultural region, does it offer challenges or will this posting be less stressful than the UK?, Dr Puri said: "I do envisage the assignment in Dubai to be very challenging, but also very fulfilling. I would like to add that for me prospects of India's engagement are vital and is a priority for me whether that work is to be done in UK or UAE. I would say that Dubai offers a larger platform due to significantly larger Indian diaspora, strong air connectivity with several Indian cities, higher density of Indian visitors, etc."
Furthermore, he added, ''Because of many low-skilled and un-skilled workers from India working in Dubai and in the UAE, in general, it creates different issues and I would do my best to support them in best way possible. My zeal and efforts will totally contribute towards putting India on a global map and forming better and more prospective tie-ups between India and UAE."
The presence of huge Indian diaspora, approx. 3.2 million, cements relations between India and the UAE on various sectors.
Puri humbly confessed,'' I am new to the region. Thus, I will need to assess and check out all welfare services. Indian organisations are very strong and I am aware thus the CGI office will seek support of all stakeholders.''
Tremendous loss of jobs, people returning to India from the UAE and thousands in India waiting to return to resume their work in the UAE , what would be Dr Puri's immediate plan of action?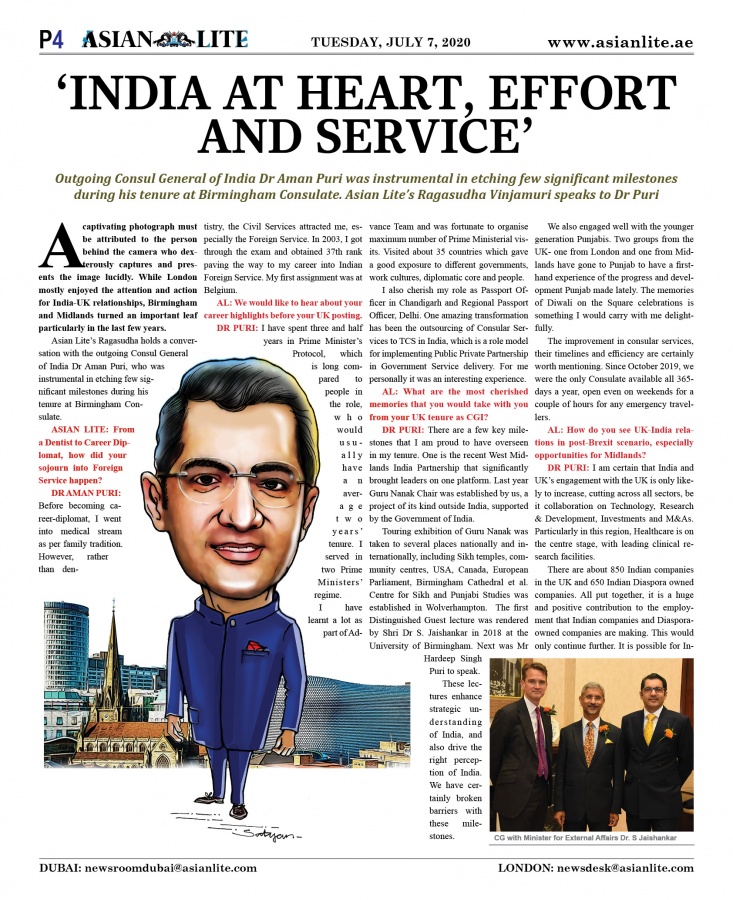 Dr Puri was clear and stated affirmatively: ''With the current unprecedented crisis specifically, I would facilitate the repatriation of the Indian nationals stranded in the region to their home states in India. And work with the key stakeholders including the UAE government to support the re-employment of Indian nationals who are keen to return to Dubai.''
This comes in as a breather to the anxious Indians in the UAE and in India.
The EXPO 2020 in Dubai will require human resource and in this process of revival we shall provide all support to the UAE .
''The effort would be to reskill human resource and medical sector in the post Covid phase will open up various opportunities in which India can be healthy partner with the UAE," he added.
Dynamics of unemployed people, economic migration are various issues faced by India as well.
Dr Puri added: ''A vast majority of people from the Gulf have returned and will return to India particularly to states like Kerala. These will be big challenges for the Kerala and Indian government.''
Dr Puri shared that India has strong resource and knowledge in areas of well-being, health and yoga thus to manage distress, stress, anxiety and to help revival of the country.
Knowing Dr Puri's penchant and favourite mantra of building strong partnerships, and collaboration with various stakeholders, it will not be surprising if he achieves similar success and support that he garnered in Birmingham.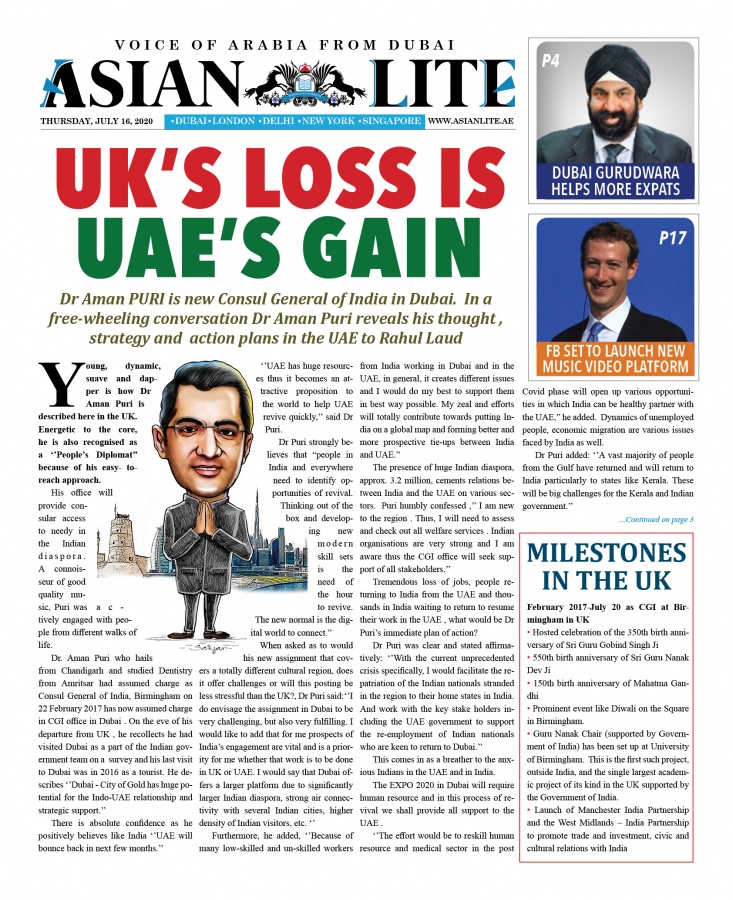 He doesn't hesitate to reiterate that, ''Resilience, risk-taking, hardworking qualities of the Indian community are India's core strengths.''
Dr Puri is very optimistic though being posted in Dubai in extremely turbulent and unprecedented crisis times.
As it's commonly being spoken here, ''UK's loss is UAE's gain.''
CAREER GRAPH
2003: obtained 37th rank paving the way to Indian Foreign Service
2005-08: At the Indian Mission to the European Union, Belgium and Luxembourg, based at Brussels.
2009-10: At the Passport Office in Chandigarh for little over a year.
2010-2013: Deputy Chief of the Protocol (Ceremonial) from, and his responsibilities included organising the foreign visits of Prime Minister of India, and the incoming visits at the level of Heads of States/Heads of Government, Vice Presidents and Foreign Ministers.
2013-16: Regional Passport Officer, New Delhi
Most recently, he had brief stints as Director in the Multi-lateral Economic Relations Division, followed by the Northern Division of the Ministry of External Affairs. The Northern Division deals with India's relations with Nepal and Bhutan.
MILESTONES IN THE UK
February 2017-July 20 as CGI at Birmingham in UK
Hosted celebration of the 350th birth anniversary of Sri Guru Gobind Singh Ji
550th birth anniversary of Sri Guru Nanak Dev Ji
150th birth anniversary of Mahatma Gandhi
Prominent event like Diwali on the Square in Birmingham.
Guru Nanak Chair (supported by Government of India) has been set up at University of Birmingham.  This is the first such project, outside India, and the single largest academic project of its kind in the UK supported by the Government of India.
Launch of Manchester India Partnership and the West Midlands – India Partnership to promote trade and investment, civic and cultural relations with India
Read another interview with Dr Aman Puri – 'India at Heart, Effort and Service'