Advertisement

Sir Ed Davey MP the man with the Vision, Values & Virtues to lead the Liberal Democrats … writes Kishan Devani BEM
Sir Ed Davey is a proven leader, with the experience, vision and character to lead the Liberal Democrats forward. He was four when he lost his dad, and he had to become a young carer for his mum. He was sitting at her bedside, in his school uniform, when she died. Now, with his wife Emily, he cares for his young daughter, Ellie, and his disabled son, John, who said the word 'Daddy' for the first time when he was nine.
Ed has shied away from telling these stories for most of his political career, but he is telling them now because he wants us to understand why he wants to lead the Liberal Democrats, and why I know he is up for the challenge. His life has shaped his politics, and it is what drives him every day.
When Ed led campaigns focused on care to save his local hospital's A&E and Maternity units, and rebuild Tolworth's mental health services, it was personal for him. It's wanting to build a better, more caring world for Ellie and John that makes him fight everyday for the values we all share.
That's why he believes we need a carer's revolution, with a Citizens' Basic Income, which would reward carers' unpaid work looking after loved ones.
That's why he wants a new deal for bereaved children and families. He believes we can build a caring society post-Covid, and improve the lives of millions of people.
That's why he wants to lead the Liberal Democrats to take on that challenge.
A passion for the environment
When Ed was a child, his cousin Peter encouraged him to read 'Seeing Green' by Jonathan Porritt and he knew right away it was going to change his life forever.
It ignited in him a passion for saving our planet, and it was that passion that kept him going when he fought the Tories and won. Not just in his seat in Kingston, but in Government where he beat the Tories and helped to treble the UK's renewable power, making Britain the world-leader in offshore wind and setting our country on a path to slash our carbon footprint.
It's that passion for the environment, and his training as an economist, that allowed him to help create thousands of green jobs and it is those same skills that sit behind Ed's plan to help our economy recover post-Covid. Ed developed a Green Recovery Plan, which will help us invest in green jobs so that we can rebuild our economy and tackle climate change at the same time. They are the two biggest threats we face, and we have to take action to tackle them together.​
A winning record…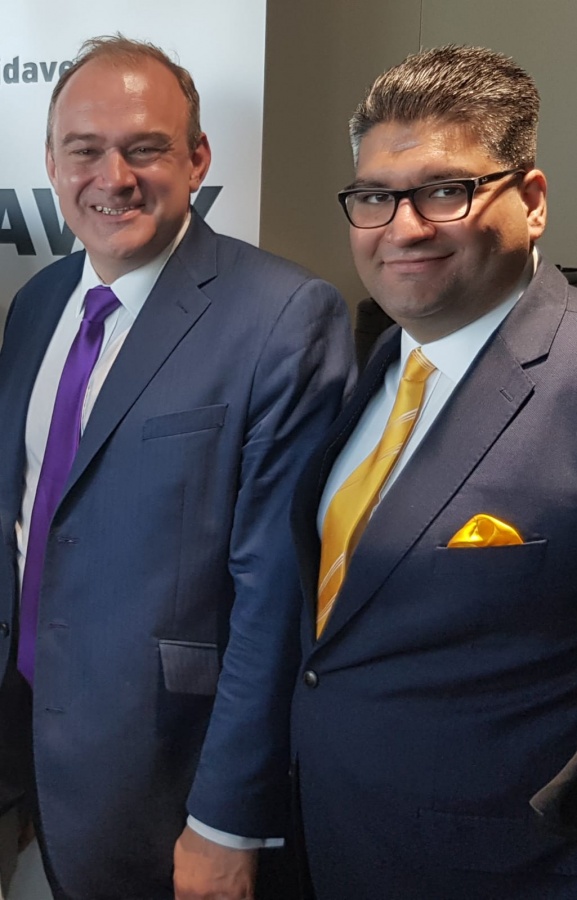 Ed knows what it takes to win, at the local and national level. He has built winning teams in his constituency since 1997, helping the Liberal Democrats to win the seat and take control of the Council on multiple occasions. He will bring that experience and winning record to the leadership.
As the Liberal Democrats acting leader since 2019, Ed has been successfully taking the fight to the Tories in Parliament. He led the campaign to get support for the self-employed when the Tories were leaving them behind. Ed was the first leader to call for a public inquiry into the Government's handling of the coronavirus pandemic. Ed was also the first leader to call for a Brexit extension to avoid the disaster of a no-deal.
Ed established the Liberal Democrat Community Action Taskforce, which thanks to all Liberal Democrat members has made more than 100,000 phone calls to vulnerable people, and initiated the party's exciting new "Citizens' Lab" experiment to enable all party members to get involved with debating policy ideas.
Ed has so many more plans, just like this, for the Liberal Democrats, if he becomes leader. His Vision, Virtues & Values are what are needed in modern-day politics, his calm, level-headedness, integrity and devotion to the liberal cause, make him a shining light during the dark times we face in our world.
(Mr Kishan Devani BEM, FRSA, LLB (Hons), PgCe, PgDip is a recipient of the British Empire Medal (BEM) from Her Majesty the Queen in the 2020 New Years Honours List. He is also a Board Member of the Liberal Democrats, Vice-President Liberal Democrats Campaign for Race Equality and Vice Chairman of Lib Dems in Business)