Advertisement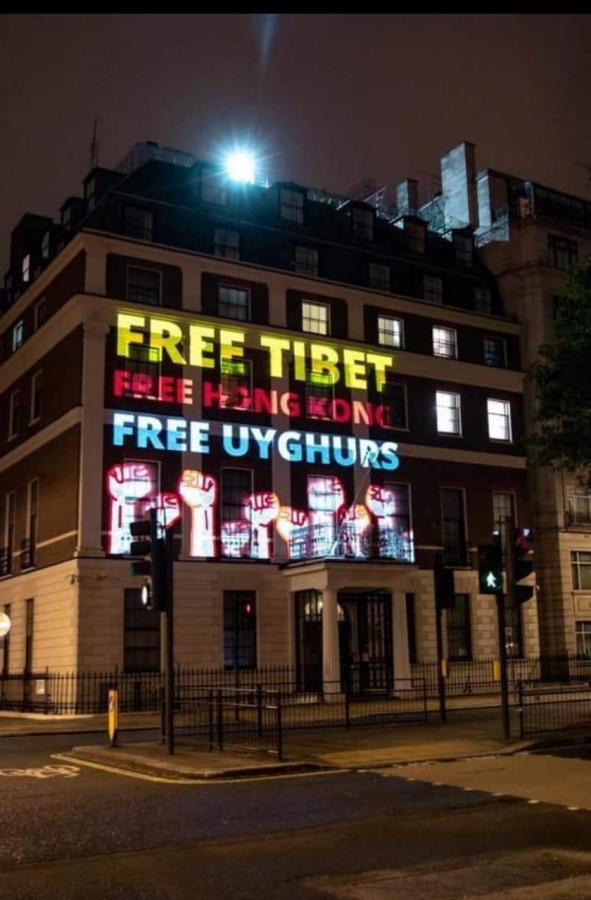 China has been unimpedingly carrying out propaganda of caring for its minority communities, at various international fora including at the regular sessions of the UN Human Rights Council (UNHRC), the Universal Periodic Review (UPR) Working Group of the UN Human Rights Council, etc and has also issued White Papers periodically, to bring out its perspective.
In its recent White Paper titled 'Seeking Happiness for People: 70 Years of Progress on Human Rights in China', (Sept 2019), China claimed that it effectively guaranteed ethnic minority rights in administering state affairs, with representation of all 55 ethnic minority groups in NPC and CPPCC.
It also claimed that the freedom of ethnic minorities to use and develop their spoken and written languages is fully protected. And that the state protects by law the legitimate use of spoken and written languages of ethnic minorities in the areas of administration and judiciary, press and publishing, radio, film and television, and culture and education. China claims to have established a database for the endangered languages of ethnic minority groups, and has initiated the Program for Protecting China's Language Resources.
Contrary to the propaganda by China of protecting the culture and language of the minorities, the languages of its Minorities are gradually being replaced by Chinese language and the Govt has already started the process to replace Uighur and Tibetan language in the schools in the XUAR and TAR, by introducing Mandarin as the medium of instructions.
Besides these, China has separately been pushing for a "Sinicised religion" campaign in China, defying growing international condemnation over its sweeping crackdown on Muslims and Christians.  The push to "Sinicise religion" – introduced by President Xi Jinping in 2015 – is an attempt by the officially atheist Communist Party to bring religions under its absolute control and in line with Chinese culture.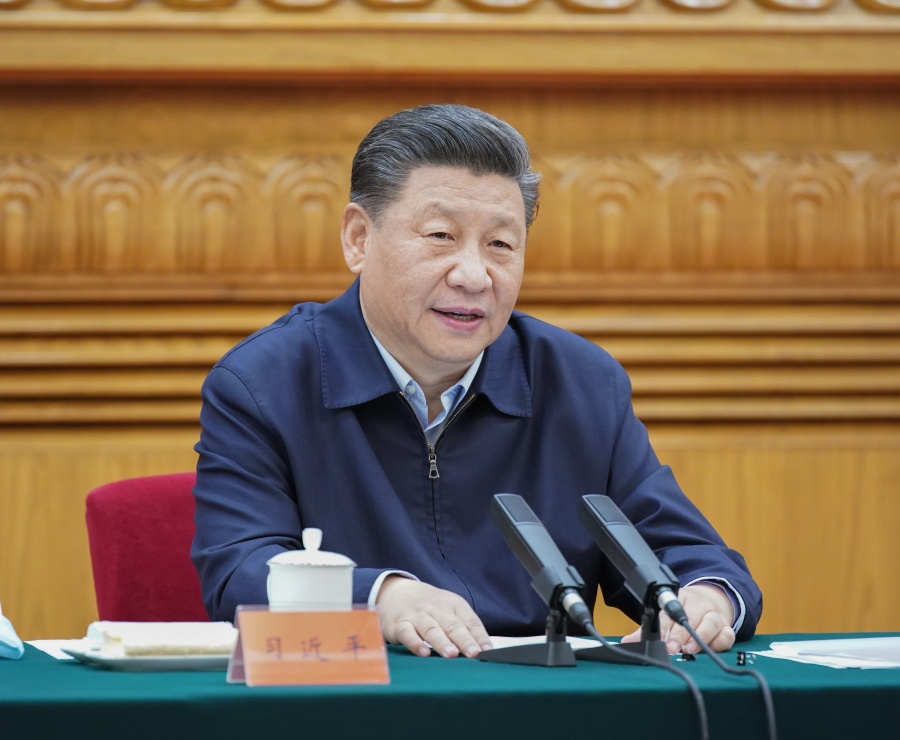 The campaign has seen intensified clampdown on religious freedom across the country, especially on Protestants, Catholics and Muslims, who the CCP fears could become tools of foreign influence or ethnic separatism.  In the far western region of Xinjiang, over 1 million Uighurs, Kazakhs and other Muslim minorities have reportedly been held in internment camps and forced to denounce Islam and pledge loyalty to the CCP.
Recently during the two sessions (May 22-28) NPC delegates from Inner Mongolia Autonomous Region (INMAR) sought State Council's approval to recognize Mongolian language as one of the national minority languages of China. This demand was earlier raised in last year's two sessions also. Chinese Government has however hesitated to approve this, in contrast to its propaganda for protecting the rights of minorities.
Recently, the Provincial Education Bureau in Hohhot, Inner Mongolia, has undertaken to replace Mongolian language and introduce Chinese language as the medium of instruction in the Schools and Universities from the next academic session starting from September 2020. Further, teaching of history and political science, currently being done in Mongolian language will henceforth be done in Mandarin.
The INMAR Government has reasoned that since Mongolian language (script and spoken) is more close to Central Asian and West Asian language tree, and hence needed to be aligned with the Chinese language.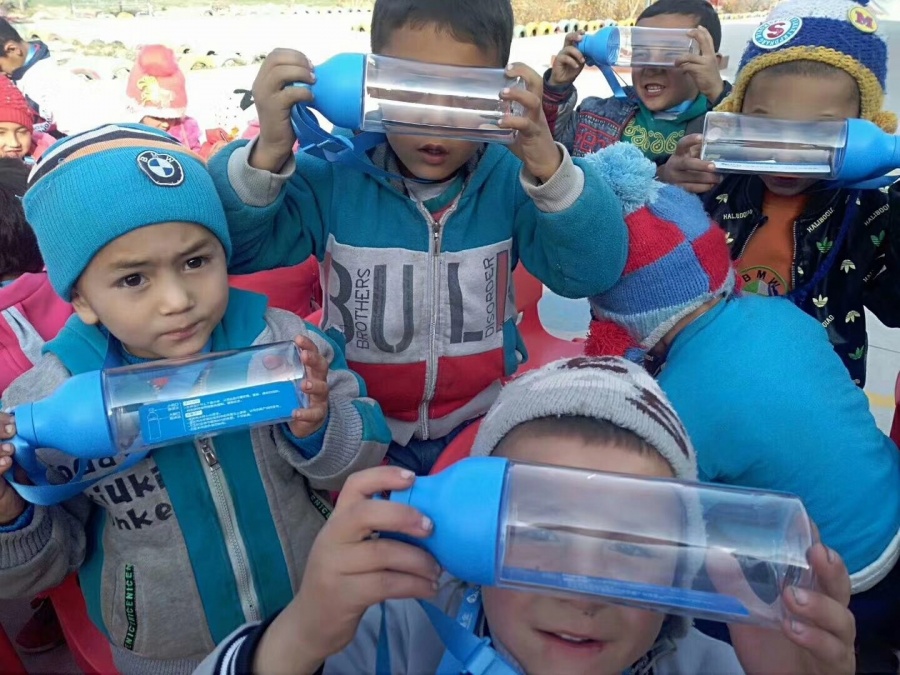 China intends to replace languages of all ethnic minorities by Mandarin all across China, to bring in uniformity of language and enhance identity as Chinese of  all the ethnic minorities of China.  It is believed that the languages, not in congruence with Chinese (Mandarin) language would gradually fade away from China in the long run and Mandarin would be the language used all across China.
Protest in London
Free Hong Kong, Uyghurs' flashed on Chinese embassy building in London
Free Tibet, Free Hong Kong, and Free Uyghurs' flash was seen on the Chinese embassy in London on Saturday.
Meanwhile, long queues appeared outside polling stations across Hong Kong on Sunday as residents flocked to cast their votes in a weekend primary held by the opposition camp for the upcoming Legislative Council (Legco) elections, a day after it drew a higher-than-expected turnout.
Hongkongers were seen queuing up in multiple stations before polling started 9a.m., as politicians of the opposition bloc made their last-ditch effort to canvass votes for the selection of candidates for September's Legco elections, reports the South China Morning Post newspaper.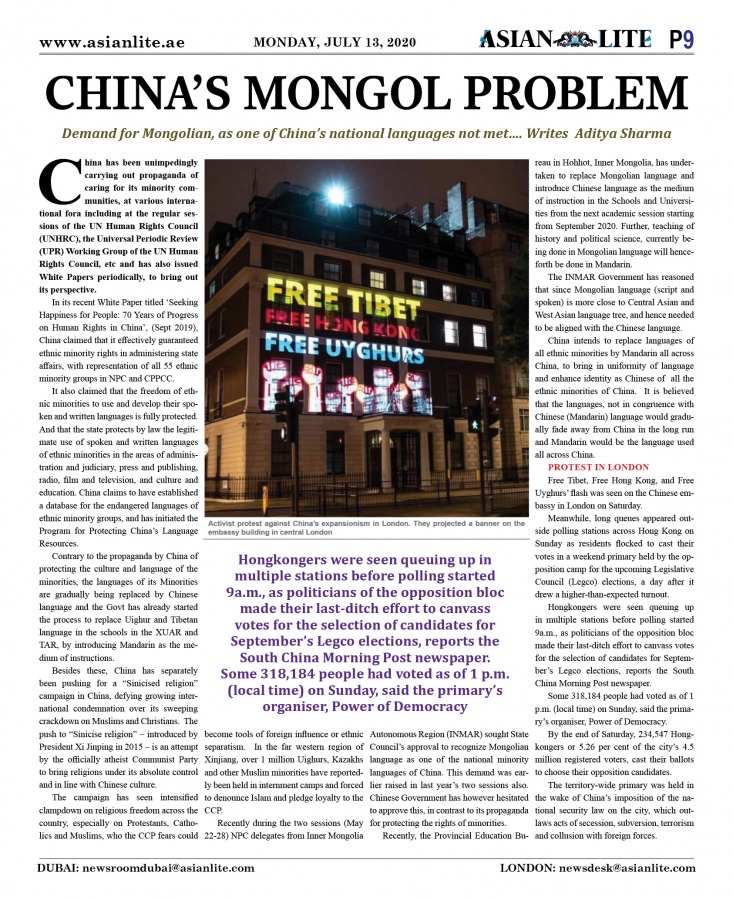 Some 318,184 people had voted as of 1 p.m. (local time) on Sunday, said the primary's organiser, Power of Democracy.
By the end of Saturday, 234,547 Hongkongers or 5.26 per cent of the city's 4.5 million registered voters, cast their ballots to choose their opposition candidates.
The territory-wide primary was held in the wake of China's imposition of the national security law on the city, which outlaws acts of secession, subversion, terrorism and collusion with foreign forces.
Also Read – N. Korea Threatens UK Over Recent Sanctions