Advertisement

The Coronavirus crisis caused a decline in the manufacturing industry in February, far greater than that recorded in its worst reading so far in November 2008 during the global financial crisis (38.8 points) …. Writes Ram Kumar Prasad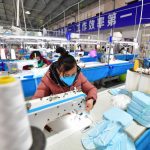 China's manufacturing industry registered its worst data in February since official record keeping began in 2005, with the benchmark indicator Purchasing Managers Index (PMI) plummeting 14.3 points, the National Bureau of Statistics said on Saturday.
This is a heavy blow for analysts, who expected a drop in the PMI, but of only 4 to 5 points compared to the January data. The coronavirus crisis caused a decline in the manufacturing industry in February, far greater than that recorded in its worst reading so far in November 2008 during the global financial crisis (38.8 points).
A figure above 50 points implies growth and below that implies contraction. For context, the average recorded in the 12 months of 2019 – the year in which the Chinese economy was affected by the trade war with the US – was 49.7 points. In the breakdown by company size, large companies fell 14.1 points to 36.3, but medium and small companies suffered even more at 35.5 and 34.1, respectively.
The hit was even worse in businesses not related to manufacturing, the PMI of which had never registered a contraction since record keeping began in 2007 and went from being at 54.1 points in January to 29.6 in February after a drop of 24.5 points.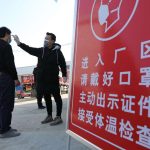 In this case, experts of the specialized website Trading Economics predicted a fall of just over 7 points. The services sector, which represents more than half of the country's GDP, lost 23 points in February ending at 30.1.
The NBS indicated that, in the breakdown of these businesses, only those related to financial and monetary services and capital market services remained in the expansion zone.
Meanwhile, the institution also highlighted that other sectors such as telecommunications, radio and television services, satellite transmission and Internet, software and information technology were in the contraction zone, but much higher than the average of the services sector.
A fact that highlights economic pessimism in China is the index of expected economic activity, which measures the confidence of non-manufacturing companies in future market development: it fell 19.6 points to 40.
The comprehensive PMI production index, combining manufacturing and non-manufacturing industries, also registered a drop never seen before, although in its case it only started being published in 2017. It went from 53 to 28.9 points after a 24.1 drop.
China's Promises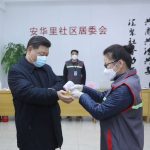 China's reaffirmation that it can meet its economic and social development targets in 2020 despite the coronavirus epidemic, displays a false sense of bravado, as the Communist Party of China's leadership is fully aware that the country's economy has already taken a hit. The scale of the disruption to China's economy caused by COVID-19 is not recognised either in China or the rest of the world. Massive supply chain disruptions have been caused, which resultantly will have an upward spiral effect on the state of the Chinese economy and in turn on the global economic canvas.
In December 2019, China's top leaders firmed up the country's general economic plans for 2020, at the Central Economic Work Conference. This happened just before the signing of phase one of the trade deal with the US on 15 January 2020, and the outbreak of COVID-19. The postponement of the Annual gathering of the National People's Congress, where China's 2020 Development Goals were supposed to have been announced, is by itself a significant departure, signalling the impact of the coronavirus on China.
First and foremost, it must be recalled that Chinese enterprises have been struggling to resume production after the culmination of extended `Chinese New Year' holidays. Further, the lack of industrial activity in China and restriction of Chinese businessmen in some countries is affecting China's foreign trade, mainly in the sphere of exports. Also, all State Owned Enterprises (SOEs) and Chambers of Commerce of China are procuring essential commodities from all over the world leading to an increase in the import bill.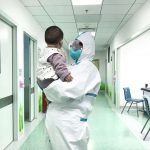 One of the most serious economic obstacles caused by the COVID-19 is the interruption to transport caused by local governments apprehensive of the spread of the virus. This act by itself has caused huge supply-chain disruptions. One illustration of this disruption is evidenced in the reduction in the number of road trips this year, compared to last year. After the Chinese New Year, statistics of road trips show that they had reduced by 78 per cent, indicating that China's migrant workers have delayed their return to the cities where they normally work.
As of 20 February 2020, coal consumption (still 60 per cent of China's total energy consumption) remained down 38 per cent from the year-earlier pace, and nationwide transportation comparisons were even weaker, thus making it extremely difficult for China's 300 million migrant workers to return to factories after the New Year holiday. In fact, these workers are expected to return to their work places only by the end of March 2020. Fearing harassment, about 80 per cent of migrant workers have self-censured themselves in returning to the cities.
Apart from the restraint shown by workers in returning to their places of work in the cities, the other major factor responsible for this situation is China's quarantine of Wuhan and Hubei Province which led to most local governments enhancing the control of entry points including airports, railway stations, highways and waterways, virtually creating islands of China's numerous regions. Notably, those people who have visited highly affected areas hit by the epidemic are being forcibly quarantined for a period of fourteen (14) days. Stringent administrative procedures notified by local governments coupled with restrictions on movement of migrant workers have resulted in almost nil economic activity. Restriction of people movement and shortage of workforce has also directly affected segments like tourism, retail, restaurants, catering, entertainment and transportation.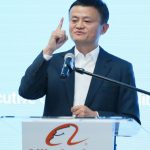 Alibaba, the Chinese corporation was amongst the first business enterprises to admit that COVID-19 has undermined production in the economy, because many workers can't get to or perform their jobs. The company also stated that COVID-19 had also changed buying patterns with Chinese consumers pulling back on discretionary spending, including travel and restaurants. Not only have the retail and service sectors been hit by the virus, the overall Chinese economy has been affected.
This in turn has hit global supply & value chains. According to one analyst, China is not only the largest trading partner in the world, but is also central to global supply chains. From raw materials to components used in electronics, Chinese companies provide Western brands with inexpensive building blocks for expensive products, be it a car, a smart phone or some other widget. For instance, Apple Inc. generates about 15 per cent of its revenue from China, and many of its products are manufactured there.
TrendForce, a Chinese market research company,  anticipates that global smart phone production in the first quarter could be 10 per cent lower than originally expected due to the COVID-19 epidemic. The negative effects on output won't be limited to the smart phone industry. Smart watches, notebooks, smart speakers and video game consoles are all expected to suffer double-digit hits on unit shipments this quarter, with TV shipments expected to be 4.5 per cent lower than forecast before the outbreak.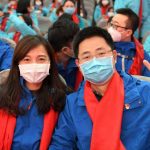 The challenge of getting things to work in China is compounded by the fact that local governments have put the onus of preventing and controlling COVID-19, on the SOEs and each enterprise is mandated to submit a plan for carrying out prevention and control of epidemic. Difficulty in meeting the requirements and financial cost to implement the norms are discouraging the SOEs from resuming production. Most of the enterprises in China have only re-opened administrative offices.
It is certain that Chinese economy especially services and industrial sector constituting 90 per cent of China's GDP will be impacted negatively, at least in the first quarter of 2020. The economy recovery will depend on returning to normalcy which appears to be uncertain at least for the time being. The outbreak of the COVID-19 is for the time being the most significant black swan of 2020 which has adversely affected not only the Chinese but the global economy as well.