Advertisement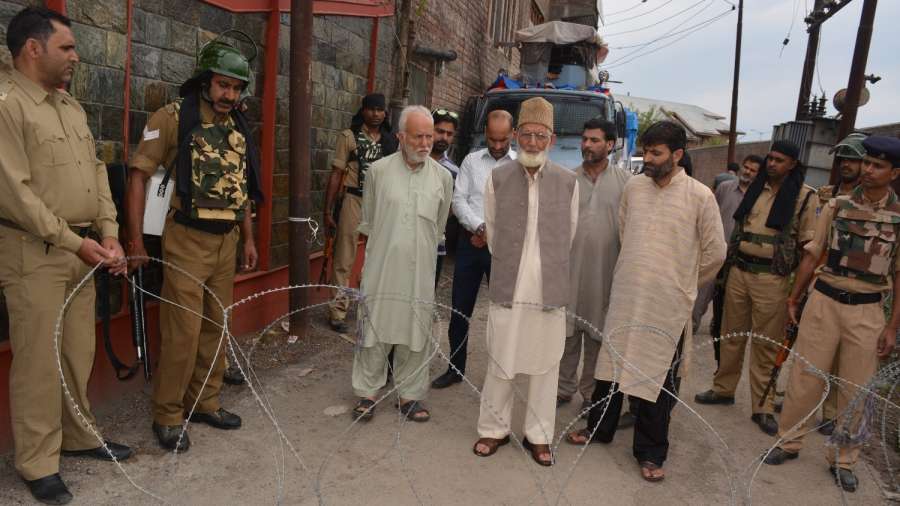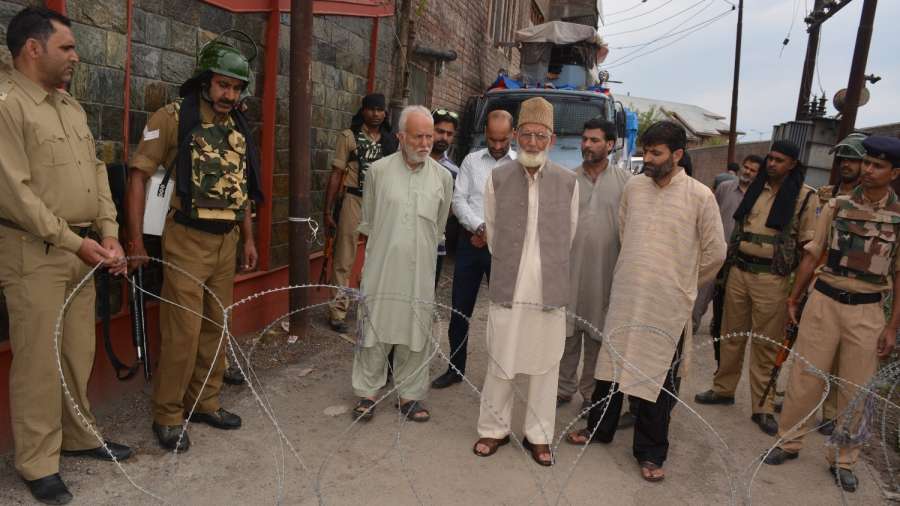 On the face of it, reasons for the resignation of Syed Ali Shah Geelani as the life-long chief of the All Parties Hurriyat Conference (APHC) can be summed up in two 'Ds' – Disappointment at his mission for achieving Jammu and Kashmir's 'merger' with Pakistan not getting anywhere and Disillusionment with the way his men are fighting among themselves.
There is a third 'D' – Destruction and death for thousands of civilians – including women and children in the last three decades since he and his men took to militancy. Although Geelani is a die-hard separatist who wants to merge Kashmir with Pakistan, and has reiterated his resolve  (whatever is worth at this late stage in his life ) to continue with it, he couldn't be oblivious of the gross failure of his struggle.
It may be tempting to conclude that Geelani got disillusioned because the entire separatist movement has stymied since the Government of India's blitzkrieg, annulling the special status and breaking Jammu and Kashmir into three distinct Union Territories to be controlled directly from New Delhi.
This notion gains ground from the fact that the Hurriyat – both its factions – became dysfunctional, even irrelevant, after the August 5, 2019 move. Most separatist leaders are in detention and that includes the moderate Mirwaiz Farooq. The Government of India has also placed the 'soft' separatist PDP chief, Mehbooba Mufti, in continued detention and key PDP and Hurriyat figures have written to the government agreeing to any political activity.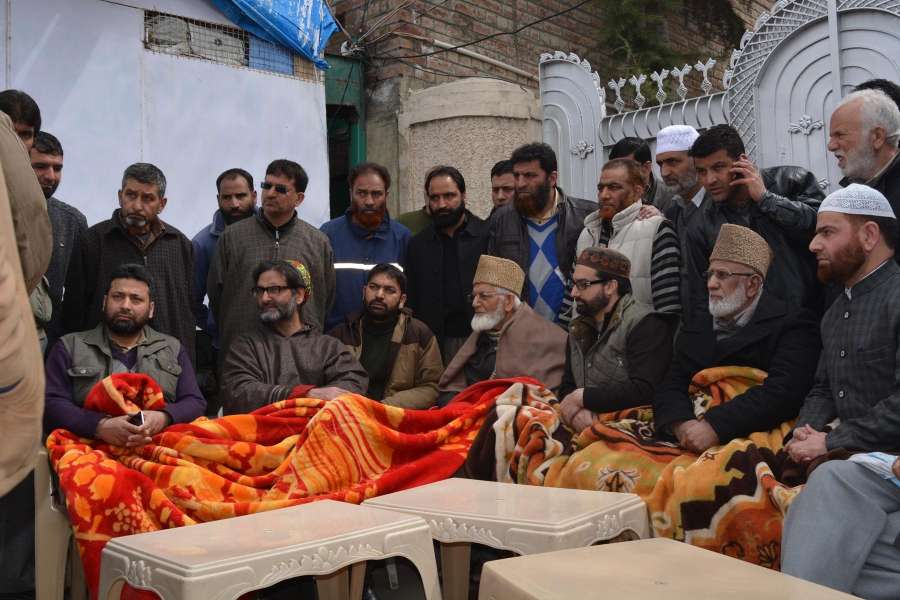 But this is no time to let the guard down. It needs noting that Geelani's resignation letter gives no indication at all of dropping separatism as an ideology. Given his past record of an astute politician, he moves into retirement, but awaits an opportunity to whip up passions among the young in the Valley.
In the three decade history of militancy in Kashmir, he could never be connected to any incidents of violence, including stone-pelting, but his words offered impetus to the hostilities on the streets of the Valley.
Indeed, retirement may be a camouflage. In his letter, Geelani accused Pakistan-based Kashmiri separatists of "heinous acts of immorality, indiscipline and non-cooperation", but he has appointed the POk chief, Syed Adullah Geelani as successor to the Hurriyat's POK operations.
He has attacked APHC's constituents for not being able to do enough or resist Narendra Modi government's decision to scrap Article 370 in Jammu and Kashmir in August 2019.  It now remains to be seen whom he nominates, if at all, to operate on the Indian side, and when.
Frequent clashes between the security forces and militants and the collateral damage that they continue to cause on the society as a whole provide a fertile ground for Hurriyat to work under cover.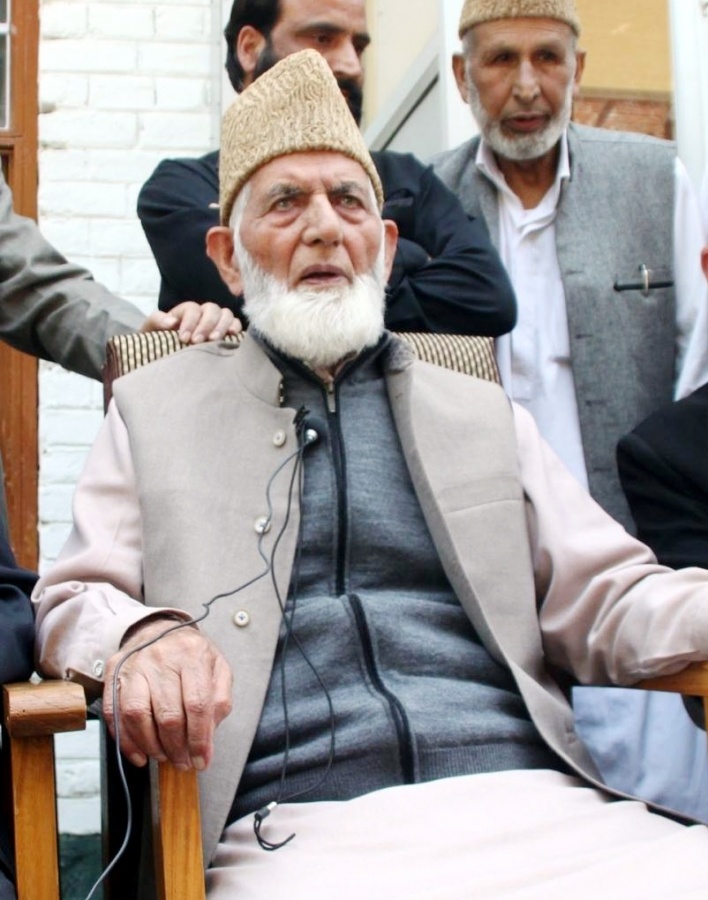 It is possible that Geelani and his men have blessings from Islamabad – and this is the factor that New Delhi needs to take into account.
There was information that Geelani developed differences with Pakistan Army's the ISI. After the 5 August decision, the ISI wanted upheaval in Kashmir but nothing happened. It is possible that Pakistan wants someone younger and better to do their bidding.
It is likely that Islamabad, totally surprised and outmanoeuvred by New Delhi's August 2019 move, needs to change tack and start separatist moves afresh. For, Pakistan cannot sustain as a nation and its powerful military cannot be seen by the world, particularly the Muslim ummah, as being defeated by India on this issue. The Kashmir issue has provided Pakistan the raison d'etre to be a member of the world community and play its cards with the big powers.
There is a regional, even global, dimension that needs close watching. Pakistan also realises that notwithstanding bizarre promises by President Donald Trump who will face election in the next few months, the US and the world community as a whole is largely disinterested in the Kashmir issue.  It must therefore cling on, firmly, to China for support since the Indian action, although well within its own territory, is a challenge to China as well. The Galwan incident is a sharp reminder of the newly emergent China factor in South Asia. Pakistan must continue with Kashmir, come what may, since that enhances its own importance vis a vis China.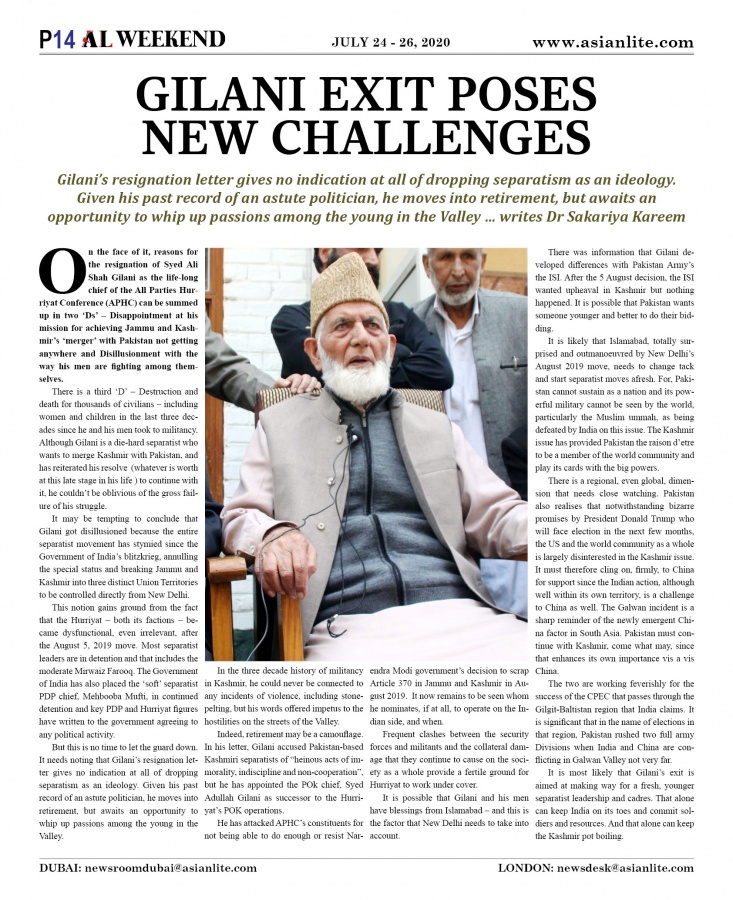 The two are working feverishly for the success of the CPEC that passes through the Gilgit-Baltistan region that India claims. It is significant that in the name of elections in that region, Pakistan rushed two full army Divisions when India and China are conflicting in Galwan Valley not very far.
It is most likely that Geelani's exit is aimed at making way for a fresh, younger separatist leadership and cadres. That alone can keep India on its toes and commit soldiers and resources. And that alone can keep the Kashmir pot boiling.