Advertisement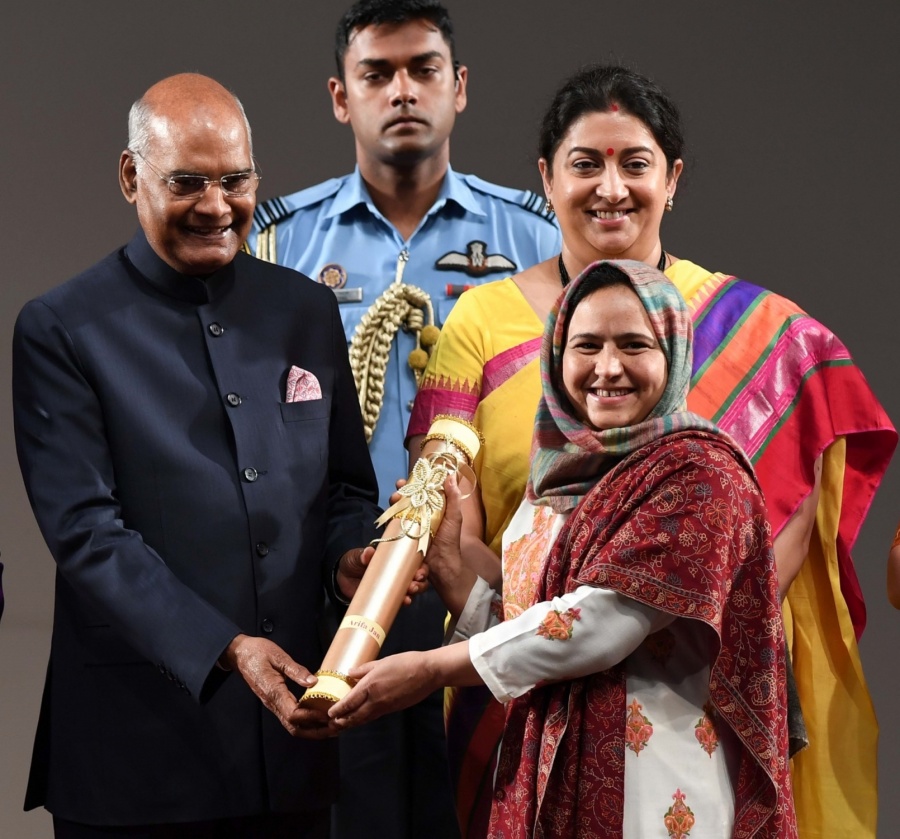 5 August 2020 marks one year of India's decision to reorganise the State of Jammu & Kashmir, one of India's 29 states, into two Union Territories – Jammu & Kashmir and Ladakh.  The primary purpose of constituting the UTs was to promote development, provide good governance and deliver socio-economic justice to the people of Jammu & Kashmir. Since then, over the last 12 months, a number of measures have been introduced and implemented to achieve these aims:
Protecting the Vulnerable
All central laws have been extended to the Union Territory of Jammu & Kashmir – including laws that provide social, economic, and political rights to women, children, under-privileged sections and ensure transparent and accountable governance – which had not been applicable to Jammu and Kashmir while the rest of India enjoyed the rights that these legislations gave them. Some examples: Right to Free and Compulsory Education Act, 2009; Juvenile Justice (Care and Protection of Children) Act, 2015; Protection of Women from Domestic Violence Act, 2005; Protection of Human Rights Act, 1994; Right to Information Act, 2005; Employment of Manual Scavengers and Construction of Dry Latrines (Prohibition) Act, 1993, etc.
Also Read – J&K 2020: Empowering People
Government of India has also brought to the people of Jammu and Kashmir new rights through repeal or amendments to more than 100 local laws some of which were outdated. For example, a law that provided for income tax of the Chief Minister to be paid from the State government's funds was repealed.
Strengthening Local Self Government
Elections to block development councils (Tier-II of the Panchayati Raj – local self-government institutions) were held for the first time on 24 October 2019, which witnessed a voter turnout of over 98%. For the first time, women benefited from reservation of seats for women, and were able to thus enter mainstream politics.
The second phase of a unique participatory programme called 'Back to Village' programme was held in November 2019, wherein government officers reached out to every unit of local self-government – Panchayats – to inform them about development programs and receive feedback from the grassroots. Over 20,000 developmental works were identified through this exercise – of which about 7000 have been implemented.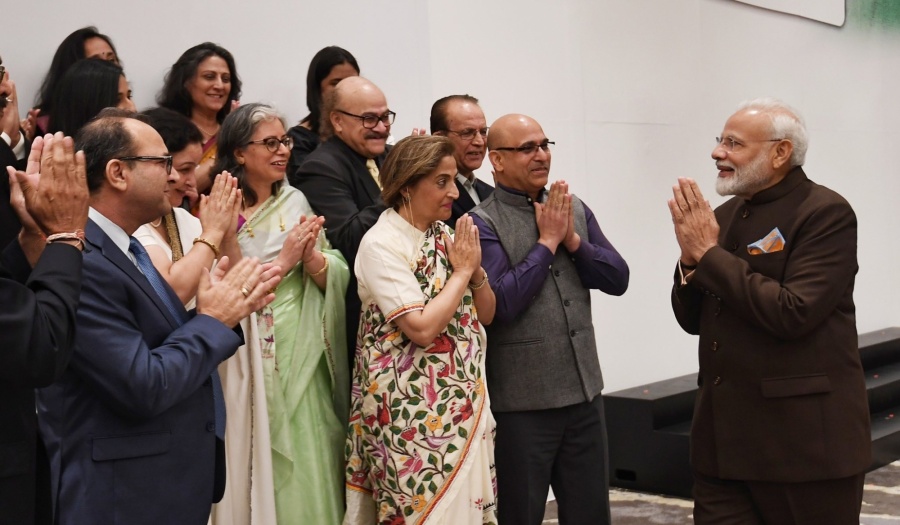 Panchayats have been strengthened with funds and devolution of functions. Over GBP157.25 million (INR 15,000,000,000) has been transferred to Panchayats in the last year alone.
To strengthen grievance redressal, drop boxes have been placed in every Panchayat of Jammu & Kashmir to facilitate registration of complaints and grievances by citizens.
Also Read – Webinar on Cogitating Kashmir in London
Union Territory of Jammu & Kashmir bagged three national awards under three separate categories for outstanding contribution by its Panchayati Raj institutions towards socio-economic development of Gram Panchayats, adopting child-friendly practices, and preparing Gram Panchayat Development Plan at the Panchayat level.
Agriculture
A unique market intervention scheme for Kashmiri apples was introduced which envisaged procurement of apples from 5 designated wholesale markets by National Agricultural Cooperative Marketing Federation of India (NAFED). Under this, over 15000 Metric tonnes of apples valued at over GBP 7.3 million (INR 700,000,000) were directly procured from growers in the Kashmir valley by end-January 2020 – and paid for directly to the apple growers themselves through Direct Benefit Transfer scheme (DBT).
Kashmiri saffron, which is the only saffron grown at an altitude of 1600-1800 M in the world, was given a Geographical Indication (GI) tag. India International Kashmir Saffron Trading Centre has been constructed at Pampore under the National Saffron Mission to facilitate collection, processing, packaging, e-auction of Kashmiri saffron.
First e-National Agriculture Market (e-NAM) platform of J&K was inaugurated at fruit & vegetable market Parimpora. The online trading portal connects existing Agricultural Produce Market Committee (APMC) (wholesale) markets to create a unified national market for agricultural commodities.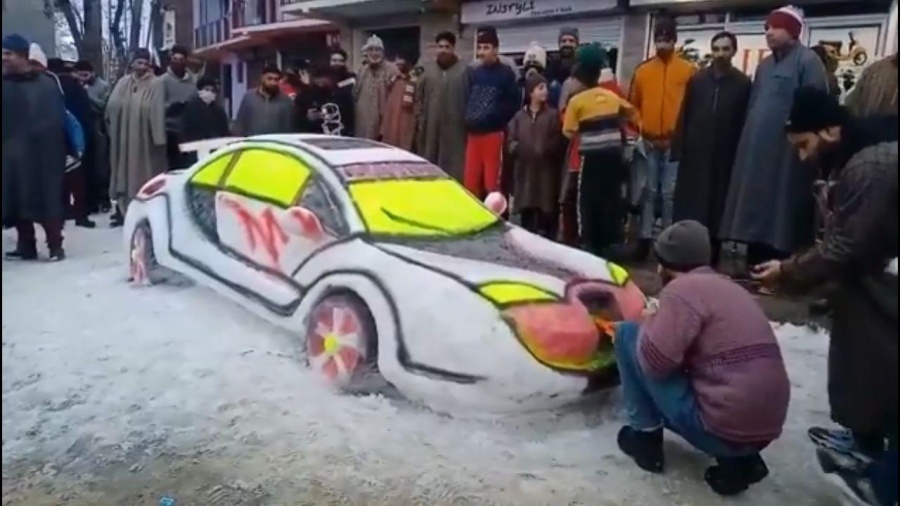 Investments
Jammu & Kashmir government organized a first of its kind pre-summit meet of Global Investors' Summit in New Delhi, inviting investments from across the world. This event showcased the policy and regulatory environment, and investment opportunities in 14 focus sectors to boost manufacturing and employment generation in the UT of J&K. Investment roadshows were also organized across Indian metropolitan cities, wherein, 168 MoUs worth GBP 1.43 billion (INR 136,000,000,000) were signed.
Employment Reservation
Responding to the local population, Government has restored reservation of all government jobs for residents of the Union Territory of Jammu and Kashmir.
Also Read – J&K 2020: Tight Security Thwarts Terror Plots
In keeping with its promise of quick and transparent recruitment process, Government has advertised 10,000 posts for accelerated recruitment of youth in Jammu and Kashmir during the first phase – and 25,000 more jobs later – which are in the pipeline, giving special consideration to domicile, divorced women and orphan girls, and similar factors.
To boost employment opportunities and encourage entrepreneurship among technically qualified youth, two IT parks – one each in Jammu and Srinagar are to be established.
Education and Research
Under its start-up policy, J & K government sanctioned GBP 126,000 (INR 12,000,000) for 12 selected start-ups for product research, development and marketing.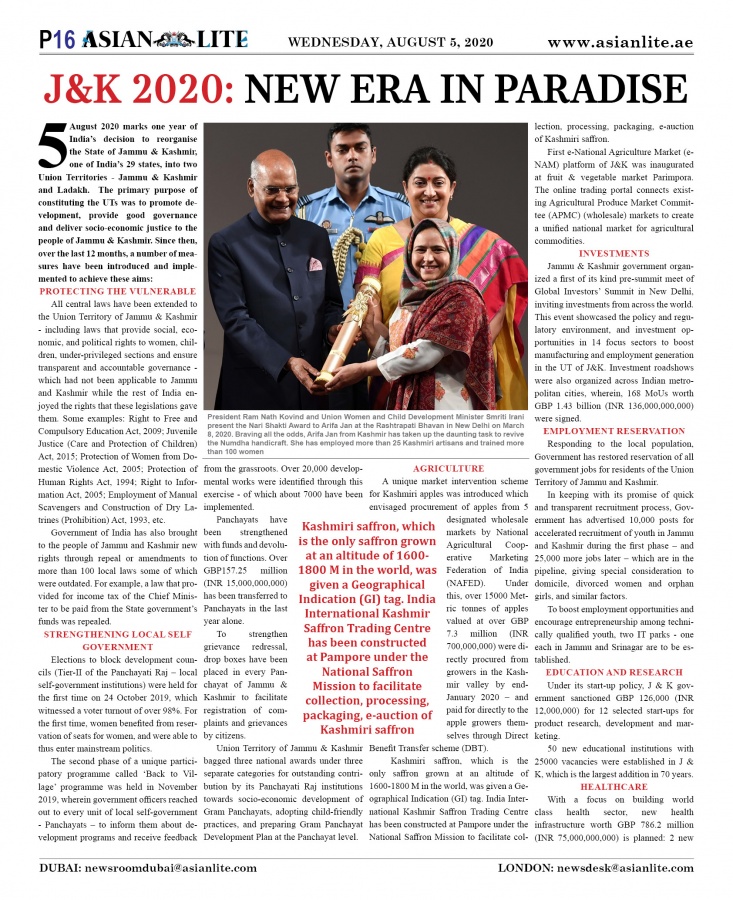 50 new educational institutions with 25000 vacancies were established in J & K, which is the largest addition in 70 years.
Healthcare
With a focus on building world class health sector, new health
infrastructure worth GBP 786.2 million (INR 75,000,000,000) is planned: 2 new Institutes of medical sciences Vijaypur in Jammu, and Awantipora in Kashmir, 7 new medical colleges, 5 new nursing colleges and a state cancer institute. 1400 medical/paramedical seats have been added for medical education.
Over 500,000 students from Kashmir availed different scholarship schemes of the government in the past one year, which is nearly four times higher than that of the year before.
Under a unique, first of its kind internship initiative, Jammu & Kashmir government signed MoUs with four prestigious Indian Institutes of Technology (IITs) and three Indian Institutes of Science Education and Research (IISERs) to provide two-month internships for 500 final year students of J&K for the next academic session.
Also Read – Pakistan's new political map triggers new controversy
To strengthen industry-academia partnership and to bring qualitative improvements in technical education, Jammu & Kashmir government has sanctioned two Centres for Invention, Innovation, Incubation & Training (CIIIT) in Jammu & Kashmir.
Special Focus by Union Ministries
In a unique and unprecedented drive, 36 Union Ministers visited over 50 locations in Union Territory of Jammu & Kashmir, addressed public demands, and inaugurated over 200 projects.
Projects
Bottlenecks for projects spanning across various sectors under the Prime Minister's Development Package (PMDP) have been removed – 17 of these projects have been completed or are nearing completion.
Phase-I of Jhelum Flood Mitigation Project has been completed – increasing the carrying capacity of River Jhelum by 10000 cusecs. Phase-II of the project will increase the carrying capacity by 15,000 cusecs.
Jammu & Kashmir Infrastructure Development Finance Corporation (JKIDFC), set up to complete languishing projects, has assisted in completion of 500 projects worth over GBP 63 million (INR 6,000,000,000), and over 2000 projects worth nearly GBP 630 million (INR 60,000,000,000) have been sanctioned.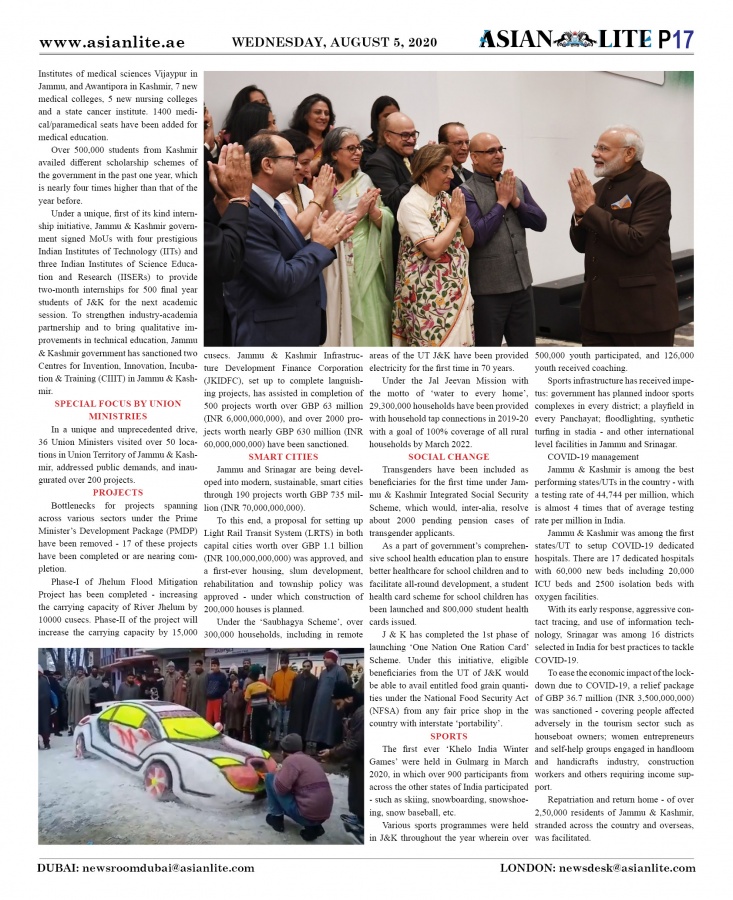 Smart Cities
Jammu and Srinagar are being developed into modern, sustainable, smart cities through 190 projects worth GBP 735 million (INR 70,000,000,000). To this end, a proposal for setting up Light Rail Transit System (LRTS) in both capital cities worth over GBP 1.1 billion (INR 100,000,000,000) was approved, and a first-ever housing, slum development, rehabilitation and township policy was approved – under which construction of 200,000 houses is planned.
Under the 'Saubhagya Scheme', over 300,000 households, including in remote areas of the UT J&K have been provided electricity for the first time in 70 years.
Under the Jal Jeevan Mission with the motto of 'water to every home', 29,300,000 households have been provided with household tap connections in 2019-20 with a goal of 100% coverage of all rural households by March 2022.
Social change
Transgenders have been included as beneficiaries for the first time under Jammu & Kashmir Integrated Social Security Scheme, which would, inter-alia, resolve about 2000 pending pension cases of transgender applicants.
As a part of government's comprehensive school health education plan to ensure better healthcare for school children and to facilitate all-round development, a student health card scheme for school children has been launched and 800,000 student health cards issued.
J & K has completed the 1st phase of launching 'One Nation One Ration Card' Scheme. Under this initiative, eligible beneficiaries from the UT of J&K would be able to avail entitled food grain quantities under the National Food Security Act (NFSA) from any fair price shop in the country with interstate 'portability'.
Sports
The first ever 'Khelo India Winter Games' were held in Gulmarg in March 2020, in which over 900 participants from across the other states of India participated – such as skiing, snowboarding, snowshoeing, snow baseball, etc. Various sports programmes were held in J&K throughout the year wherein over 500,000 youth participated, and 126,000 youth received coaching.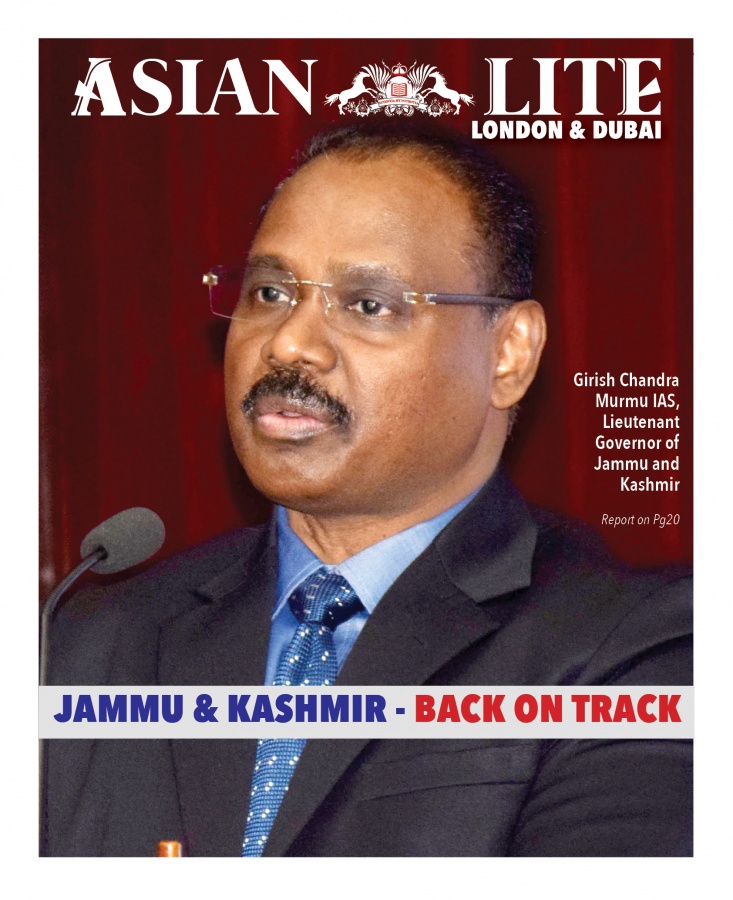 Sports infrastructure has received impetus: government has planned indoor sports complexes in every district; a playfield in every Panchayat; floodlighting, synthetic turfing in stadia – and other international level facilities in Jammu and Srinagar.
COVID-19 management
Jammu & Kashmir is among the best performing states/UTs in the country – with a testing rate of 44,744 per million, which is almost 4 times that of average testing rate per million in India.
Jammu & Kashmir was among the first states/UT to setup COVID-19 dedicated hospitals. There are 17 dedicated hospitals with 60,000 new beds including 20,000 ICU beds and 2500 isolation beds with oxygen facilities.
With its early response, aggressive contact tracing, and use of information technology, Srinagar was among 16 districts selected in India for best practices to tackle COVID-19.
To ease the economic impact of the lockdown due to COVID-19, a relief package of GBP 36.7 million (INR 3,500,000,000) was sanctioned – covering people affected adversely in the tourism sector such as houseboat owners; women entrepreneurs and self-help groups engaged in handloom and handicrafts industry, construction workers and others requiring income support.
Repatriation and return home – of over 2,50,000 residents of Jammu & Kashmir, stranded across the country and overseas, was facilitated.