Advertisement

Congress leader Rahul Gandhi on Thursday hit out at Prime Minister Narendra Modi, alleging that he is distracting the people and is silent on the real issue of unemployment.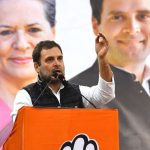 Rahul alleged the Prime Minister spoke about Pakistan, Nehru and "every thing else which does not concern anybody." He is not speaking about the youth, he said.
"The PM is distracting people from real issues by talking about Jawaharlal Nehru, Pakistan and Bangladesh," said Rahul.
The government, he said, is not concerned about economic issues impacting the country. The Congress leader said the Union Budget does not offer anything concrete.
The Prime Minister, while replying on the motion of thanks to the President's speech, had attacked Rahul Gandhi without taking his name. When Rahul intervened, Modi said: "For some people, the tubelight takes time" and that "he will prepare his back to get it strong as some leaders have said that in 6 months, youth will cane the Prime Minister".
Rahul Gandhi while campaigning in Delhi on wednesday said the agitated youth will cane Modi within six months.
Addressing a public rally in Delhi, Rahul Gandhi said, "The atmosphere in India has changed in the last five years. Brotherhood and peace have vanished from society. Many of you will say that this happened due to Modi, the RSS and the BJP".
"But I will put things in a little different manner. The biggest reason is not taking the youth forward. People are scared due to unemployment. And if the youth and the new generation cannot find a way, they will get angry. That anger is being misused by Modi. The real reason is unemployment," he said.
Slamming the BJP government at the Centre and the AAP government in Delhi, Rahul Gandhi said, "The youth are roaming around on the streets and getting angry due to unemployment. And their anger is being misused by Modi and Kejriwal."
He alleged that both Kejriwal and Modi remained silent on the issue of unemployment. "Their politics is of hatred and if they provide employment to you, then their politics will end," he said.