Advertisement

After Nepal Prime Minister K.P. Sharma Oli's statement on 'real' Ayodhya being in Nepal, drew flak from all over India, the Nepal Ministry of Foreign Affairs on Tuesday issued a clarification on the statement.
In a statement, the ministry clarified that the remarks made by the Prime Minister are 'not linked to any political subject and have no intention at all to hurt the feeling and sentiment of anyone.'
It also stated that the remarks were not meant to debasing the significance of Ayodhya and the cultural value it bears.
"As there have been several myths and references about Shri Ram and the places associated with him, the Prime Minister was simply highlighting the importance of further studies and research of the vast cultural geography the Ramayana represents to obtain facts about Shri Ram, Ramayana and the various places linked to this rich civilization," the statement said.
The ministry underlined that the tradition of celebrating Bibaha Panchami where a marriage procession coming from Ayodhya, India to Janakpur, Nepal takes place every year.
"The Prime Ministers of Nepal and India launched the Ramayana Circuit in May 2018, of which Janakpur-Ayodhya Passenger Bus Service is an important component. These facts signify the bond of time honoured cultural affinity between our two countries and peoples," the ministry said.
The Nepal Prime Minister claimed that India has created a 'fake' Ayodhya, and Lord Ram was originally from Nepal. Oli's controversial claim has come at a time when India's diplomatic ties with the Himalayan nation is going through certain upheavals.
Leading Nepali media outlet The Himalayan Times reported on Monday that Oli, while speaking at an event organised to commemorate poet Bhanubhakta's birth anniversary in his official residence, said that India is manipulating cultural and historical facts by creating a fake Ayodhya in India, which in fact is a village west of Birgunj.
"We did not give Sita, who was born in Janakpur, to an Indian prince but Sita was married to Ram of Ayodhya, not of India," he said, adding that Ayodhya was later created in India encroaching upon facts.
He 'reasoned' that a prince from a place that far away could not possibly come to Janakpur to marry Sita as there were no means of communication and easy transportation during those times.
"There is a huge controversy in 'their' Ayodhya while our Ayodhya, that lies in the Thori village, has no issues as such."
PM Oli, as usual, went on to claim that science and knowledge originated and developed in Nepal.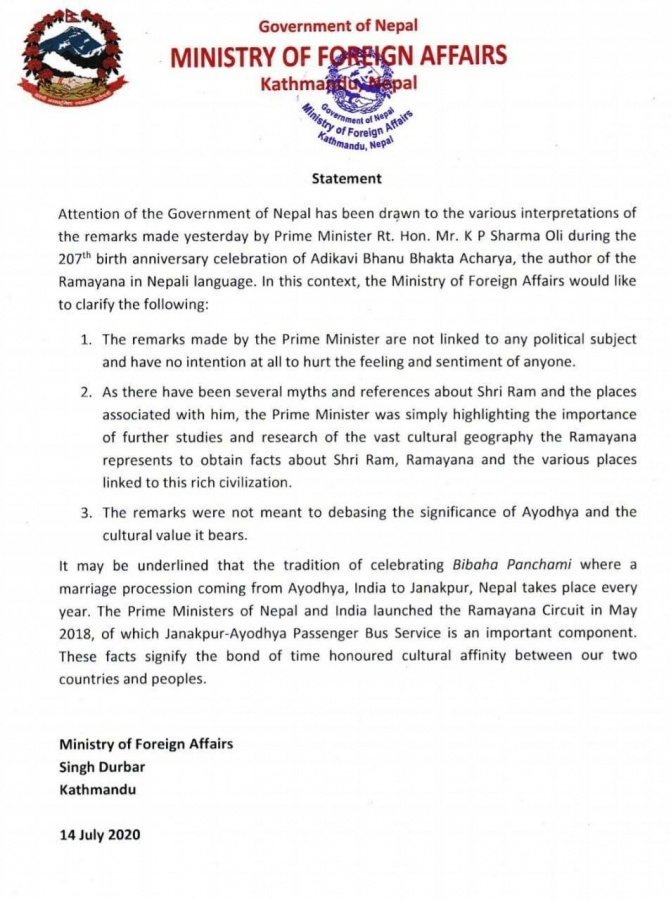 The statement, however, did not seem to have gone down well at his own backyard. The Himalayan Times further reported that not many in Nepal were convinced by the Prime Minister's take on the 'facts' and warned that the issue could escalate, inflating the existing tensions further.
Co-chairperson of Rastriya Prajatantra Party Kamal Thapa said it is not suitable for such baseless, unproven statements to come from a Prime Minister.
"It looks like the PM wants to further spoil Nepal-India relations rather than working to resolve tensions," Thapa tweeted.
Likewise, former vice-chair of National Planning Commission Swarnim Wagle warned that Indian media could pick up and make controversial headlines out of Oli's statement.
The town of Ayodhya in India's northern state of Uttar Pradesh, believed to be the birthplace of Lord Ram, is a politically sensitive matter.