Advertisement

Father of Bengaluru girl Amulya, who has been arrested on sedition charges, on Friday condemned his daughter for shouting pro Pakistan slogan at an anti-CAA rally in Bengaluru…reports Asian Lite News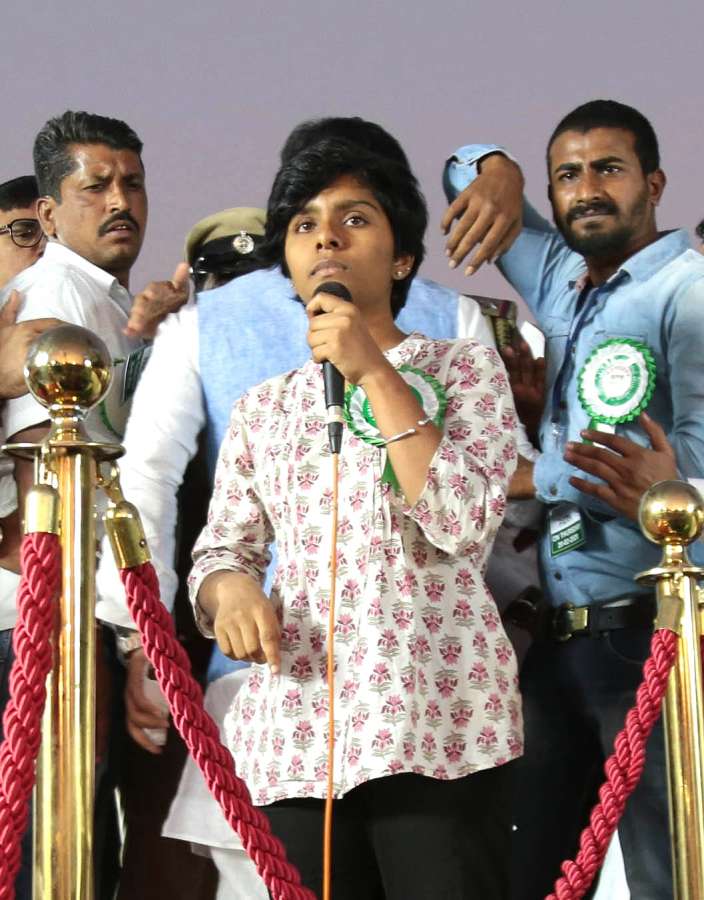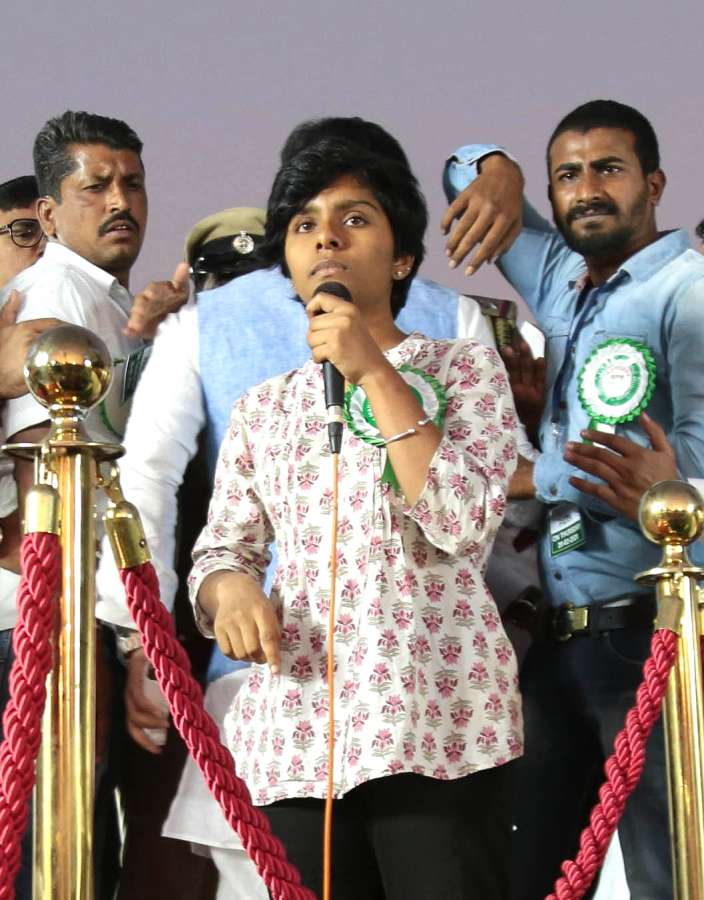 A young woman, identified as Amulya, was whisked away from the dais on Thursday, for shouting "Pakistan zindabad" at an anti-CAA rally in Bengaluru, police said.
"Amaulya, a student activist, was taken off the dais and detained for shouting 'Pakistan zindabad' at the rally in Freedom Park in the presence of AIMIM President Asauddin Owaisi and leaders of different faiths," a police official said.
The sudden incident, which embarrassed Owaisi and the rally organisers – Hindu-Muslim-Sikh-Issai Federation, occurred when Amulya was called on the dais to address the gathering in protest against the Citizenship Amendment Act (CAA) under the banner of "Save Our Constitution".
"When Owaisi and others tried to stop Amulya from shouting the pro-Pakistan slogan, she started chanting 'Hindustan zindabad'. Our personnel who were at the rally for providing security, took her off the dais to control the situation even as she insisted on speaking," the police officer recalled.
Owaisi, President of the All-India Majilis-e-Ittehadul Muslimeen (AIMIM) and its 4-time Lok Sabha member from the Hyderabad constituency, condemned the activist for taking liberty to shout pro-Pakistan slogan and told the organisers to stop her from speaking.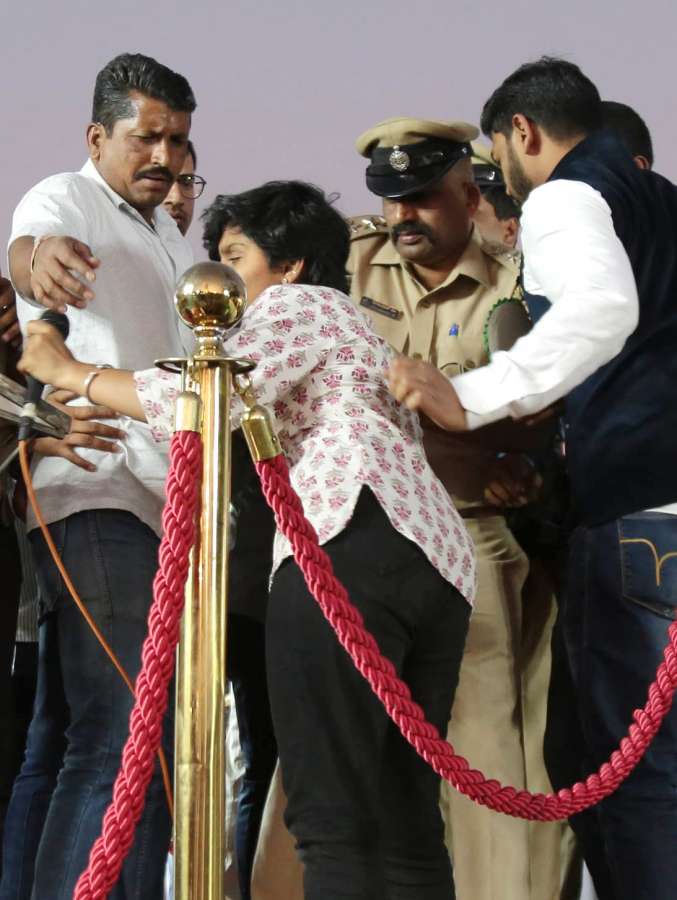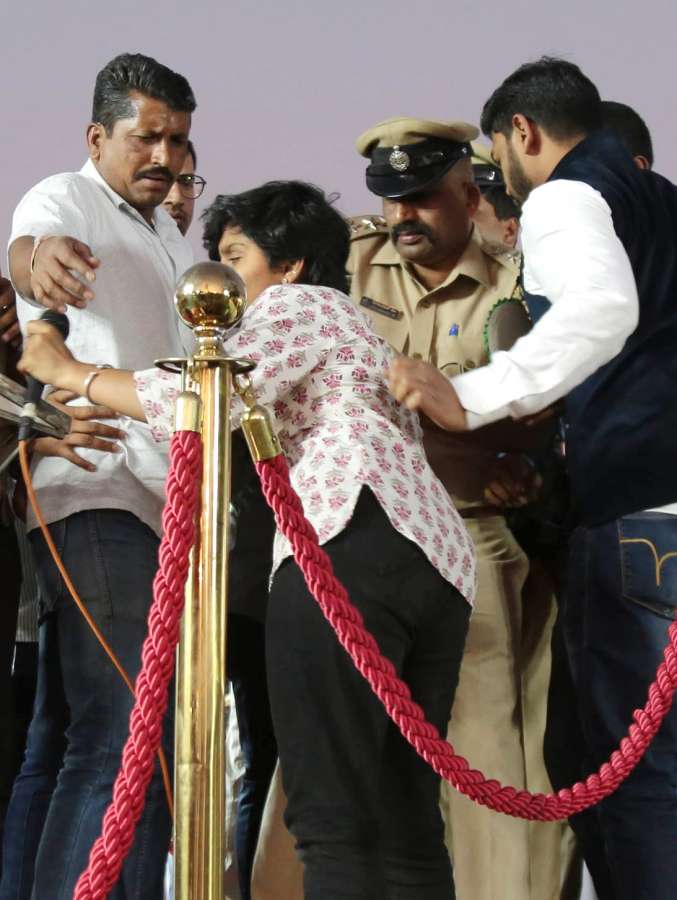 "When Amulya resisted the organisers from addressing the gathering, our policewomen had to forcibly escort from the stage and detain her in a corner," the police official added.
Regretting the incident and denouncing the activist, Owaisi said in Hindi-Urdu that he and his party was against such slogans as they are for India and proud of being Indians.
"We do not agree with the activist shouting such slogans. The organisers should not have invited her to the rally. If I knew this, I would not have come and we don't have any link with her. We are for India and don't support our enemy nation Pakistan. Our drive is to save India and our Constitution," asserted Owaisi.
Father condemns
Father of Bengaluru girl Amulya, who has been arrested on sedition charges, on Friday condemned his daughter for shouting pro Pakistan slogan at an anti-CAA rally on Thursday here.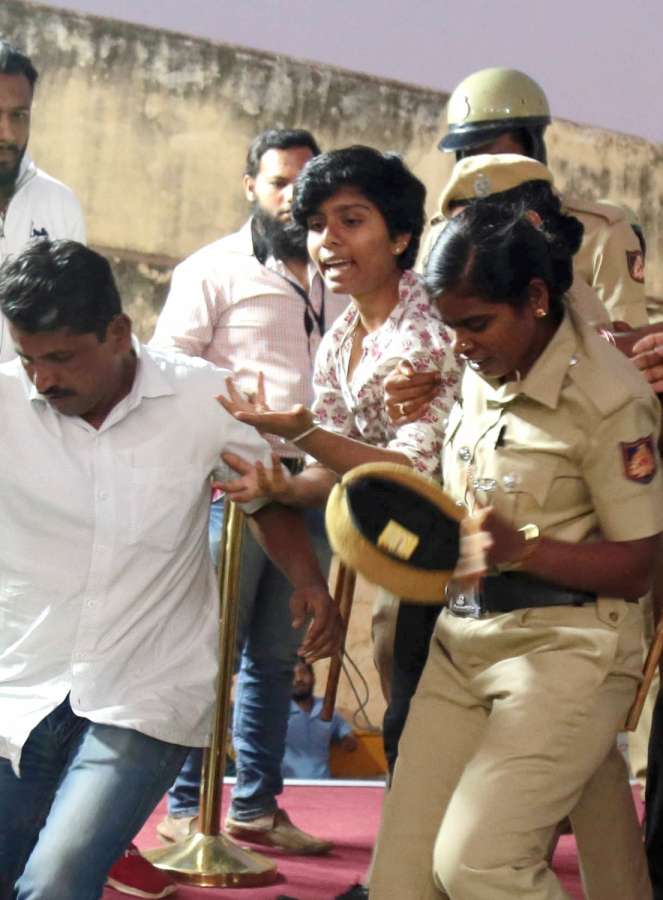 "I condemn Amulya for shouting pro-Pakistan slogan at the rally and disown her views on CAA, NRC or NPR. I was not aware about her act till a friend called and told me about it last (Friday) night," Oswald Naronha told a local news channel from his home at Koppa in Karnataka's Chikkamagaluru district.
Koppa is about 320km west of Bengaluru in the southern state.
Earlier in the day, Amulya was sent to 14-day judicial custody after police arrested and produced her before a local magistrate in a sedition case filed suo motu against her.
"I also advised her not to criticise Prime Minister Narendra Modi and Union Home Minister Amit Shah for enacting the CAA. She does not listen to us. She has gone out of our control. I am sad and unhappy that she got into trouble for her views," Naronha lamented.
Naronha filed a complaint in a local police station at Koppa against some unidentified BJP activists for allegedly attacking his house in Koppa for Amulya's pro-Pakistan slogans.
"The activists vandalised our house by smashing window glass panes, flower pots and damaging other household things," Naronha said in the complaint.
The 19-year-old is a second year student in a degree college pursuing BA in literature, sociology, psychology and journalism.