Advertisement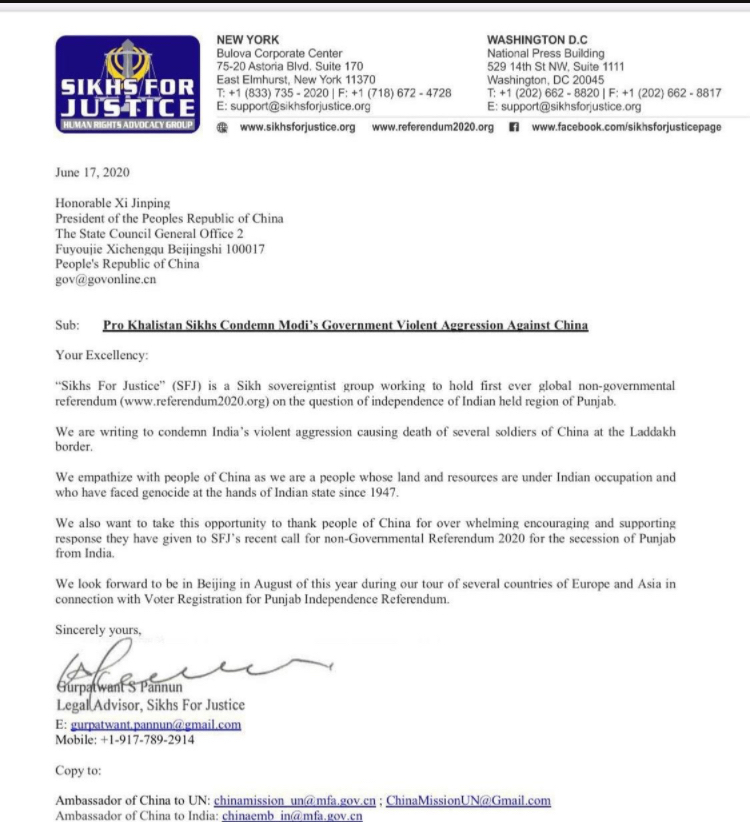 A leading ethnic newspaper in North America exposed the close link of separatists "Sikhs for Justice" with China.
India America Today newspaper procured a letter written by SFJ chief Gurpatwant Pannun to Chinese president Xi Jinping. He promised to visit China in August.
The letter addressed to Chinese President Xi Jinping, dated June 17, 2020 and signed by Gurpatwant Singh Pannun, Legal Advisor and poster boy of the "Sikhs for Justice" group, reads: "We are writing to condemn India's violent aggression causing the death of several soldiers of China at the Ladakh border."
The article written by Mr Tejinder Singh, editor, India America Today, accuses Pannu of aligning with the enemies of India at a critical juncture.  In the letter to Xi, Pannun writes about the death of Chinese soldiers although the US State Department in a statement to IAT a day earlier had expressed grief at the loss of life on the Indian side without mentioning any loss of life on the Chinese side.
The US State Department statement said, "We note the Indian military has announced that 20 soldiers have died, and we offer our condolences to their families."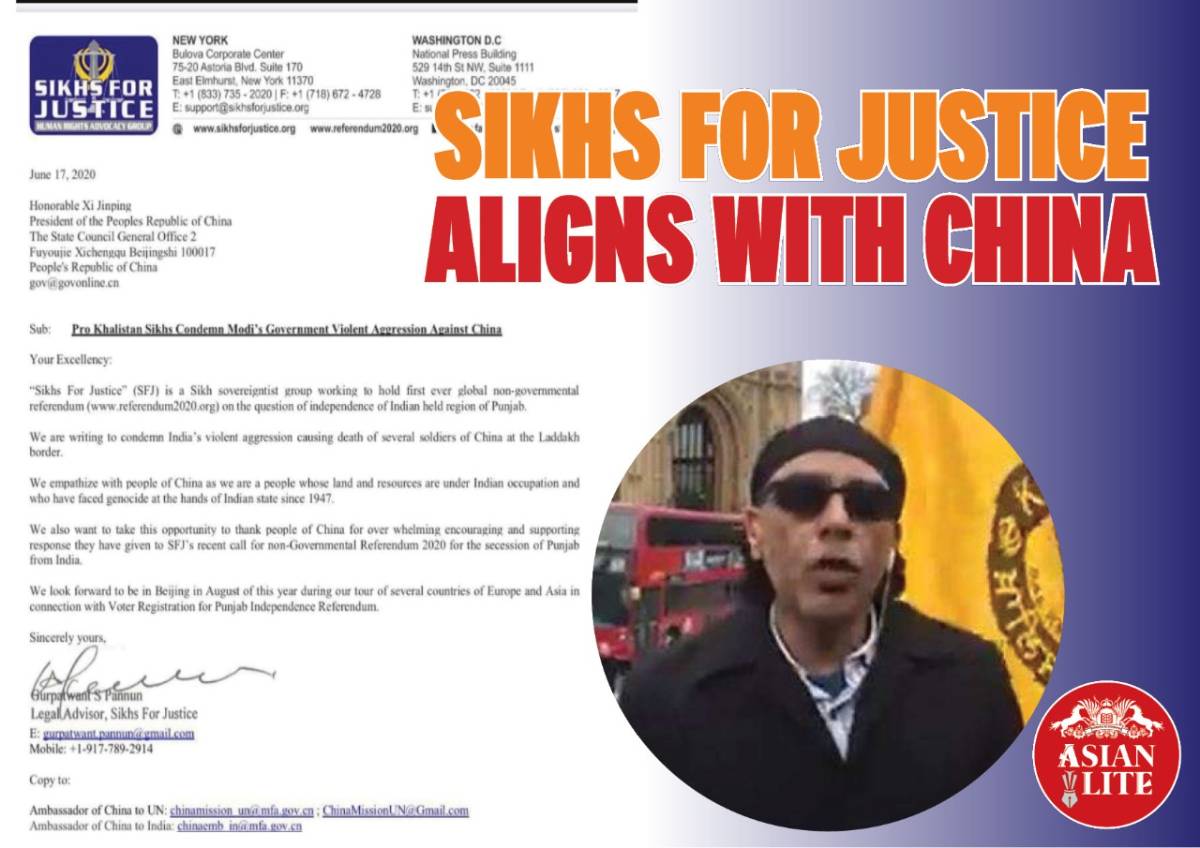 Ironically, four of the 20 Indian soldiers killed in the attack were turbaned Sikhs and traditionally Sikhs, a fearless warrior community are heavily involved in different parts of the Indian defense organisations having their own battalions like Sikh Regiment. There have been many Sikhs who have led the Indian Airforce and Army, while Giani Zail Singh, a Sikh was a former President of India.
Writing on behalf of "Sikhs for Justice" group, Pannun further shows sympathy with the Chinese people saying, "We empathize with people of China," adding, "We also want to take this opportunity to thank people of China for overwhelming encouraging and supporting response they have given to SFJ's recent call for non-Governmental Referendum 2020 for the secession of Punjab from India."
At the start of the letter, Pannun defined "Sikhs For Justice" (SFJ) as "a Sikh sovereigntist group working to hold first ever global non-governmental referendum on the question of independence of Indian held region of Punjab." Pannun further added, "We look forward to be in Beijing in August of this year during our tour of several countries of Europe and Asia in connection with Voter Registration for Punjab Independence Referendum."
Political pundits and defense analysts wondered what will "Sikhs for Justice" provide from the US soil to the Chinese government in exchange for their support for the cause propagated by them about secession from India for which there is hardly any support in the Northern Indian state of Punjab.
There are fears of alleged spying on behalf of the Chinese government from the US homeland and the whole affair seems to be going against the US policy of blaming China for COVID-19, as well as the strong words from the US President Donald Trump and US Secretary of State about global financial loss suffered by many countries including the US economy.