Advertisement

The letter reads that incident will have a detrimental impact on Indian students if the Oxford University and Thames Valley Police do not seem to take any decisive actions…reports Asian Lite News
More than hundred Indian diaspora organisations across the country jointly issued a letter to UK Prime Minister Boris Johnson over concerns related to lack of action by the Oxford University towards Hindu hatred promoted by its faculty member.
Dr Abhijit Sarkar, a faculty member, instigated hate-filled trolls on social media against Rashmi Samant who was the first Indian female to be elected President of Oxford Student Union.
Dr Sarkar's continuous attack on Rashmi and her family on social media for their Hindu faith, forced her to resign and led her to finally leave the country, says the letter.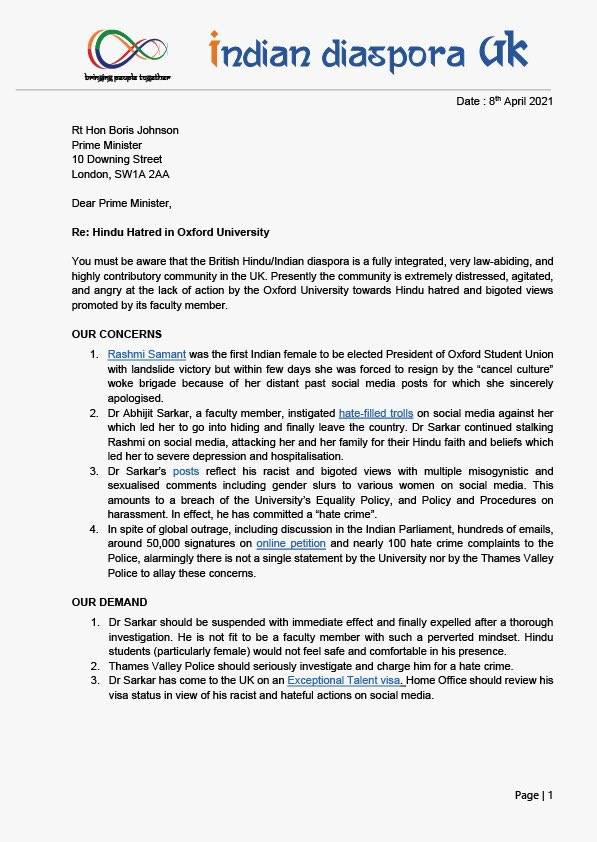 The jointly issued letter which was signed by 119 organisations also called for suspension of Dr Sarkar with immediate effect and expulsion after a thorough Police investigation for hate crime.
It is noted that Dr Sarkar's posts reflect his racist and bigoted views with multiple misogynistic and sexualised comments including gender slurs to various women on social media.
The British Indian diaspora urged Home Office to review his visa status in view of his racist and hateful actions on social media.
The signatories are Hindu Council UK, Hindu Forum of Europe, National Council of Hindu Temples, Hindu Swayamsevak Sangh (UK), National Council of Hindu Priests,Vishwa Hindu Parishad (UK),Nepali Hindu Forum UK, Shree Swaminarayan Temple Cardiff, Friends of India Society International (FISI) UK, Global Kashmiri Pandit diaspora (UK), Indians in London Group (IIL), Hindu Lawyers Association, Global Hindu Federation Ltd, Nepali Shiva Mandir Aldershot, National Hindu Students' Forum (UK), Akshay Patra Foundation (UK), Hindu Forum Nottingham, Kashmiri Pandits Cultural Society, London, Gurudwara Miri Piri, Southall, Dr. Ambedkar UK Mission (AUM), Voice of Dogras (UK), Overseas Hindu Malayalee UK (OHM UK), British Hindu Voice, Gurudwara Ramgarhia Sabha, Southall, Kannadigaru UK, Hindu Punjabi Sabha of Leeds, REACH India, and Inspiring Indian Women (IIW)

Hindu International Medical Mission, Hinduism Worldwide Inc
,Shree Ram Mandir Birmingham, Uttar Pradesh Community Association (UPCA), UK , South Asian Performing Art (SAPAC) UK
, Shree Sanatan Mandir Leicester, UK Telugu Hindu Organisation (UTHO), Hindu Samaj Swindon, International Center for Cultural Studies (UK) , Hindu Mandir and Community Centre Nottingham
, Jammu Kashmir Study Center, UK , Hindu Temple Nottingham
, All County Kannada Association UK , Vichaar Manthan UK
, India Welfare Society, London , Advocacy for British Hindus & Indians (ABHI) UK , International Dogra Society , Indian National Students Association (INSA) UK , Kannada Balaga Swindon
, Jeevan Organ Trust UK , Leuva Patidar Samaj Yorkshire
, Karunadina Anivasi Hindugala Okkoota (KAHO) UK , Hindu Cultural Society of Bradford , The British Hindu Press Association , Abhishekam Group , KAVITA Community Org, Ireland, Leeds Mahila Mandal , India Knowledge Consortium (INK) UK , Basingstoke Hindu Society , Namaste Elderly Group of Leeds , Mata Da Mandir (Hindu Cultural Association Dudley) , Ram Mandir Southall , National Association of Patidar Samaj , Newcastle Hindu Temple , Param Shakti Peeth of UK , Rajasthan Association UK , Northeast India Cultural Committee of UK , Overseas Friends of BJP UK , Slough Mitra Mandal , NaMo Namah Foundation UK , Leeds Pragati Mandal , Shree Krishna Mandir, Leamington Spa , Rajasthani Roots UK , Pranyog Yoga centre
, Shree Krishna Temple, Dudley , SwIndians , Telugu Association of Basingstoke (TAB UK) , Shree Bharatiya Mandal-Indian Association (Tameside) , VHP Temple Bolton , Sangamam UK, Shree Prajapati Association U.K , Shree Hindu Community Centre
and Sai Dham (Nottingham).
Lord Rama Krishna Temple, Warrington, Shiv Westminster, The Shivalyh, Derby Kannadigaru , Bihari Connect UK, Durga Bhajan Mandali, Birmingham , Derby Hindus , Hindu Council (Brent) , Anoopam Mission UK , Haryana In UK Association
, Bengali Hindu Adarsha Sangha , Bhagwati Shakti Peeth , Bharat Hindu Samaj Peterborough, Bihari Community, Gita Foundation
, Hindu Sevikas Samiti UK, Indian Ekta, Kent Telugu Community (KTC) , Life in London Trust , Luitporia Nasoni North East
, Shree Navdurga Association UK , National Hindu Welfare Support (NHWS) , Shree Kalyan Mandal, Rugby , South London Hanuman Chalisa Group, Telangana Development Forum, South Indian Association UK, The Indian Association Cheltenham (Glos)
, UK Indian Business Network (UKIBN), Vaso Nagrik Mandal (UK)
, Upton Hindu Community Association, Vande Mataram, Yog-Kulam
, Wellingborough District Hindu Association, Warangal NRI forum UK Ltd, Royal Sutton Indians, Midlands Marathi Association
, INSIGHT UK, Nottingham Kannadigaru, Shree Lakshmi Narayan Hindu Temple and Bradford