Advertisement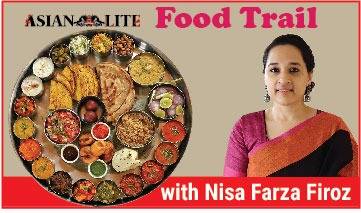 Isn't it fun to recreate restaurant style dishes at home? A little while ago I found this recipe of paneer masala, tried it, tweaked it and later served to my entire family who absolutely loved it. It's creamy and super delicious, you can eat it well with naan, roti or plain rice.
The flavour of this curry lies mostly in the gravy. When you almost are half done with the gravy it gives of an amazing scent to which you gladly wait for the paneer to be added before you can devour it. This has been a recent yet a very loved recipe of my family,
I hope you too enjoy!
Paneer masala
1.Paneer-250gms
To marinate paneer
1.Red chilli powder-1/2tsp
2.Haldi-1/4tsp
3.Salt accordingly
Gravy
1.Gramflour-1tbsp
2.Butter 2tbsp
3.Oil-2tsp
4.Cumin seeda-1tsp
5.Cloves-3
6.Cardamom-3
7.Cinnamon stick-1
8.Bay leaf-1
9.Asofotida-1/4tsp
10.Onions-3(chopped)
11.Garlic paste-1tsp
12.Ginger paste-1tsp
13.Haldi-1/2tsp
14.Kashmiri chilli powder-1tsp
15.Coriander powder-1tsp
16.Garam masala- 1/2tsp
17.Tomatoes-4 puree
18.Green chillies
19.Water1cup
Kasoori methi-1tsp
Fresh coriander-handful
Method
1. how to marinate and fry the paneer
firstly, in a large bowl take the paneer
 Add½ tsp chilli powder, ¼ tsp turmeric,  ¼ tsp salt.
mix well and marinate for 30 minutes.
now heat 1 tbsp butter and marinated paneer.
fry for a minute making sure all the sides are cooked well keep aside.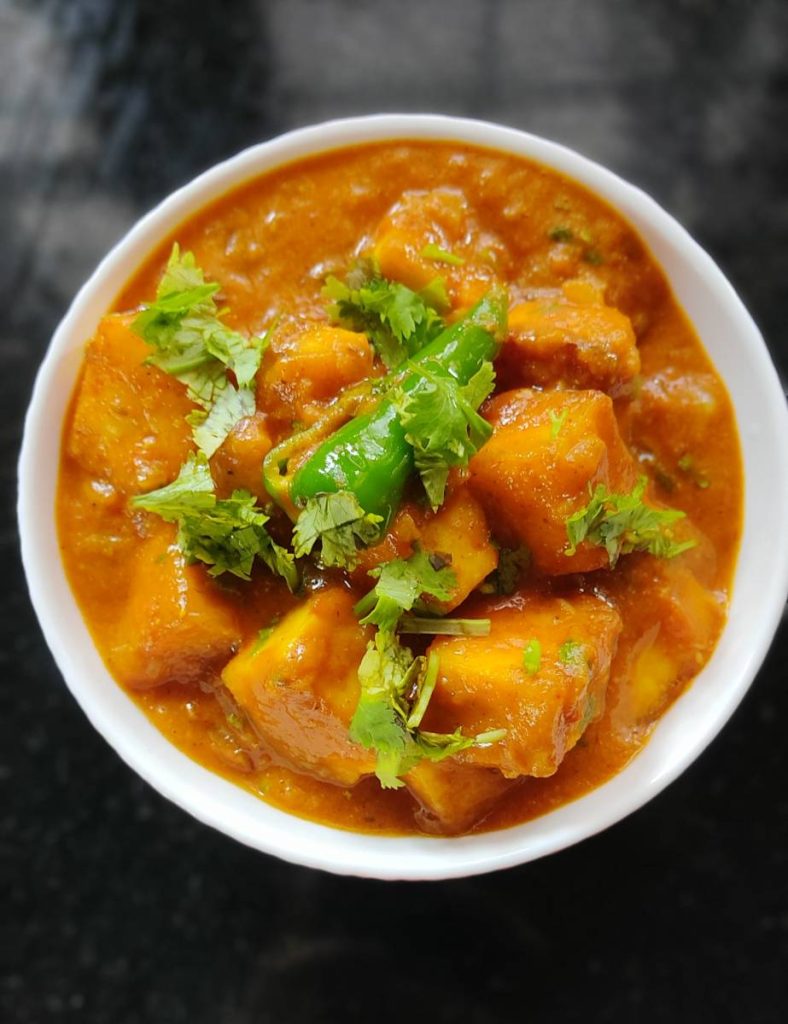 Gravy
1.In a non-stick pan dry roast the gram flour for a minute and keep it aside
2. In a large pan heat 3tbsp butter and 2 tbsp oil.
3.Add Bay leaf, cardamom, 1inch cinnamon, cloves and cumin seeds, asafoetida and sauté the spices turn aromatic.
4. Add onion and sauté until the onions turn golden brown.
5. Add the ginger garlic paste and sauté till the raw smell goes
6. Lower the flame and add the spices. Turmeric powder, red chilli powder, coriander powder, garam masala, garam flour roasted sauté for a minute.
7. Add tomato puree and sauté until tomatoes turn soft and mushy.
8.keeping the flame on low add one cup water.
9. Stir continuously until combined well and cook till the oil separates out from the mixture. Add green chillies and salt accordingly.
10. Add fried paneer and mix well. and simmer for 5 minutes or until the flavours are absorbed well.
11. Add 1tsp tsp kasuri methi, and a tbsp of butter and coriander leaves
12., enjoy paneer masala recipe  with roti, naan or phulka.
ALSO READ-Right style for any occasion