Advertisement

In a gloomy assessment from the National Institute of Economic and Social Research found that average real disposable incomes will fall by an unprecedented 2.5% this year and remain 7% below their pre-Covid level through 2026…reports Asian Lite News
The British economy is already in recession as the cost of living crisis has devastating consequences for household incomes, a leading think tank has concluded.
In a gloomy assessment from the National Institute of Economic and Social Research found that average real disposable incomes will fall by an unprecedented 2.5% this year and remain 7% below their pre-Covid level through 2026.
"The UK economy is heading into a period of stagflation with high inflation and a recession hitting the economy simultaneously," said Stephen Millard, NIESR's deputy director for macroeconomics.
It also estimated the number households living from paycheck to paycheck will almost double to 7 million by 2024, including 5.3 million with no savings at all. They will be forces to go into debt or arrears as soaring energy bills eat into incomes, the group said.
The warning of a recession, which NIESR said started this quarter and will continued until early 2023, is a stark reminder of the challenges facing the two contenders vying to replace Boris Johnson as prime minister. The economists said the depth of the crisis will force the government to respond, suggesting a defined objective is required instead of financial management approach of the past, Bloomberd reported.
It also flagged calculations showing the economic gap between London and the rest of the UK is widening. That suggests the government's flagship policy of "levelling up" less wealthy areas is falling short.
The think tank suggested the most vulnerable in the UK need further help in the face of consumer price inflation that it said will rise to almost 11% this year. Retail price inflation, meanwhile — a broader measure used to set increases in train fares and government interest costs, will hit 17.7%, the highest since 1980,
In response, it sees the Bank of England hiking interest rates to 3% next year. Unemployment will rise above 5% as demand falls, according to the projections.
"It's now up to the Monetary Policy Committee to make sure inflation does come down next year and the new Chancellor to support those households most affected by the recession and cost-of-living squeeze," Millard said.
Energy bills in forecast to hit $4,401
Households across the UK have been warned they could face an annual energy bill in excess of 3,600 pounds this winter.
Energy consultant Cornwall Insight said a regular gas and electricity bill in England, Wales and Scotland could reach 3,615 pounds in the new year, which is hundreds of pounds more than previous predictions, reports dpa news agency.
In May, the British government announced an energy costs support package. worth 400 pounds per household. in response to predictions that bills would rise to 2,800 pounds for the average household in October.
Last month, Cornwall Insight predicted that annual energy bills would typically rise to 3,244 pounds from October and 3,363 pounds from January 2023, but circumstances have changed significantly since then.
The company told the BBC on Tuesday that such a bill is now likely to rise to 3,358 pounds from October and 3,615 pounds from January 2023.
Cornwall Insight's principal consultant, Craig Lowrey, said surging gas prices and concerns about Russian supply had prompted the increase.
"However, while the rise in forecasts for October and January is a pressing concern, it is not only the level – but the duration – of the rises that makes these new forecasts so devastating," he told the BBC.
"Given the current level of the wholesale price, this level of household energy bills currently shows little sign of abating into 2024."
Lowrey joined other experts in saying government support will "only scratch the surface" for households.
Charity National Energy Action last month predicted that, should the average bill reach 3,250 pounds per year, 8.2 million UK households will be in fuel poverty, or one in three.
'1 in 5 nightclubs closed amid pandemic'
One in five nightclubs in Britain has closed over the past three years after the sector was badly hit during the Covid-19 pandemic, and the government has been urged to intervene "before it's too late".
The Night Time Industries Association (NTIA) has shared figures which suggest the pandemic and current economic pressures have taken a heavy toll on nightclubs across Britain.
NTIA, a trade body representing businesses in the night-time economy, raised concerns about the latest CGA statistics, which state there are only 1,130 nightclubs left in England, Wales and Scotland.
CGA, a data and research consultancy for the food and drinks market, recorded that there were 1,446 nightclubs in Britain in December 2019 and 1,924 in December 2014, according to the data shared by NTIA.
NTIA chief executive Michael Kill said: "Late-night economy businesses were one of the quickest sectors to rebound during the financial crash many years ago, harbouring an abundance of resilience and entrepreneurial spirit.
"It's without a doubt that these businesses, particularly nightclubs, have a huge part to play in the regeneration of high streets in towns and cities across the UK. Beyond the generation of footfall through trade, domestic and international visitors to clubs support the local economy in secondary and tertiary purchases through accommodation, travel and retail. It is also key to recognize that these businesses play a key part in people's decision-making process, from choosing a university or college to influencing investment choices for businesses relocating or expanding, to accommodate for a young workforce, not forgetting the important part they play in people's physical, mental and social wellbeing. The government needs to recognize the economic, cultural, and community value of clubs and the wider night-time economy. We must protect these businesses, using every means possible, and recognise their importance before it's too late."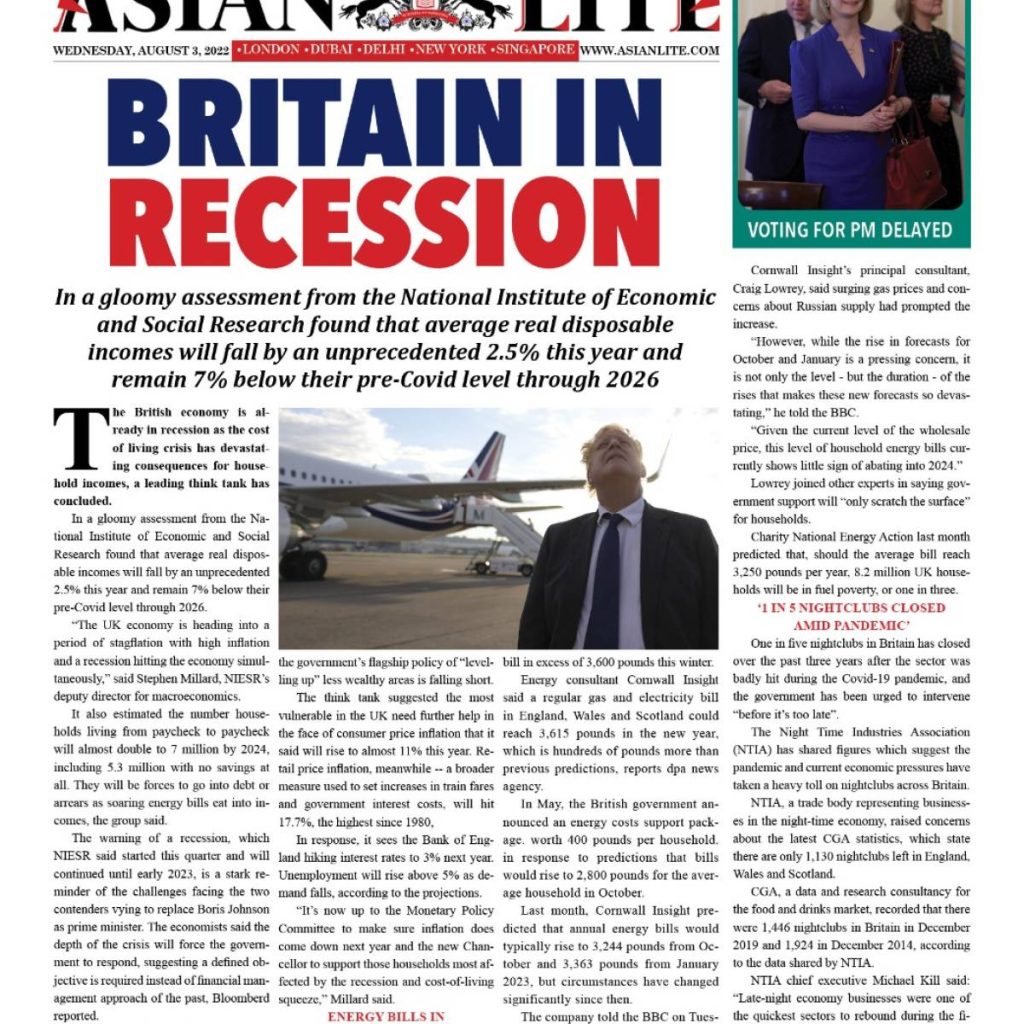 A Treasury spokesman said: "We've stood behind the hospitality sector throughout the pandemic with a 400 billion pounds package of economy-wide support that saved millions of jobs and offered a lifeline to hundreds of night-time businesses up and down the country.
"We also went long with that support through a Recovery Loan Scheme for nightclubs to grow and recover from unprecedented disruption. And at the Spring Statement we went further, announcing a 1,000 pound increase to the Employment Allowance which will cut taxes for hundreds of thousands of businesses."
ALSO READ-'Russian gas shutdown would send some EU countries into recession'