Advertisement

Professor Kishan Devani BEM appointed International Senior Advisor by Cryoin,  one of the largest Global Rare Gases Company in the world…reports Asian Lite News
Cryoin Engineering is one of the leading producers of rare gases across the Globe. Their Production facilities are based in Odessa in Ukraine. The company has a strong scientific foundation, which allows the effective implementation of cutting-edge technologies in the cryogenic industry.
Larissa Bondarenko, Director of Cryoin, said: "We are absolutely delighted to welcome Professor Kishan Devani BEM to our strong team across the Globe. Professor Devani BEM brings a wealth of international development expertise with him. His business acumen, skills of Diplomacy and Advocacy are second to none and will prove pivotal to the further success of our international world leading rare gases company. We truly look forward to many years of collaboration with Professor Devani BEM."
Professor Kishan Devani BEM said: "I am truly humbled to be appointed to the position of International Senior Advisor for Cryoin. Globally, Cryoin are industry leaders in the rare Gases sector. Their vision as a Ukrainian company supplying globally is second to none. I look forward to working with Larissa and Andrey Bondarenko for many years to come.
Cryoin Engineering is one of the most reputable global manufacturers of rare gases with personnel that boasts over 25 years of corporate expertise in the Cryogenic Industry.
Cryoin Engineering produces and supplies worldwide rare gases of ultra high purity: Neon, 20Ne, 21Ne, 22Ne Isotopes , Helium, Xenon, Krypton. They hold high standards of quality throughout the production process and use customer-focused approach to answer requirements of international market. Guaranteed quality of rare gases purity up to 99,9999%.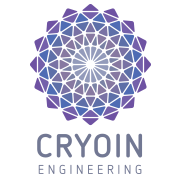 While producing rare gases Cryoin do not use irreproducible natural resources. Their raw materials are gas mixtures obtained by processing and separation of air, the waste of their production are air components and water. Cryoin focuses on effectively utilizing its strong academic foundation in building a more innovative future for the Cryogenic Industry. Cryoins group has registered 21 patents based on the results of their scientific research. They focuse on effectively utilizing its strong academic foundation in building a more innovative future for the Cryogenic Industry. Cryoin developed proprietary technology for gas separation, design and installation of own equipment.
Due to advanced technologies of Neon, Xenon, Krypton, Helium production, professional employees and excellent service, Cryoin hold a dominant position in the market of cryogenic products.