Advertisement

Vivek Sharma entertained all people gathered there, by playing his flute. His daughter also cherished everyone by singing, " Teri ladki mein."…reports Asian Lite News
The colours of Rajasthan lit up London during the annual "Jeeman "program organised by RAUK on 26th of June. On this special day many Rajasthani people came together to celebrate and to be proud of their nationality. On this occasion people wear their best clothes, men wear pachrangee and bandhani turbans while women get adorned in beautiful jewelry and ghagras. Kids also join in special attire.
Dillip Pungalia and Indu Barot, people in charge of RAUK said that this year, under the guidance of Alok Ji Sharma and Ragini Ji Chaudhary, the outline of the program was prepared many months ago with proper divisions which was well coordinated by volunteers. Rajeev Kheechar and Pradeep Bera warmly welcomed the guests by applying tilak on their foreheads and gave jaggery for getting a sweet delight. Shipra and Aditya Singh took responsibility of all decorations while Anchal and Rakhi have taken care of the sponsorship performances.
Rajiv Ji Danga, Nandlaal Ji Jat and Ravi Kumar Ji with their experienced team made the arrangements for refreshments for all guests. Volunteers managed even the very minute things and rendered their services with complete dedication and thats why played a vital role in spreading the love of Rajasthan in London. RAUK communicated their heartfelt gratitude to them.
The breakfast consisted of ginger tea, kachori and samosas with chutney. Harendra Singh Ji Jodha, the patron of "Jeeman" told how he worked on bringing their heritage and culture within reach of Rajasthani people, who have been far away from their roots, through this program. He told us that its our duty to bring the sanskaras of our forefathers to the kids of younger generation. So that the culture and civilization may remain progressive for ages infinite.
Chief guest Shri Anil Agarwal, the founder and chairman of Vedanta group, his wife Mrs Kiran Agarwal, Saint Abhay das Ji Maharaj and Saint Mohan Ji participated and showered their blessings in the event.Anil Agarwal assured that he would provide any possible help for the Rajasthani people in the UK as he was extremely happy over participating in the program and watching Rajasthani cultural performances.
Expressing their joy, the guests in Jeeman, Dr Manish Ji and Dr Archana Ji, told that they have been living here for 20 years, but for the first time, they have been a part of this program which is exclusively Rajasthani, now they will wait each year for this type of program. Moreover, Barrister Jyoti  Swami and Priyanka Ji said that when they learned about this program through their friends, they wouldn't stop themselves from participating. They felt delighted to hear about their culture and mother language.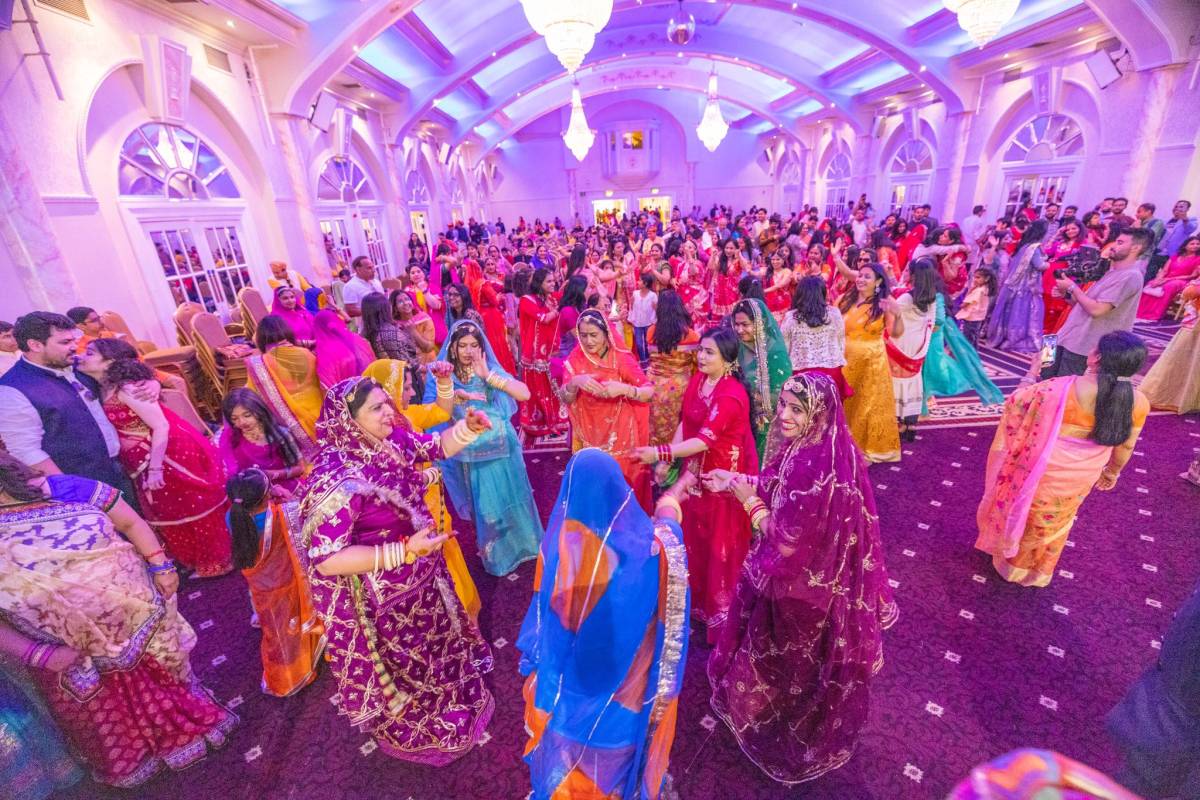 The programme was anchored and began by kids through nice performances. After fantastic performances of the Rang Rangilo group, Nishaba Jadeja shared tips of his fencing, and people were wonder struck. Vivek Sharma entertained all people gathered there, by playing his flute. His daughter also cherished everyone by singing, " Teri ladki mein."
In this program, participants were blessed by Mohan Ji and the saint of Marwad soil, as all of them fortunate enough to listen devotional songs. Jeeman was released by the chief guest Rishiraj Singh Ji and Shrasti Bhati of RAUK . Articles, poems were written by Rajasthani diaspora of UK. Everyone noticed that most of these articles and poems were written by children who were not even learned Hindi or Rajasthani in school, yet for this magazine, they tried their best.
The very special performance of this program was the Rajasthani dance staged by the volunteering team. The chief minister and the Governor of Rajasthan and many ministers sent their best wishes for the event even some of them couldn't participate in that.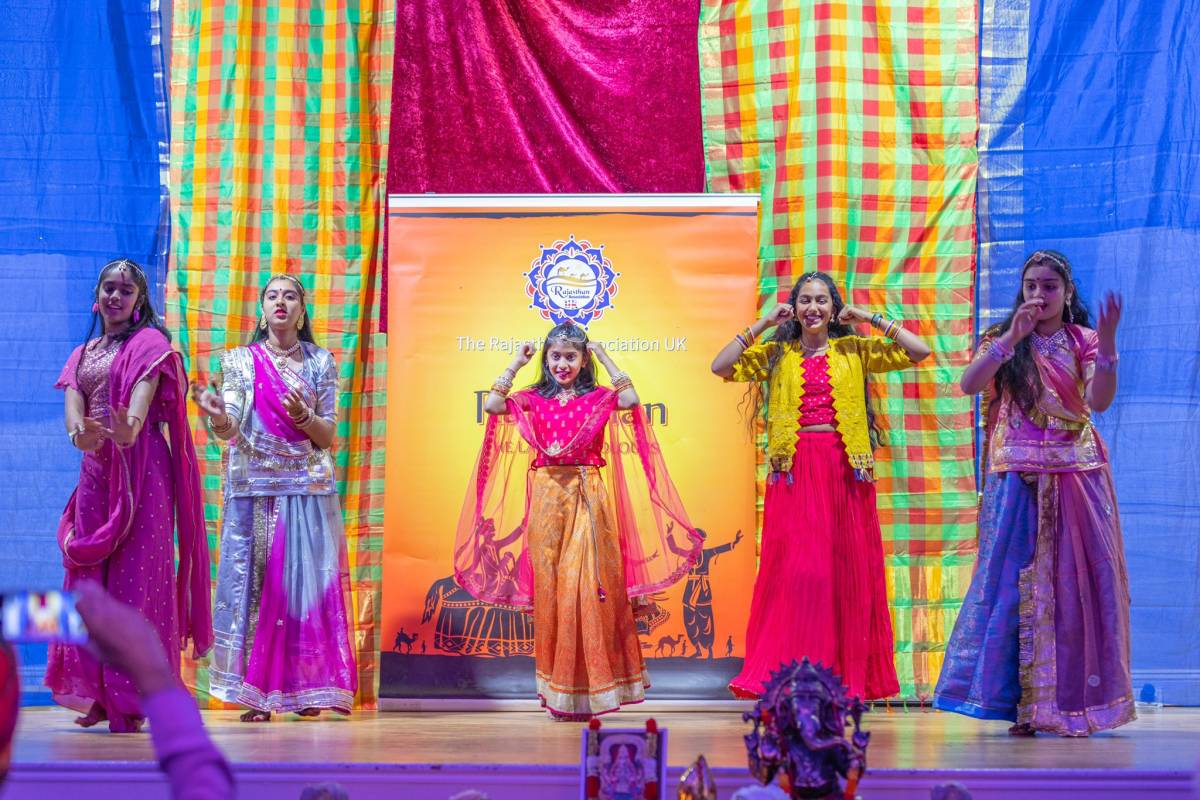 Around 1000 people from different cities of the UK like Glasgow, Edinburgh, Liverpool, Leeds, Milton keys, Birmingham, Colchester etc. became part of this program to meet their dear ones. 25 former students of MBM engineering college Jodhpur were also present there and they all refreshed old memories of their college and youth.
At the end of the program like every year, "Maha Ghoomar" was performed in which women and children performed Ghoomar dance with enthusiasm. The program sponsored by Rajasthan Association UK, was truly a living example of solidarity and teamwork.
ALSO READ-Cultural events to mark Dalai Lama's 87th birthday  
READ MORE-Huge Wembley showcases spirit of multicultural Britain