Advertisement

Kane, whose 51 goals for his country puts him only two behind record holder Wayne Rooney, has yet to fully hit his straps in Qatar, barely having a shot on target…reports Asian Lite News
The prospect of Harry Kane not scoring in any of England's group games at this World Cup might have left fans fearing the worst. Instead, there's a growing sense of optimism as Southgate's Three Lions get ready for Sunday's last-16 clash against Senegal, the Lions of Teranga, at Al Bayt Stadium.
Kane, whose 51 goals for his country puts him only two behind record holder Wayne Rooney, has yet to fully hit his straps in Qatar, barely having a shot on target. A foot knock sustained in the opening win against Iran has not helped the England captain, who top-scored in the 2018 World Cup with six.
But his lack of goals has certainly not impeded the side's smooth progress to the knockout round. In fact, Kane's failure to find the target can be flipped to a positive.
England have still managed to score nine goals with their other forwards stepping up to the mark, none more so than Manchester United's rejuvenated Marcus Rashford with three goals already. Phil Foden, Raheem Sterling and Bukayo Saka have also been among the goals, leaving Southgate with choices ahead of the Senegal clash, although it is inconceivable he would not start with Kane in his forward line-up.
Compared to the white-knuckle rides experienced by some of the other favourites in this edition of the World Cup, England sauntered through their group. But now, says Southgate, the serious business begins.
Senegal, the African Cup of Nations winners, finished second in Group A behind The Netherlands. That was despite suffering the pre-tournament disappointment of star striker Sadio Mane being ruled out.
"These are knockout games now. If you win, you get to stay here. If you lose, you go home," Senegal coach Aliou Cisse said.
"There's no need to overthink things as every team is at the same level. Our squad is experienced today. They've gone through a lot together and they know how to prepare for this type of game now and in competitions like this one," Cisse added.
Cisse, however, has been ill and has a temperature. He also missed team training on Friday. But he is planning to be on the sideline on Sunday when his team plays.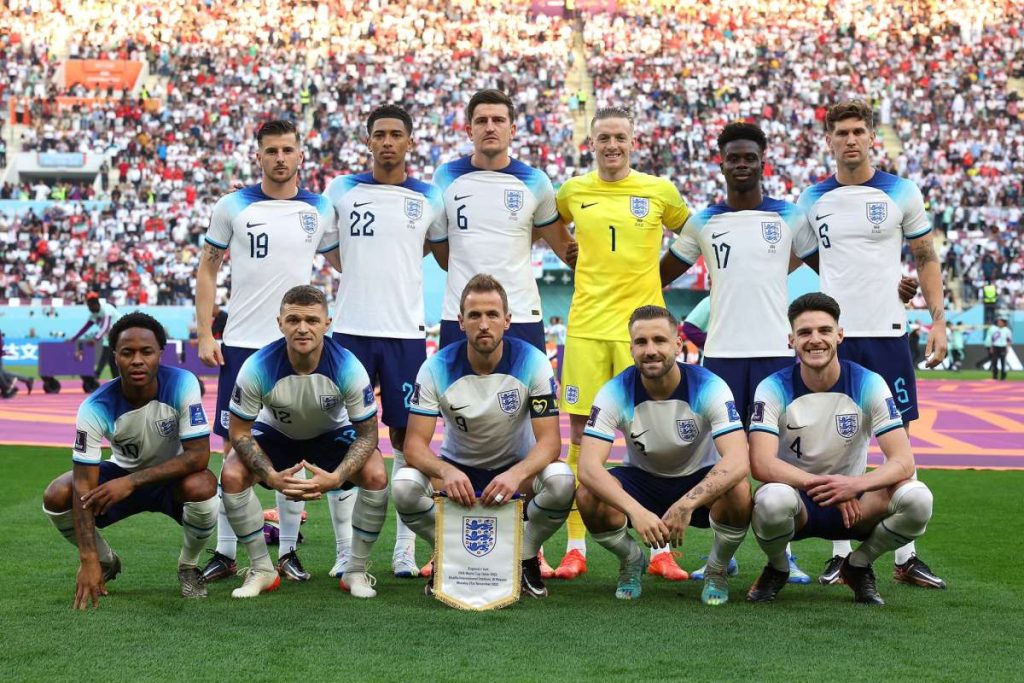 'Werewolf' in camp
For a nation that has frequently flattered to deceive at soccer's major tournaments, a card game that relies on the art of deception is strengthening the bond among England's players.
Werewolf, a game of roleplay and deduction, has become a popular pastime for the squad between games.
"It's about being the best liar," said midfielder Declan Rice. "The villagers have got to snuff out the wolves and the wolves have got to lie and tell everyone why they are not a wolf. There is a lot of teamwork, ganging up."
Whatever England is doing at its base in Qatar, it's working so far. No other team picked up more than the seven points England recorded on their way to the knockout round and they are only one of three teams still undefeated.
Foden hoping for more of 'up and down'
Meanwhile, midfielder Phil Foden may have been one of the stars of their 3-0 win over Wales in the last Group B match, but despite his goal and fine display in that game, he admitted things could still go better for him in Qatar.
Foden didn't appear in England's 0-0 draw with the United States and only played the closing minutes of their 6-2 win against Iran, although he set up a goal for Manchester City teammate Jack Grealish.
He would be a popular choice to kick off England's last-16 tie against Senegal on Sunday, but so far the youngster admitted his World Cup had been a "mixed bag".
Speaking to the BBC, Foden said the World Cup had been "up and down."
"I am disappointed not to start more games but it is part of the tournament. I am a team player and when I get the opportunities, I'll take them," he said.
Foden said the depth of the England squad is one of the reasons that playing time is so hard to come by. "There is a lot of competition; (Bukayo) Saka has done well and scored in the first game, (Marcus) Rashford has scored and did very well against Wales.
"Everyone is scoring and everyone has proved a point so it will be a headache for Gareth (Southgate) to pick the team for the next game," he admitted.
Southgate rested players such as Saka, Mason Mount and Raheem Sterling against Wales, and it will be fascinating to see if they return as any error can be fatal to World Cup hopes.