Advertisement

Liberal Democrat Treasury spokesperson Christine Jardine MP has drafted the Ministerial Tax Residency Status Bill and will present it to the House of Commons once Parliament has returned from Easter recess….reports Asian Lite Newsa
The Liberal Democrats have drawn up draft legislation to force the Chancellor and any other government ministers to reveal whether they or their spouses claim non-domiciled status or have holdings in overseas tax havens.
Liberal Democrat Treasury spokesperson Christine Jardine MP has drafted the Ministerial Tax Residency Status Bill and will present it to the House of Commons once Parliament has returned from Easter recess.
In 2010 a law was passed to prevent MPs and members of the House of Lords from registering themselves as non-domicile.
It was recently revealed that Rishi Sunak was listed as a beneficiary of tax haven trusts set up in the British Virgin Islands and the Cayman Islands and held by his wife Akshata Murthy – just days after it emerged she was using her non-domiciled status to avoid paying taxes in the UK.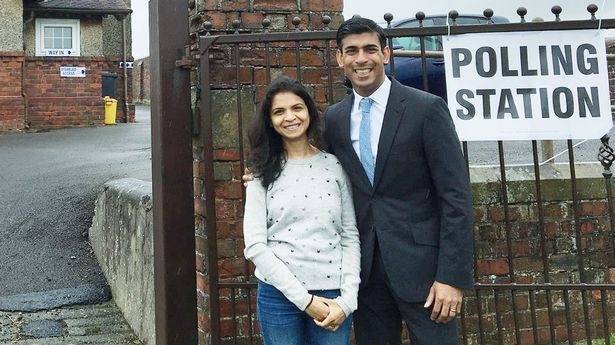 Under the terms of the Liberal Democrat Bill, Rishi Sunak and any other government minister would be required to disclose whether any member of their household claims non-domiciled status for tax purposes, what overseas jurisdictions they pay tax in and if they are listed as the beneficiaries of trusts held abroad including in tax havens.
"Rishi Sunak's continued refusal to answer basic questions about his family's tax arrangements simply won't wash. It shows he is completely out of touch with people struggling to pay their bills," said Christine Jardine, Liberal Democrat Treasury Spokesperson.
"The public deserve to know what other steps the Chancellor's household may have taken to reduce their own tax bill while he hammers families around the country with unfair tax hikes.
"We have a draft law ready and waiting for when Parliament returns, to force Sunak and other ministers to reveal if their households are not paying their fair share by using tax havens."
Meanwhile, Labour party said Prime Minister Boris Johnson must bring the Rishi Sunak "saga" to a close by revealing if any ministers are taking steps to cut their personal tax bill
Labour leader Sir Keir Starmer said the chancellor – and other ministers – have not been fully transparent.
The Labour leader said that he wanted an assurance from Mr Johnson that his ministers have never used non-dom status to reduce their own tax bill, BBC reported.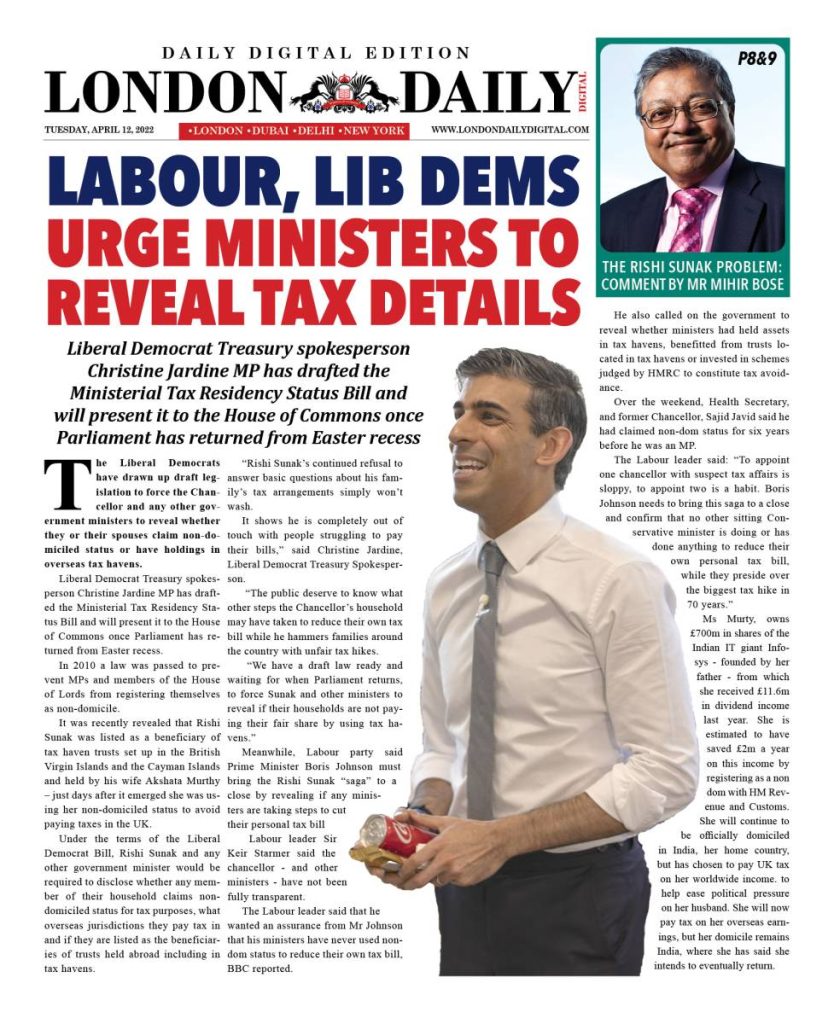 He also called on the government to reveal whether ministers had held assets in tax havens, benefitted from trusts located in tax havens or invested in schemes judged by HMRC to constitute tax avoidance.
Over the weekend, Health Secretary, and former Chancellor, Sajid Javid said he had claimed non-dom status for six years before he was an MP.
The Labour leader said: "To appoint one chancellor with suspect tax affairs is sloppy, to appoint two is a habit. Boris Johnson needs to bring this saga to a close and confirm that no other sitting Conservative minister is doing or has done anything to reduce their own personal tax bill, while they preside over the biggest tax hike in 70 years."
Ms Murty, owns £700m in shares of the Indian IT giant Infosys – founded by her father – from which she received £11.6m in dividend income last year. She is estimated to have saved £2m a year on this income by registering as a non dom with HM Revenue and Customs. She will continue to be officially domiciled in India, her home country, but has chosen to pay UK tax on her worldwide income. to help ease political pressure on her husband. She will now pay tax on her overseas earnings, but her domicile remains India, where she has said she intends to eventually return.