Advertisement

All the 800 staff were reportedly sacked through a video call on Thursday without giving them any notice, reports Asian Lite Newsdesk
Ferry operator P&O Ferries has sacked 800 staff with plans to replace them with cheaper agency workers, media reported.
All the 800 staff were sacked through a video call on Thursday without giving them any notice.
The UK government said it will review its contracts with P&O. A chorus of cross-party MPs described P&O's actions as "callous", "disgraceful" and "dastardly", the BBC reported.
"I am very concerned about the news from P&O Ferries this morning and we will be speaking to the company today (March 17) to understand the impact on workers and passengers," said Secretary of State for Transport, Grant Shapps.
"Important to note other operators continue to run cross Channel routes, so passengers and goods can flow, but I am working with the Kent Resilience Forum to minimise disruption," he added.
Labour compared P&O's treatment of its workers to the "action of thugs" while unions threatened legal action.
Staff were told that Thursday was their "final day of employment", but some refused to leave their ships in protest and were removed.
P&O said it was a "tough" decision but it would "not be a viable business" without the changes.
It said: "We have made a £100m loss year on year, which has been covered by our parent DP World. This is not sustainable. Without these changes there is no future for P&O Ferries."
But the government called the workers' treatment "wholly unacceptable".
"These are hardworking, dedicated staff who have given years in service to P&O. The way they have been treated today is wholly unacceptable and my thoughts are first and foremost with them," Robert Courts, parliamentary under secretary for transport, told the House of Commons.
"Reports of workers being given zero notice and escorted off their ships with immediate effect while being told cheaper alternatives would take up their roles shows the insensitive nature by which P&O approached this issue – a point I made clear when I spoke to the management at P&O earlier this afternoon."
"I am extremely concerned and frankly angry at the way workers have been treated by P&O."
Courts said the company had told him it will be suspending services for "a week to 10 days while they locate new crew" on the Dover to Calais, Larne to Cairnryan, Dublin to Liverpool and Hull to Rotterdam routes.
On Friday morning, the company again said on Twitter it would not run services "for the next few days".
He also added that the government has long planned contingencies for this sort of situation, particularly around the Channel.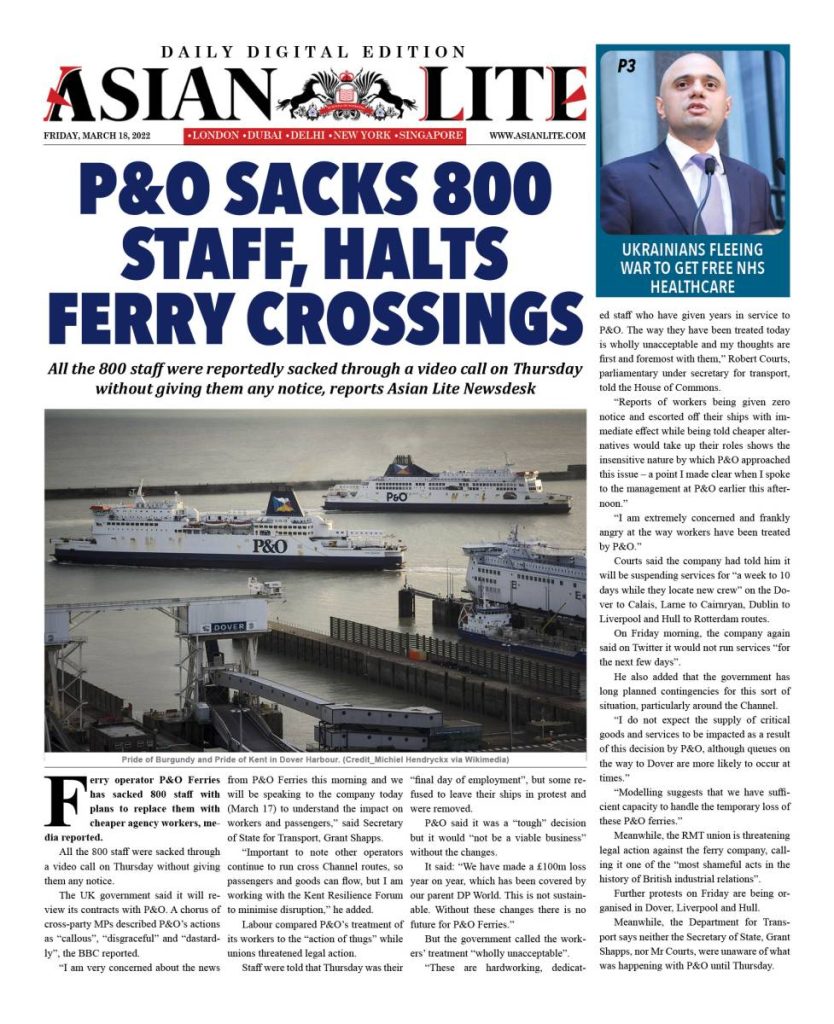 "I do not expect the supply of critical goods and services to be impacted as a result of this decision by P&O, although queues on the way to Dover are more likely to occur at times."
"Modelling suggests that we have sufficient capacity to handle the temporary loss of these P&O ferries."
Meanwhile, the RMT union is threatening legal action against the ferry company, calling it one of the "most shameful acts in the history of British industrial relations".
Further protests on Friday are being organised in Dover, Liverpool and Hull.
Meanwhile, the Department for Transport says neither the Secretary of State, Grant Shapps, nor Mr Courts, were unaware of what was happening with P&O until Thursday.