Advertisement

The Independent Expert Panel said "ex-Commons Speaker John Bercow was a serial bully and his behaviour fell very far below that which the public has a right to expect" from an MP
Former Speaker John Bercow is in trouble as an independent panel labelled him as a serial bully and a serial liar.
The Independent Expert Panel said "Bercow's behaviour fell very far below that which the public has a right to expect" from an MP.
 Bercow denied the allegations and said the inquiry into the complaints was "amateurish" and based on "tittle-tattle".
The report by the Parliamentary Commissioner for Standards Kathryn Stone found that Mr Bercow had displayed "threatening conduct" towards staff, including verbal abuse, and displays of anger. It said he had "shouted at and mimicked" a member of staff and was responsible for "intimidating, insulting behaviour involving an abuse of power".
The panel comprises: Mrs Lisa Ball, Monica Daley, Mrs Johanna Higgins, Sir Stephen Irwin (Chair)
Professor Clare McGlynn, Miss Dale Simon, Sir Peter Thornton and Dr Matthew Vickers.
The panel found he had subjected Lord Lisvane – a senior clerk in the House of Commons – to "repeated unfounded criticism… often made at length and at volume and included derogatory inferences about [his] upbringing and background".
The panel's investigations were extensive. It took nearly two years to complete the probe.
The panel said: "That was necessary because of the far-reaching nature of the case against the respondent. The evidence alone amounts to more than 1,850 pages. The investigators took comprehensive evidence from the respondent and read his very full written submissions by way of responses to the allegations. He submitted a total of 87 pages of grounds of appeal. The
respondent was given every opportunity to reply to the allegations. At no time has he complained that he was not given adequate opportunity."
Mr Bercow appealed but the Independent Expert Panel upheld all 21 findings of the Parliamentary Commissioner for Standards.
The panel said it agreed with the commissioner's findings that Mr Bercow had been "a serial bully".
It added that Mr Bercow's conduct "was so serious that, had he still been a Member of Parliament, we would have determined that he should be expelled by resolution of the House", and that he would be banned from getting a pass giving him access to Parliament's buildings.
 Mr Bercow, who resigned as an MP in 2019, said he had never applied for a Parliamentary pass and does not want one, but could still go to Parliament as a guest of another pass holder.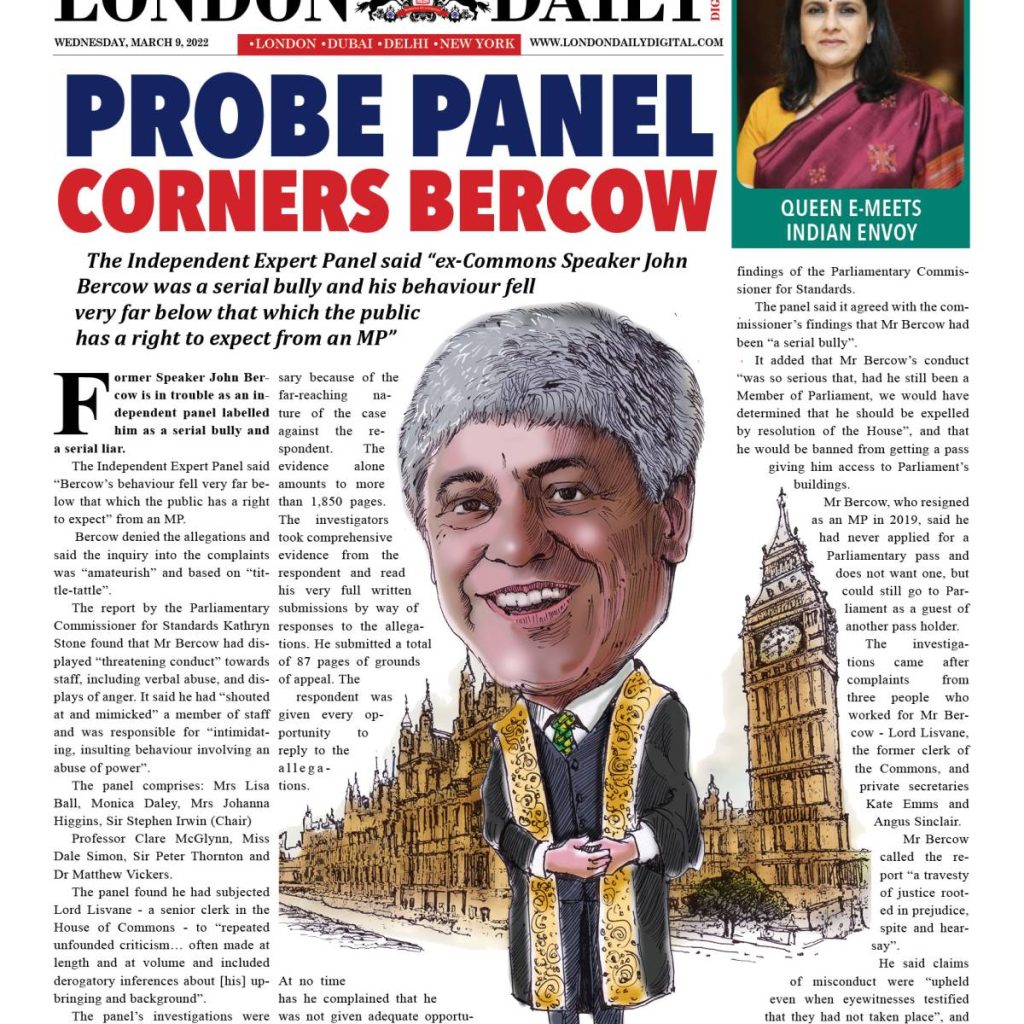 The investigations came after complaints from three people who worked for Mr Bercow – Lord Lisvane, the former clerk of the Commons, and private secretaries Kate Emms and Angus Sinclair.
Mr Bercow called the report "a travesty of justice rooted in prejudice, spite and hearsay".
He said claims of misconduct were "upheld even when eyewitnesses testified that they had not taken place", and said he'd been targeted by three former staff members, because he had set out to reform the House of Commons.
ALSO READ-Russia quits Council of Europe