Advertisement

Sixes is the first concept from Motherclub Social Entertainment group, who's mission is set to create 'the world's most fun experiences'…reports Asian Lite News
Professor Kishan Devani BEM becomes shareholder of Sixes – the all action social entertainment concept that celebrates the thrill and energy of cricket in a whole new light! Fellow investors including Sir Andrew Strauss and other former cricketers such as David Nash, have backed the concept, sharing the brands founding belief in sports unrivalled ability to unite people through great times shared.
The former England cricket captain believes Sixes can help "build the world's largest cricketing community" through the fully immersive, high octane and highly competitive customer experience where groups of challengers test their batting skills against the worlds best bowlers whilst scores are recorded on a Global leaderboard. Powered by cutting edge sports technology, the Sixes experience is fully immersive with world class hospitality delivered within a loud and proud interior that uses colour and movement of pattern to re-imagine the infectious energy of the age old game for the modern socialite.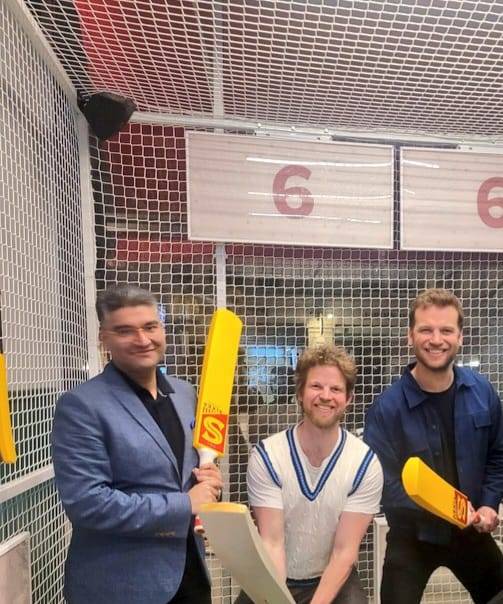 Sixes is the first concept from Motherclub Social Entertainment group, who's mission is set to create 'the world's most fun experiences.' Unwavered by such a humble mission statement, the concept is an amalgamation of co-founders Calum Mackinnon and Andy Waugh's (previously of the iconic Scottish dining concept, Mac & Wild) passions – sport and bringing people together over good times! 'We couldn't feel more at home with Sixes. We've always loved the hospitality gig and ensuring people have a great time is very fun for us – it just got better now we've throw sport into the mix!'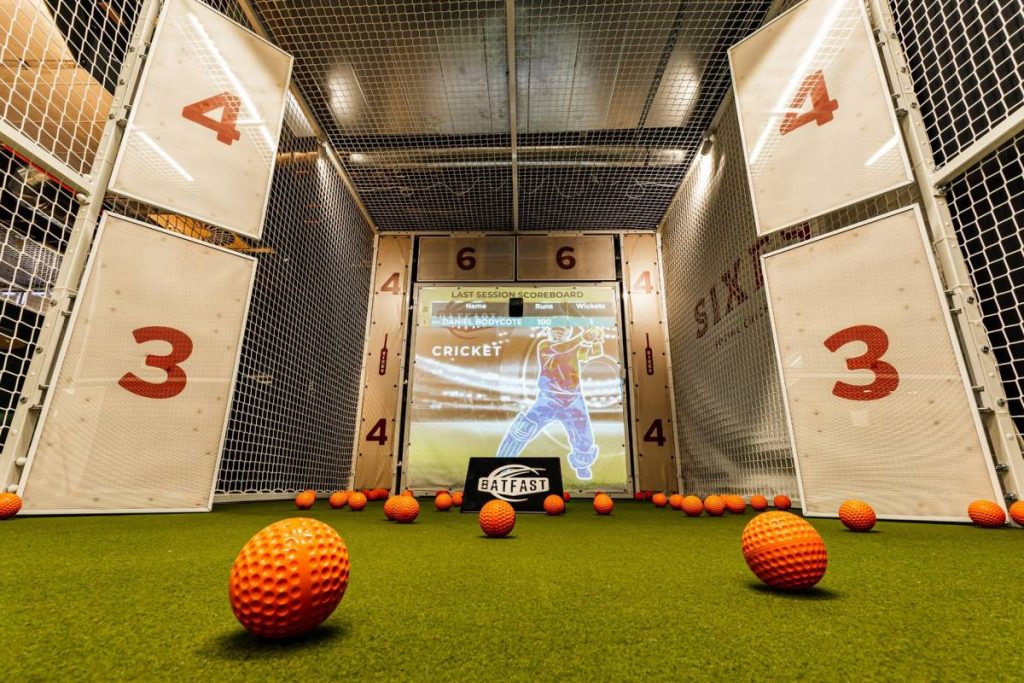 Big names such as Strauss and PE firm Promethean Investments – an early backer of Puttshack and Flight Club US – have committed over £1 million into the first funding round of the initial Sixes Concept
Sixes is an all-inclusive cricket inspired hospitality concept that offers 5 skill levels, making it welcoming to all, regardless of cricketing skills or lack of. Given the founders background in delivering relaxed, top notch cuisine, there is good measure on both the sporting and food and beverage concept.
Summarised by the brand's tagline, Let's Play, Sixes is committed to uniting friends, colleagues and strangers in a fun and high energy environment whilst experiencing cricket in a whole new and familiar environment (with a good dose of competition added in for good measure!)
Sixes have already opened two sites in London (Fitzrovia & Fulham), Manchester and Birmingham over the last since late 2020. The brand's biggest opening is set for late summer in the world famous Westfield Shopping centre in London (Shepherds Bush) with global expansion plans well under way.
Founder Calum Mackinnon said that Professor Kishan Devani BEM joining Sixes further embeds the vision and expansion plans of Sixes: "We are absolutely thrilled to have Professor Devani onboard as a Shareholder of Sixes, he is an asset to our formidable team at Sixes and shares our vision of taking Sixes Global. Kishan brings with him a wealth of experience, in PR, Marketing, Brand Building which will be able to assist Sixes going forward in its international journey across the Globe. We look forward to working with him over the coming years".
Professor Kishan Devani BEM said "I am excited to be a part of Sixes' journey. As a cricket lover, to be a Shareholder in such an innovative Company that is making Cricket accessible and fun to all across the UK and in the future internationally – this is a matter of great pride for me. I look forward to working with Calum and Andy to create more Sixes across the UK and globally."
Visit Sixes website at: https://sixescricket.com/