Advertisement

I am beyond excited to embark on this incredible journey and make a meaningful impact as a part of the Estée Lauder family…says Manushi
Rising Bollywood star and former Miss World, Manushi Chhillar, joins Imaan Hammam, Adit Akech, Ana de Armas, Amanda Gorman, Bianca Brandolini D'Adda, Carolyn Murphy, Grace Elizabeth, Karlie Kloss, Kiki, and Yang Mi, Manushi as Estée Lauder worldwide talent.
"We are thrilled to welcome Manushi to the Estée Lauder family," said Justin Boxford, Global Brand President, Estée Lauder and AERIN Beauty. "In addition to her rising star power, Manushi's dedicated use of her platform to bring about positive social change in India and beyond will enable us to continue to reinforce our brand's commitment to championing women's advancement around the world."
"Joining the Estée Lauder family is a dream come true," said Manushi. "Estée Lauder is an iconic brand founded by a visionary woman, Estée Lauder, who proved anything was possible with hard work, passion, and dedication. Like her, I hope to be a role model for women around the world, inspiring them to believe in themselves and their ability to impact positive change."
"An inspiration to young women across India, Manushi embodies our brand philosophy of 'beauty with a purpose,' " said Dikshita Shukla, Brand Manager, Estée Lauder India. "Manushi's vision and mission to support women's rights aligns seamlessly with our core values, making her the perfect addition to the Estée Lauder family." Manushi speaks…
What is your happy skin mantra?
Manushi: There are two things I strongly follow: The first one being, drinking ample amounts of water. And the second one is focusing on inner happiness. When you genuinely feel good on the inside, it really reflects on the outside too.
Fashion is becoming minimal and taking a departure from logo mania what do you feel about this?
Manushi: Fashion is all about personal style and individual preferences. While there has been a recent trend towards more minimalist designs and less logo mania, many designers are still incorporating logos into their collections in a more subtle and integrated way. Ultimately, the most important thing is for each person to feel confident and comfortable in their own unique style.
Tell us about how it was working with Akshay for your debut album
Manushi:Working with Akshay Sir for my debut album was truly a remarkable experience. As a newcomer in the industry, I could not have asked for a better mentor. It was eye-opening to see the level of discipline and professionalism he brings to the table. Collaborating with someone of his seniority and experience allowed me to gain valuable insights and further develop my own skills.
Your fitness and diet routine include…?
Manushi: Maintaining a healthy fitness and diet routine is important to me, and I prioritize regular exercise and healthy eating in my daily life. I try to workout at least five days a week, with a focus on resistance training as my preferred form of exercise. The length of my workout varies depending on my schedule for the day, but I aim to spend at least an hour in the gym.
In terms of my diet, I believe in the importance of simple, satisfying, and balanced meals. When I am not travelling, I enjoy home-cooked meals that provide comfort and nourishment. This allows me to control the ingredients and ensure that I'm getting the nutrients my body needs to stay healthy and energized. Overall, I believe that consistency is key when it comes to fitness and diet, and I strive to maintain a routine that works for me and my lifestyle
Mental health and well-being have a lot to do with beauty?
Manushi: I wholeheartedly agree with the notion that mental health and well-being are intricately connected to beauty. As social beings, our desire for acceptance in society is inherent, and society's perception of beauty significantly influences how we are treated, impacting our mental well-being.
However, it is important to recognise that each of us have our own unique self-perception and we want to feel good about ourselves. Embracing self-acceptance plays a pivotal role in our thoughts and mental health. Rather than conforming to societal standards, finding beauty within us, and embracing our individuality can lead to true liberation and a positive impact on our overall well-being.
Can you explain your association with the revolutionary brand Estee Lauder?
Manushi: As a woman and someone who has been vocal about having a strong female force, I believe it is important to align myself with a brand that is committed to advancing women, because not only am I a woman who is carving a path for herself, but I am also working towards supporting other women in any way, big or small, that I can.
Estée Lauder is an iconic brand founded by a visionary woman, Mrs. Estée Lauder, who proved anything was possible with hard work, passion, and dedication. Like her, I hope to be a role model for women around the world, inspiring them to believe in themselves and their ability to impact positive change.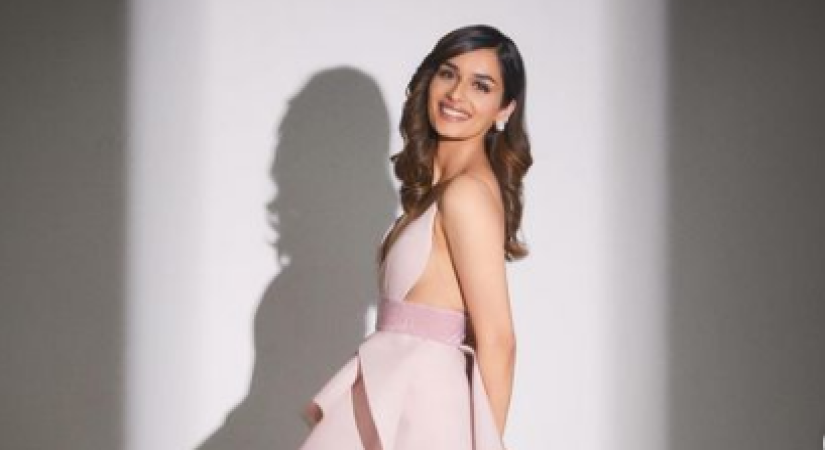 Are you excited to be the global brand ambassador of the brand? How will it change the association you had with the brand?
Manushi: I am a long-standing fan of the Estée Lauder brand, especially their Advanced Night Repair Serum, and was excited to be featured in one of their campaigns in India in August 2022. When I was presented with the opportunity to be a Global Brand Ambassador, alongside the likes of Karlie Kloss, Adut Akech, Grace Elizabeth, Ana de Armas, and Carolyn Murphy, I was beyond excited and honoured. When you believe in a brand and you get to endorse it, it is a dream come true!
I am beyond excited to embark on this incredible journey and make a meaningful impact as a part of the Estée Lauder family.
Your beauty bag contains
Manushi: When it comes to my beauty bag, I always carry a pouch of skincare essentials wherever I go. It includes my all-time favorite, the iconic Advanced Night Repair Serum, which has been a staple in my routine ever since I discovered its incredible benefits. It keeps my skin hydrated and radiant, offering the benefits of 7 serums in 1. Sun protection is a must for me, and I ensure I never skip carrying the Estée Lauder Perfectionist Pro Multi-Defense Aqua UV Gel SPF 50. Additionally, I always keep a selection of lip balms and lipsticks handy in my beauty essentials bag.
The project you're currently working on
Manushi:There are multiple things that are keeping me engaged and are in the pipeline for my career now. I have already shot some exciting films, including Tehran. I am also filming for a handful of other fascinating projects that are now in the works, such as Operation Valentine.
ALSO READ-Tehran an exciting learning experience for Manushi