Advertisement

Selecting a colour story that was as vibrant as the rainbow, Sejal zeroed in on rich maroon, striking navy blue, ravishing scarlet red and then added neutral black and ivory…reports Asian Lite News
Bollywood beauty, Nargis Fakhri made a stunning, show stopping entry for Sejal Kamdar Designs at the recently held LFW X FDCI event in Mumbai.

Wearing an all-black trio comprising long, fish-tail skirt, heavily encrusted bralette and a perky, short-sleeved, ornate, bolero with structured shoulders, the actress is back to business after an extended break in the States.

Fakhri stated, "It was such a pleasure to walk for Sejal at Lakme Fashion Week X FDCI. The outfits from the collection are beautiful and accentuate the body types of all women." The "Spectrum of Nature" was all about fashion and style, which was aimed at women who long for a unique sartorial repertoire in their wardrobes. We caught up with the actress to talk fashion and films.

Talent or Hard work, what do you think is stronger?

Fakhri: I think a combination, I can't choose one because I work very hard and I am very talented.

Any upcoming project that's very close to your heart?

Fakhri: I can't say what the project is, but the characters in the project is something different for me so I am very excited about that.

Your favourite fashion accessory at the moment?

Fakhri: At the moment because it's really very sunny and summer is around the corner so my sunglasses.

Fashion is finally moving away from athleisure and back to glamour, what's your take on this?

Fakhri: I think I am really depressed about that because I am a lazy fashionista so I loved athleisure very much because it's very comfortable, but at the same time I am excited because we love to see looking beautiful people dressed in beautiful clothing, and beautiful accessories; so going back to glamour is a plus.

In Paris, Milan and London runways, we saw a return to the classics and clean silhouettes is that something you would consider as your go-to style?

Fakhri: So, at this moment in my life I really classic silhouettes and I love simplicity, so I am really excited about that and I am little bit conservative side in my real life so I enjoy classic pieces.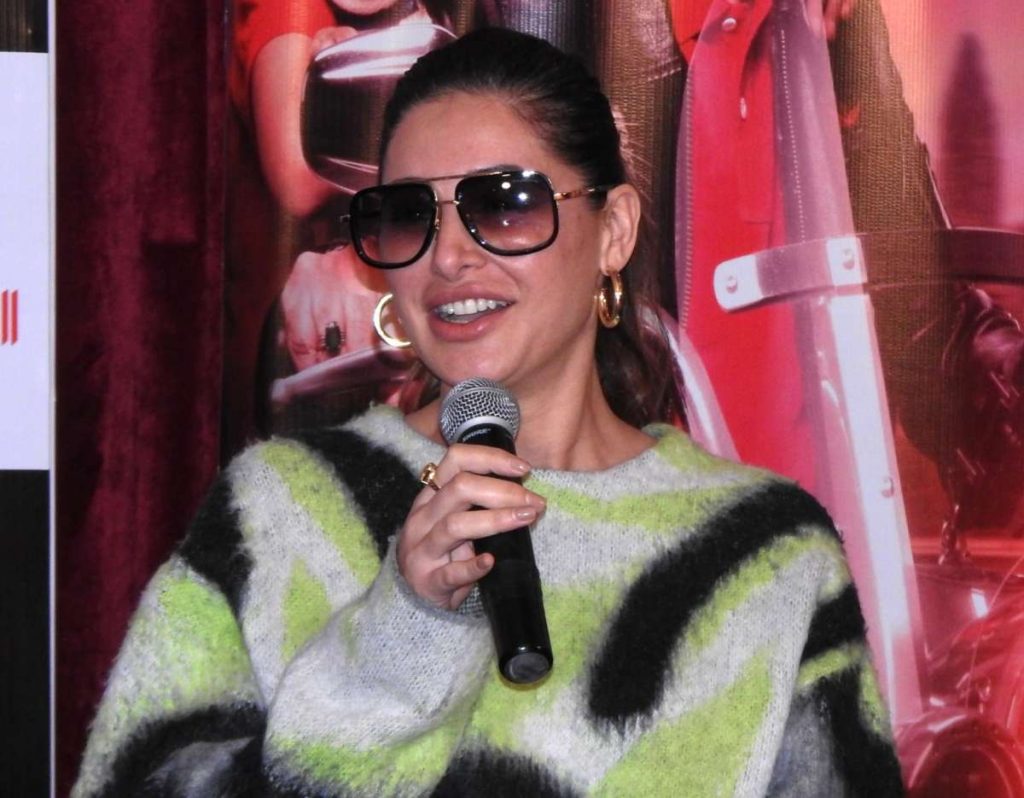 How did you feel walking the runway for Sejal and what do you most like about their latest style?

Fakhri: So, I am wearing Sejal's beautiful silhouette, I think it must be Bolero and then it has fish tail skirt and I love it for the silhouette because it makes my body look amazing and not only that it has 600 year old traditional style of printing or design. So, I love how she has taken old school tradition and driven it to modern day life and created this fun and chic look.

Selecting a colour story that was as vibrant as the rainbow, Sejal zeroed in on rich maroon, striking navy blue, ravishing scarlet red and then added neutral black and ivory. The highlight of the collection was the colourful traditional crafts like, Ajrakh, patchwork and strip work, while the surface ornamentation was visualised with antique cut pipe, bead and crystal work. Here too, it was colour that caught the eye as yellow, magenta, parrot green, sage, orange, fuchsia, grey and wine showcased a kaleidoscopic offering.
ALSO READ-Radiance amplified