Advertisement

HIS HIGHNESS SHEIKH NAHYAN BIN MUBARAK AL NAHYAN: Mahatma Gandhi's legacy is his teachings and his messages. They are deeply imprinted in the moral consciousness of the humankind. This is the time to meditate on the messages of Mahatma and dedicate ourselves to emulate them. He taught us to live peacefully, support each other and take care of the environment. Let us all dedicate ourselves to follow the footsteps of Mahatma
His Highness Sheikh Nahyan bin Mubarak Al Nahyan, UAE Minister of Tolerance and Coexistence, unveiled the bust of Mahatma Gandhi at the Consulate General of India in Dubai on Tuesday.
Mr Sunjay Sudhir, Ambassador of India to the UAE and Dr Aman Puri,  Consul General of India in Dubai and the Northern Emirates joined His Highness Sheikh Nahyan in offering floral tribute at the bust of Mahatma Gandhi.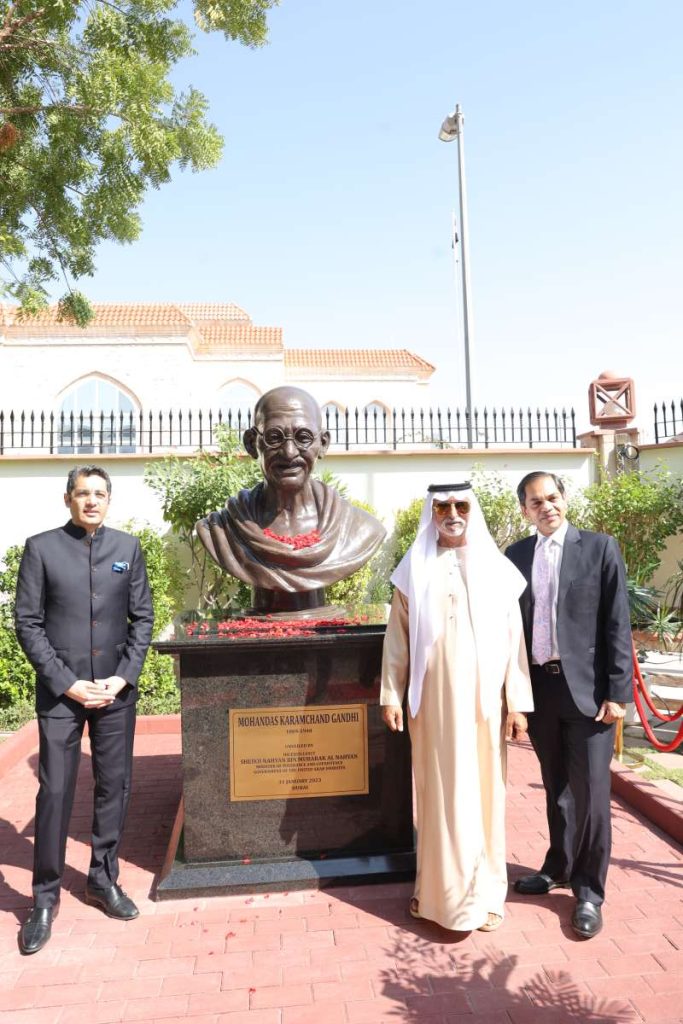 "Mahatma Gandhi is one of the most influential leaders of the last century," said Sheikh Nahyan. "His legacy is his teachings and his messages. They are deeply imprinted in the moral consciousness of humankind. This is the time to meditate on the messages of Mahatma and dedicate ourselves to emulating them. He taught us to live peacefully, support each other and take care of the environment. Let us all dedicate ourselves to following the footsteps of Mahatma.
Gandhi's message of non-violence, peace and harmony are more relevant now," said the Ambassador. "India and the UAE are working together on many fronts  to maintain global peace."
The ambassador urged the Indian community to follow the messages of Gandhi on peace, non-violence and sustainability.
Mahatma Gandhi's favourite bhajans 'Vaishnav Jan To', 'Raghupati Raghava' were recited at the event by Ms. Somdutta Basu.
The bust of Mahatma Gandhi measuring 42 inch and sculpted by Mr. Naresh Kumawat was presented by Indian Council for Cultural Relations (ICCR), New Delhi.
 The event was also attended by members of the Diplomatic Community, Pravasi Bharatiya Samman Awardees like Ram Buxani and representatives of Indian Community Organisations in Dubai and the Northern Emirates.