Advertisement

Atiq and his brother were shot when they were taken for a medical test to the Colvin hospital here….reports Asian Lite News
In a shocking incident, gangster-turned-politician Atiq Ahmed and his brother Ashraf were shot dead in Prayagraj on Saturday night, in the presence of the police and in full glare of the media.
Atiq and his brother were shot when they were taken for a medical test to the Colvin hospital here. Both died on the spot.
According to reports, Atiq was shot in the head from point-blank range when the mediapersons were talking to him. Both the brothers were handcuffed when the incident took place.
All the three shooters have been arrested by the UP Police. They have been identified as Lavlesh Tiwari, Arun Maurya and Sunny.
The incident took place on the day Atiq's son Asad was laid to rest in Prayagraj after being shot dead in an encounter in Jhansi on Thursday.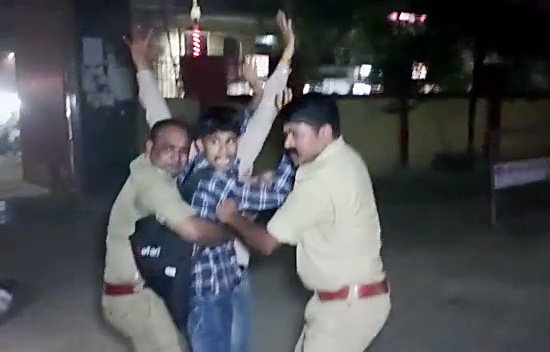 According to reports, the three youths had joined a group of journalists who were talking to Atiq Ahmad and his brother Ashraf after the two stepped out of the hospital.
Even before Atiq could complete his answer, one of the assailants pointed a pistol at Atiq's head and shot him while the other two opened fire at the brother.
After the brothers slumped to the ground, the assailants raised their hands and surrendered.
Chief minister Yogi Adityanath has summoned DGP R.K. Vishwakarma and other top police officials for an emergency meeting.
Meanwhile, tension prevailed in Prayagraj as the news of the twin murders spread. Additional forces are being rushed to the district where security has been beefed up.
Samajwadi Party chief Akhilesh Yadav said that the incident is the height of lawlessness in Uttar Pradesh.
"If someone can be killed in police custody, then what about the common man," he asked in a tweet.