Advertisement

One of Viram's central missions in life was to create awareness in the UK for one of the most sophisticated music systems in the world…reports Asian Lite News
Viram Jasani, a distinguished figure in the introduction and development of Indian classical music to the UK, is proud to announce the release of his memoir, titled "Independence to Freedom." This captivating book chronicles the remarkable journey of migration, cultural fusion, and personal transformation that has shaped his extraordinary life.
Born in Kenya in 1945, Viram Jasani's family embarked on a poignant migration from rural Gujarat to Nairobi, Kenya, amidst the backdrop of the struggles for independence from British rule. The book vividly illustrates the impact of these historic events on a traditional Hindu Gujarati family, and how they eventually found themselves in the bustling city of London in 1949.
Growing up in London, Viram grappled with the challenges of living between two distinct cultures. However, he discovered solace and resolution through his deep passion for Indian classical music and Vedantic philosophy. This powerful combination of influences allowed him to maintain and imbibe the best of both worlds.
Viram's parents played a significant role in shaping his worldview. His mother, Hemkunver, lived a life devoted to bhakti, or spiritual devotion, while his father, Manilal, engaged with the world while remaining spiritually grounded in his love for Indian classical music and philosophy. These profound characteristics were passed down to Viram, who fell in love with Indian classical music from a very young age.
Viram's musical abilities and interests were diverse. During his student days, he fearlessly explored collaborations, including playing his sitar with jazz musicians and even sharing the stage with legendary guitarist Jimmy Page of Led Zeppelin. Despite these exciting ventures, his unwavering passion for traditional Indian classical music remained at the core of his artistic pursuits.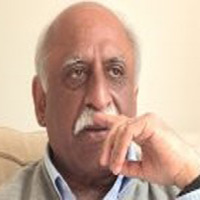 One of Viram's central missions in life was to create awareness in the UK for one of the most sophisticated music systems in the world. He dedicated himself to becoming an authority as a performer, advocate, and producer of Indian music throughout the UK and Europe. Over the course of three decades, he orchestrated approximately one hundred iconic musical events each year, contributing significantly to the enrichment of cultural diversity in these regions.
Viram Jasani's path to success was not without its challenges. He faced racism and prejudice, both from the British arts elite and fellow Indians. However, these obstacles only fuelled his determination to overcome them. He embarked on a profound journey into Vedantic philosophy, which ultimately led him to find his own path to freedom, embracing his cultural heritage and artistic pursuits with unwavering passion.
Viram Jasani's memoir, "Independence to Freedom," is a poignant and inspirational tale of resilience, cultural fusion, and the pursuit of artistic excellence. Through his captivating storytelling, readers will gain insight into the transformative power of music, philosophy, and the human spirit.
Viram Jasani graduated from St. Andrews University in 1967 and the School of Oriental and African Studies in London in 1969. He was elected a Fellow of the Royal Society for the Arts (FRSA) in 1993 and received an Honorary doctorate from the University of York in 2005.
For further information, images or interviews, please call Pedro on 07831 556 951
Or e mail fnik@btconnect.com
ALSO READ-Biden announces $325 mn military aid for Ukraine
Advertisement