First ever INDIA-UK CREATECH SUMMIT produces £58M in commercial deals. This summit takes place at an exciting time and explored how the technology and creative industries are converging to produce a new wave of innovation which is leading to the development of new products and businesses….reports Asian Lite News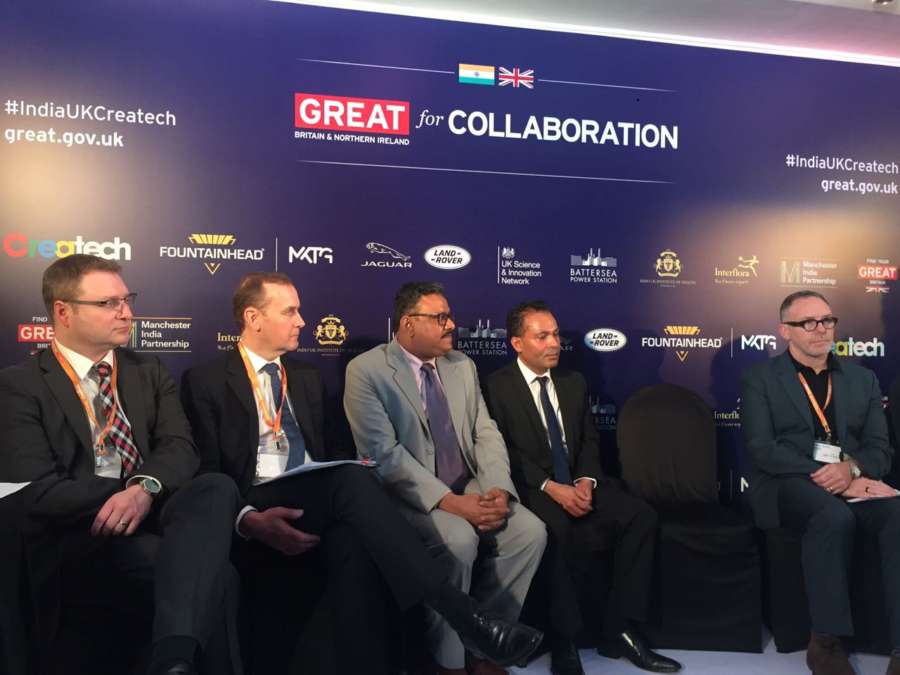 The India-UK Createch Summit took place in Mumbai and is the first conference in India dedicated to this new and emerging field. This summit takes place at an exciting time and explored how the technology and creative industries are converging to produce a new wave of innovation which is leading to the development of new products and businesses.
Virtual and augmented reality, robotics and artificial intelligence are increasingly commonplace, and are redefining how we live. They affect our experience of entertainment, and are improving all aspects of life, from healthcare to transport.
The Summit was opened by Baroness Rona Fairhead CBE, Minister of State for the UK's Department for International Trade (DIT), and attended by HRH The Prince Edward, Earl of Wessex KG GCVO. It convened around 1000 delegates from the film, advertising, healthcare, industrial design, music, gaming and immersive technology sectors. The focus was on exploring how Createch is disrupting industries around the world and to showcase some of the companies leading the development of these technologies globally.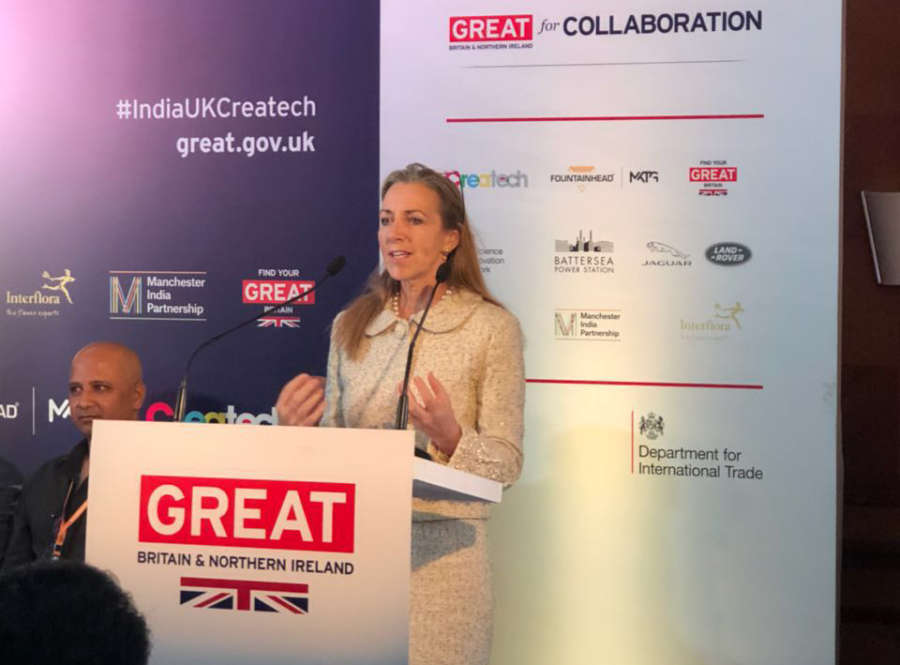 Baroness Fairhead, Minister of State for Trade and Export Promotion, said: "The UK has today demonstrated its world-leading capability in the creative and tech sectors, whilst continuing to build strong ties with the ever-growing economy that is India. More than 60 UK companies have travelled to India during this month-long celebration of Createch and met hundreds of Indian companies.  As one of the UK's economic success stories, the creative industries contributed £92bn to our economy in 2016 and employed over 1.9m people."
"I would like to thank Indian heads of business for their warm welcome on this visit. I believe the discussions held at the summit demonstrate our commitments to continuing to forge creative, new technology-led partnerships between the UK and India. I look forward to many future collaborations between our countries in Createch."
Attendees had the opportunity to hear keynotes from senior figures from some of the world's most innovative companies and organisations. Professor Dr. Ralf Speth, CEO, Jaguar Land Rover (JLR) opened the session 'Createch in Business', speaking about the impact of Createch on JLR and the opportunities it offers for the future of transport.  Jeremy White, Transport Director, Seymour Powell, explored how human-centred design can allow businesses to think ahead. Mike McGee, Co-founder and CCO of Oscar-winning creative studio, Framestore, discussed how revolutionary technology in film and advertising has brought to life characters like Paddington Bear and sent children on a virtual school trip to Mars. Other sessions led by the likes of Sir Malcolm Grant, Chairman, National Healthcare Service (NHS) England, and Guy Murphy, Chief Strategy Officer, J. Walter Thompson, addressed how technology can help brands build value in the 21st century.
The grand finale of the 4th TECH Rocketship Awards was also held there, featuring seven of India's brightest tech entrepreneurs and start-ups presenting their business ideas to an expert judging panel. Competing across seven categories, the winners were announced and presented with a trip to the UK, connecting them with the UK's world-leading growth ecosystem of VCs, advisors, customers and support networks to help springboard their businesses internationally.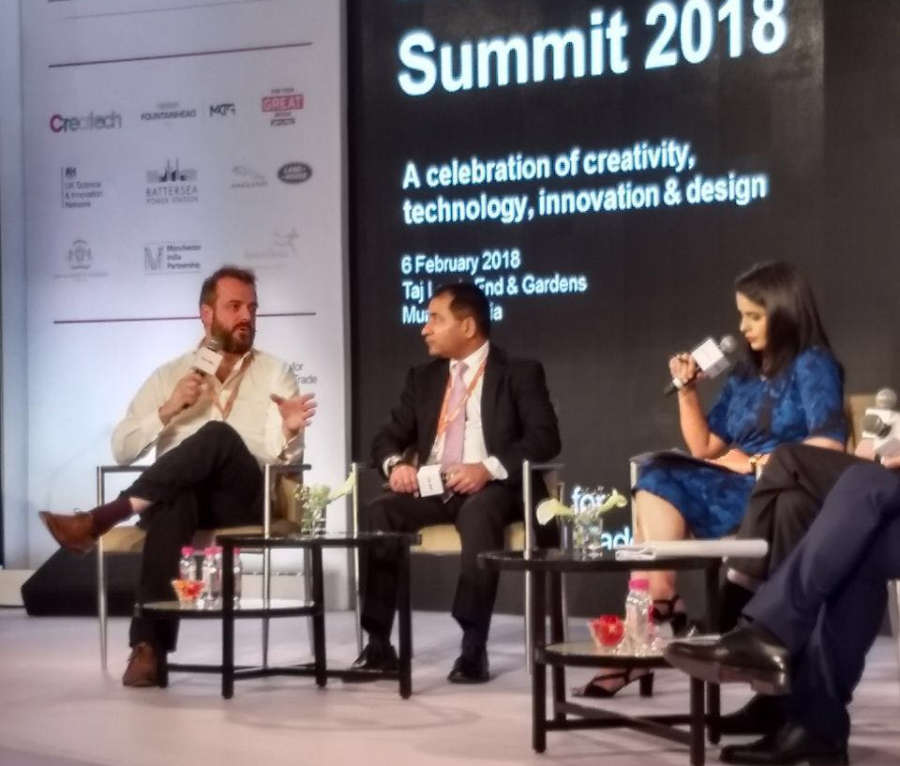 The Summit also hosted a series of bespoke industry-focused workshops on healthcare, industrial design, music, gaming, film and immersive technology, giving an unprecedented platform to Indian and UK businesses and thought leaders to interact across a diverse range of sectors.
The Manchester India Partnership (MIP) was launched in India at Createch. MIP is a public/private initiative and designed to build closer ties between Manchester with India encompassing the full scope of country-to-city interaction including trade, investment, science and innovation, connectivity and culture.
Sponsors at Createch, were profiling their activity at the Summit. This included Battersea Power Station at the heart of one of London's largest, most visionary and eagerly anticipated regeneration projects. An entirely new town centre is being created on the banks of the River Thames, creating thousands of new homes, state-of-the-art offices including Apple's new UK campus, hundreds of shops and restaurants, new arts and cultural events venues and over 18 acres of public space, including a new six-acre park directly in front of the iconic Power Station. The Indo UK Institute of Health (IUIH) was also present speaking about their programme to create 11 new integrated medi-cities in different states of India.