MIDAS, Confederation of Indian Industry (CII), Indo-British All Party Parliamentary Group organised a historic showcase of Indian companies in UK at the Houses of Parliament with Grant Thornton at the launch of Manchester India Partnership….Rahul Laud reports for Asian Lite news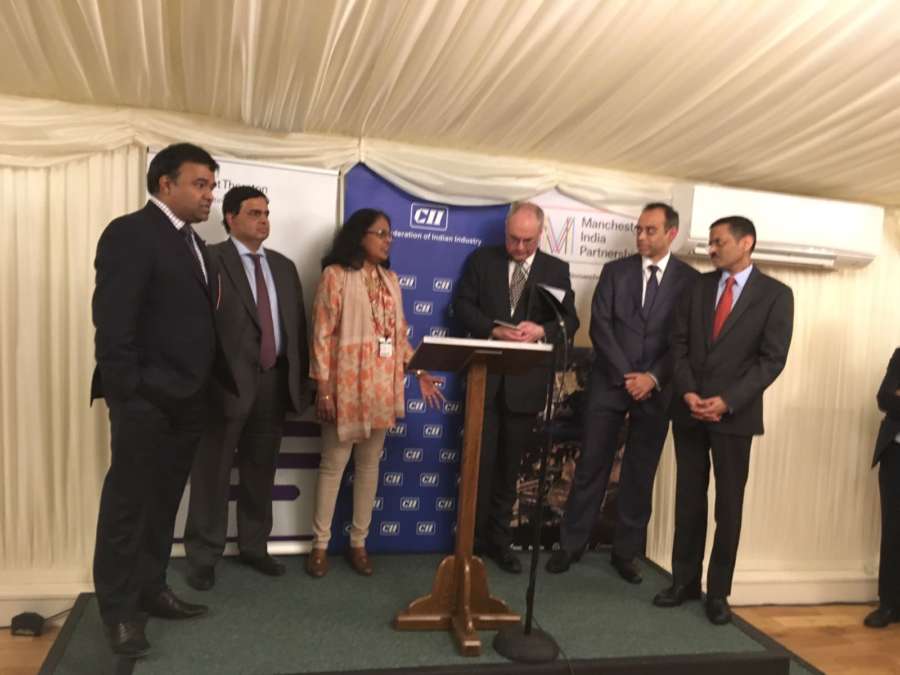 Several Indian business leaders the Tata Group, Hero Cycles, Tech Mahindra, HCL, ICICI Bank, Air India and other business leaders and representatives from trade, investment and industry across the UK gathered at the Terrace Pavilion in UK Houses of Parliament on Thursday, 1st February 2018 providing parliamentarians an opportunity to interact with high-growth Indian companies in the UK.
The programme, hosted by Virendra Sharma MP, Chair of the Indo-British All Party Parliamentary Group was organised by the Manchester Inward Development Agency (MIDAS), Confederation of Indian Industry (CII) supported by Grant Thornton and Manchester India Partnership (MIP).  Highlights of key case studies from the CII-Grant Thornton "India Meets Britain" tracker and "India in the UK: India's business footprint in the UK" report supported by the UK India Business Council (UKIBC) were shared on the day.
Stakeholders including Indian companies, parliamentarians, government representatives and institutional partners participated in this unique event aiming to highlight the major success stories of UK-India economic cooperation. The programme was attended by key dignitaries including Baroness Fairhead CBE, Minister of State, UK Department for International Trade, Rt Hon Matt Hancock, Secretary of State for Culture, Sports & Media, HE YK Sinha, High Commissioner of India, David Landsman, Chair, CII India Business Forum and Executive Director, Tata Limited, Lord Jim O'Neill, Andrew Cowan, CEO, Manchester Airport Group and Chair, Manchester India Partnership, Tim Newns, CEO, MIDAS and Dan Storer, Director, Business Development , MIDAS and Jo Ahmed, Partner , Delloite among others.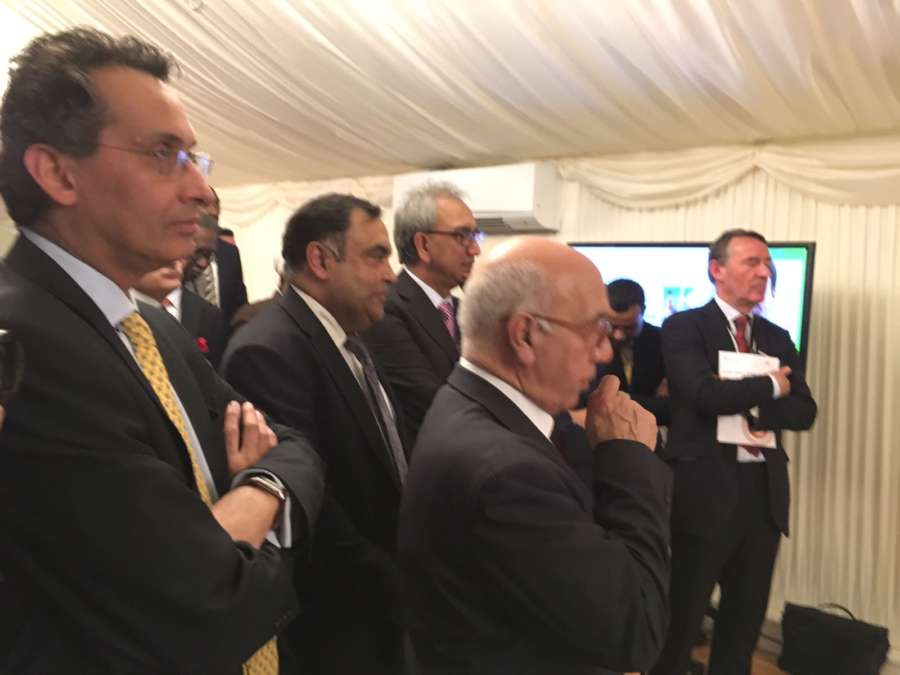 Lord Jim O'Neill while launching the MIP remarked "The Manchester India Partnership is an exciting initiative, which recognises the rising importance of international cities in forging strategic international partnerships. India is one of the world's largest and fastest growing economies; it therefore makes eminent sense for Manchester to further develop its' air connectivity, trade, science and cultural links with this emerging global power."
Designed to build trade, investment, cultural and educational ties, the Manchester-India Partnership will have at its heart "Make in India, Innovate with Manchester", building on the economic strategy championed by Prime Minister Modi; leveraging Manchester's innovation and research capabilities in a broad range of sectors ranging from advanced materials to big data in collaboration with Indian industry and research institutes.
The Manchester-India Partnership will be chaired by Andrew Cowan, Chief Executive of Manchester Airport, with dedicated staff in Delhi, Bangalore and Manchester. The UK launch will be followed by one in Mumbai on 6 Feb as part of the UK-India "Createch" Summit.
The formation of the Manchester-India Partnership reflects the strong investment into the region from knowledge-led Indian firms such as HCL, Hero Cycles and 42Gears, and strategic partnerships by Universities of Salford and Bolton with Bangalore and the State of Karnataka, to build on the increasing attractiveness of Manchester for Indian researchers, students and tourists.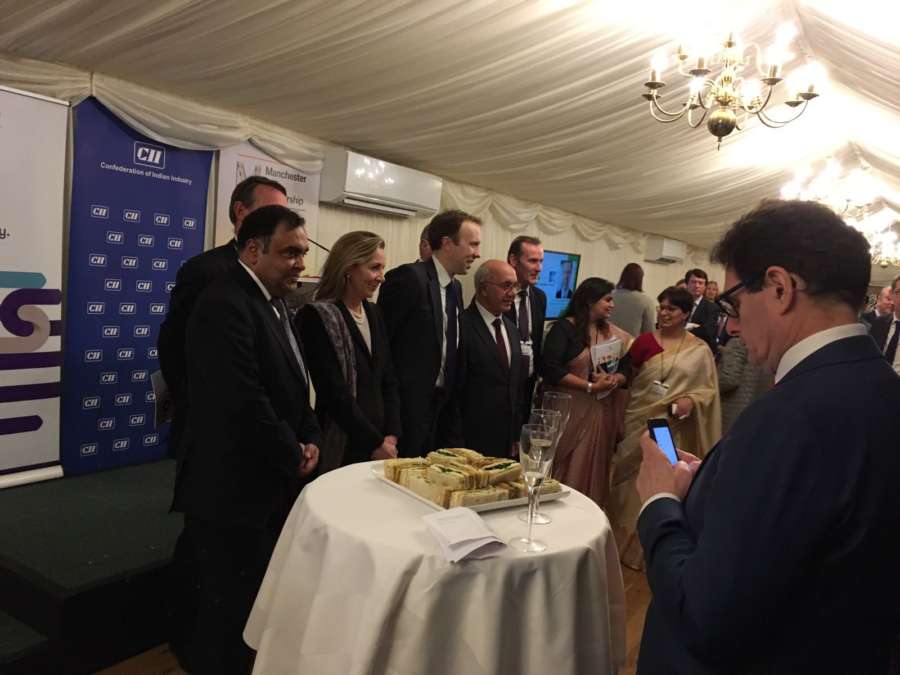 A major target for the Manchester-India Partnership will be to encourage direct air routes to further broaden the existing economic and cultural links, with Manchester Airport already the 6th largest European air gateway into India. Drawing on parallels with the city's strategic relationship with China, the launch of a direct Manchester-Beijing air route generated an additional £138m into Manchester's visitor economy in the first year of operation. It is hoped that, with similar focus, the city will attract direct Indian routes and in doing so facilitate comparable levels of investment and economic growth.
Andrew Cowan, said: "Forging closer relationships with the world's most important markets is key to the future prosperity of Manchester and the wider region. That is why I am pleased to be chairing the Manchester-India Partnership, which will exist to strengthen the trade and cultural ties between the two locations.
"We have seen first-hand how direct air links can stimulate significant increases in inward investment, exports and research collaborations and that is why securing a route into India will be one of the Partnership's number one priorities."
Sir Richard Leese, Deputy Mayor of Greater Manchester for Economic Growth and Business, said: "Manchester city region is famed for being at the forefront of industry and continues to be a competitive destination for international investors. India is a strategic market for Manchester and over recent years, the city region has welcomed significant investments from Indian companies including Hero Cycles, who chose Manchester as the location for their £2m global design centre, HCL Technologies, 42Gears, a high growth logistic solutions company from Bangalore, Vistaar Productions and the State Bank of India."
David Landsman, Chair, CII India Business Forum and Executive Director, Tata Limited , said "There's probably never been more attention on the economic relationship between the UK and India, as India undertakes significant market reforms and the UK prepares to leave the EU. Its time therefore to put the spotlight on the huge contribution which Indian businesses make to the British economy. Today's exhibition in Parliament showcases businesses in almost every sector, from banking to pharmaceuticals, from luxury cars to luxury hotels, from tea to IT, and of course the Indian food and restaurants which have become a full part of British culture. There are plenty of Indian businesses a stone's throw from Parliament, but they can also be found right across the UK from Scotland to Southern England, from East Anglia to Wales and Northern Ireland. So we're also proud today to be launching the Manchester-India partnership, one more step towards deepening the relationship across the country."
A presentation highlighting key results of the Fourth edition of the Grant Thornton "India Meets Britain" tracker developed in collaboration with Confederation of Indian Industry (CII) was made by Anuj Chande, Partner and South Asia Head, Grant Thornton .
Key company representatives covered in the report – Tara Naidu, Regional Manager – UK & Europe, Air India, Udayan Guha, Senior Vice President, HCL Technologies, Sudhir Dole, MD and CEO, ICICI Bank UK and Bhushan Patil, Senior Vice President – UK & Southern Europe, Tech Mahindra and Sreeram Raghavan, COO , UK  from  Hero Cycles were present.  Outlining the business footprint across the UK, each panellist highlighted the regional presence of their company across the country establishing the great opportunities for business outside of London area and the need for regional engagement.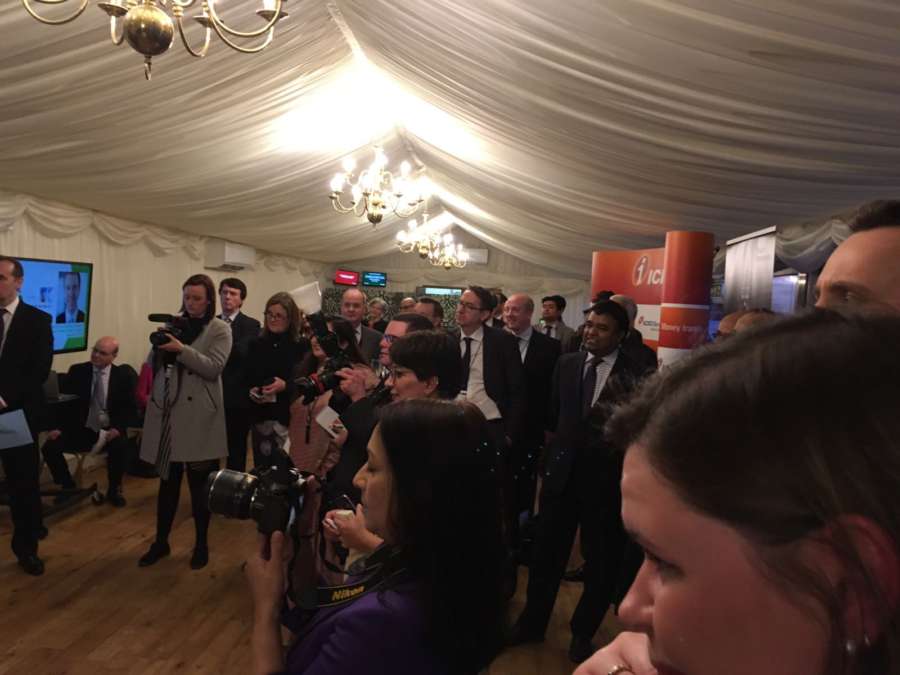 HE YK Sinha, High Commissioner of India said, " Indian companies have contributed immensely towards the growth of the UK economy, creating wealth and a large number of jobs.  These companies contribute significantly to enhancing the economic and commercial engagement between India and the UK. "
The Rt Hon Matthew Hancock, Secretary of State for Digital, Media, Culture and Sport also attended the programme and expressed his passion and commitment to strengthening collaboration in sport, digital and media fields between the two countries.
Baroness Fairhead said, "I congratulate the Confederation of Indian Industry (CII) on organising this showcase of Indian companies in Westminster. Many Indian companies have great links with the UK and several who have set up base in the greater Manchester region – for instance, Tata Group companies, HCL Technologies, Hero Cycles and Accord healthcare – whose success stories demonstrate the potential and the power of a regional connection. It is a pleasure to launch the Manchester India Partnership today and I believe a platform like this can be very beneficial in bringing together regional stakeholders." Baroness Fairhead will undertake her first official visit to India next week to address the Createch summit in Mumbai and this was her first interaction with Indian industry in the UK Parliament as Minister for International Trade."
Launching an innovative approach to capitalising on global trade opportunities, and unifying leading organisations such as Deloitte, Manchester Airports Group, Squires Patton Boggs, Growth Company, MIDAS and Greater Manchester Local Enterprise Partnership within the "Manchester-India Partnership", Manchester will uniquely provide a clear route for engagement with this strategically-vital market.