UK companies applaud improving ease of doing business in India as Commerce Minister Suresh Prabhu encourages more UK investment in India. The JETCO event bought together over 25 UK business leaders for a high-level discussion with the Minister….reports Asian Lite News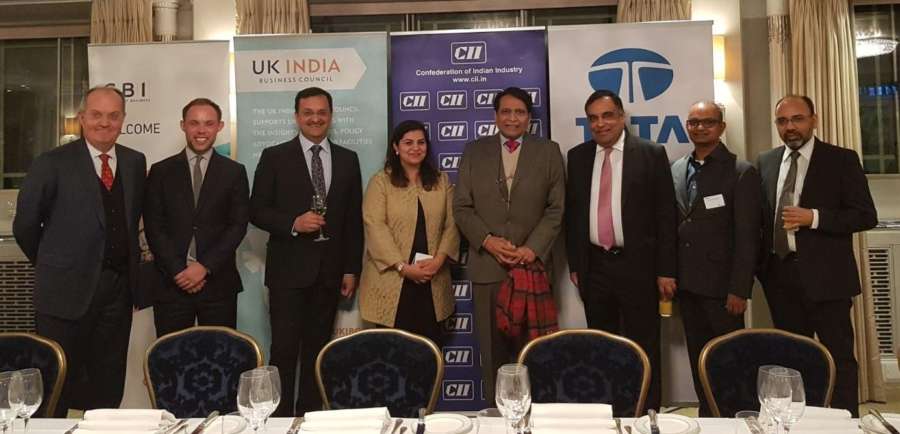 Coinciding with the UK-India Joint Economic and Trade Committee (JETCO) meetings, an industry roundtable was organised in London by the Confederation of Indian Industry (CII), Confederation of British Industry (CBI), UK India Business Council (UKIBC) and the High Commission of India.
The event bought together over 25 UK business leaders for a high-level discussion with Indian Minister of Commerce and Industry Suresh Prabhu. High Commissioner of India to the UK, Y K Sinha, and several officials from the UK Government and British High Commission were also present.
Key industry leaders from across sectors including Advanced Manufacturing, Engineering, Pharmaceuticals, Financial Services, Food & Drink and Tourism were represented by companies like JCB, Pernod Richard, Reckitt Benckiser, GSK, BAE Systems, Diageo, G4S, RELX, Renishaw, Standard Chartered, TVS, TWI, Vodafone and Cox and Kings.
Mr Richard Heald OBE, CEO, UKIBC praised and thanked Minister Prabhu for his positivity during the first day of his visit to London. He also added that, "the UK India partnership is perfect for an increasingly digital world. There is a real complementarity, as evidenced recently by the Rolls Royce-TCS collaboration on digital manufacturing; Make in India and Digital India merging. This will be the story of the 21st Century."
Minister Prabhu welcomed greater UK investments while sharing the latest economic developments and reforms underway in India. The business leaders had an opportunity to openly discuss concerns and prospects to further their business interests in India, and Minister Prabhu reassured investors of persistently working on their concerns to ensure an enabling environment.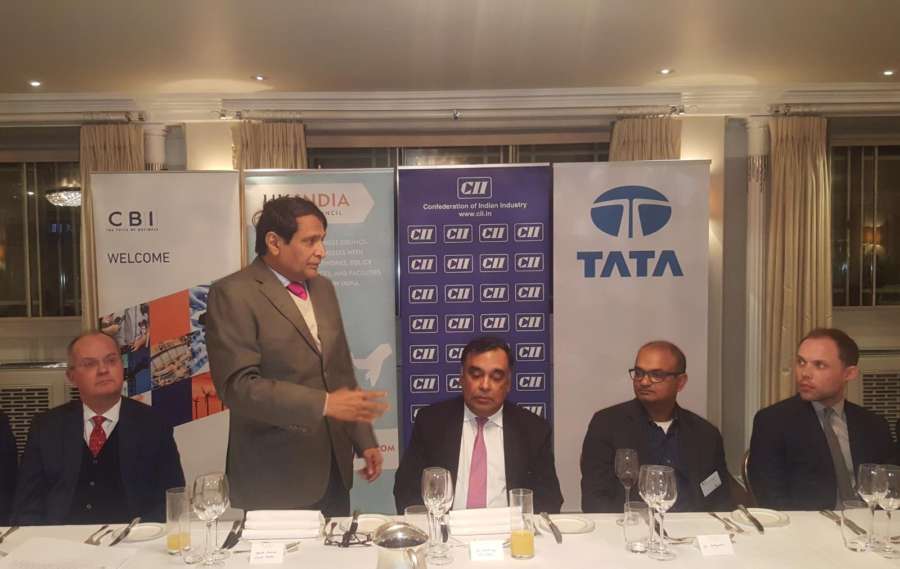 Minister highlighted the importance of UK-India economic cooperation in light of the JETCO meetings held earlier during the day.
He said, "The Services sector presents huge potential with several areas of collaboration for India and the UK. The two countries could also work together on manufacturing, developing global supply chains for the future. Given the transformational nature of new and dynamic technologies, we must keep in view that disruptive change can also be constructive."
Dr Gopichand Katragadda, Chairman, CII National Committee on Technology and Chief Technology Officer, Tata Sons welcomed UK companies to partner with Indian industry and hailed technology as the next big frontier for collaboration.
He said, "Artificial Intelligence, genomics, microbiomics, advanced materials and clean energy are transforming the future and how we look at business for addressing global, socio-economic challenges in India. With UK's prowess in the R&D ecosystem, there are significant innovation opportunities that the two countries can leverage. We welcome UK companies to explore India today and realise economies of scale and a consciousness towards inclusive development. Combining the capabilities of UK and India offers a significant opportunity to solve some of the world's biggest problems in addition to meeting the large domestic needs."