Advertisements


A new book on Kashmir restates the obvious but would be of interest to both scholars and the lay reader as it provides an overview of the disparate writings on the troubled state…writes Vishnu Makhijani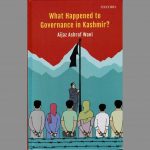 In the end, however, "What Happened to Governance in Kashmir?" (OUP/pp 388/Rs 995) by Ajaz Ashraf Wani, a Senior Assistant Professor in the Department of Political Science at Srinagar's University of Kashmir, asks the very question contained in its title.
Sample this from the Introduction: "It (the book) argues that since the crucial political decisions about the future of Kashmir were taken by the Indian and local leadership to the exclusion of the will of the people, opting to control the latter by sheer deception, coercion, corruption and development, Kashmir became a smouldering volcano which finally exploded in 1989-90, with no end till date".
Given this, what does one get in the Conclusion?
"With each passing year, militarised governance through security-related special legislations became more and more intensive. Besides intensive militarisation and the regimes of impunity in post-1947 Kashmir, preventive detention — a legal and political tool that (in the words of two other scholars) 'applies the logic of punishment as a method of preemptively controlling political and economic dangers to India's national sovereignty – has been a central component of governance'.
"While at the time of the termination of the princely order, preventive detentions were made under one special act, namely, J&K Public Security Act, 1946, the post-1947 self-claimed 'popular governments' or awami hukumats (people's governments) added more draconian laws to the coercive apparatuses of the state to exact political silence," Wani writes.
It then goes on to state why Kashmir "has proved a difficult state to govern".
"The divide between the political sentiments of the Muslims on the one had and those of the Hindus of Jammu and Buddhists of Ladakh on the other, has made it extremely difficult to strike a balance. A 'nationalist' in Kashmiri political discourse becomes 'anti-national' in the Hindu and Buddhist political discourses of Jammu and Ladakh and vice versa," Wani writes.
That's not all.
"What is most disturbing" the author says "is the fact that Kashmir is the only place in India which has so consistently complained about not being allowed to exercise choice over its political future, despite the repeated pledges made by the Indian prime minister on behalf of the Indian nation. This is the root cause of the Kashmir problem; from this has stemmed the politics of azadi, which is the dominant note of the political aspirations of Kashmiris".
And there's the kicker:
"As long as Kashmir continues to be a disputed territory, governance in Kashmir, especially in the Valley and other Muslim-dominated districts of the state, will not mean more than containing the conflict by any means – more foul than fair. And well-wishers of humanity would continue exclaiming in pain: What happened to governance in Kashmir!"
The least that one would have expected from the author was an "out of the box solution".